Keto Meringue Cookies
by KetoFocus.com
A sugar free cookie that is zero carbs!
Keto meringue cookies are the perfect low carb treat for your sweet tooth! Crispy, delicious, and fluffy, these sugar-free meringues are perfect with an evening cup of coffee. And only 0.3 grams net carbs per cookie!
Classic meringue cookies made sugar-free and with only 3 ingredients! These bite sized cookies are like sinking your teeth into clouds that dissolve. They are the perfect addition for a bake sale or cookie exchange, along with my keto shortbread cookies and low carb chocolate chip cookies, if you are looking for a sugar free option.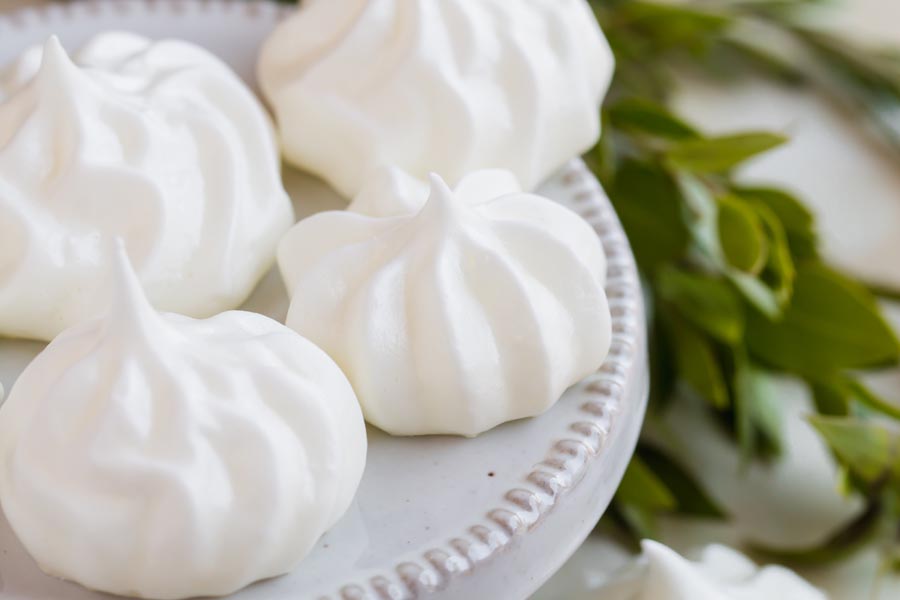 If you are looking for a zero carb cookie, these keto meringue cookies are you solution. With only 0.3 g carbs per cookie, you can satisfy your sweet tooth and stay under your carb limit!
These keto meringues are nothing like your traditional cookies. They don't have huge amounts of flour or sugar like other cookies do. Instead, they are made with egg whites!
Making keto meringue is simple. You just need egg whites, sweetener and cream of tartar. Then let the fun begin with adding different flavors (like vanilla extract or lemon juice), color or piping your keto meringues into fun shapes like ghosts for Halloween or Christmas trees.
How to make keto meringue cookies
Whip egg whites, cream of tartar and salt until foamy.
Add in powdered sugar free sweetener and beat the meringue until stiff peaks form.
Pipe sugar free meringue onto a baking tray.
Bake at 200 degrees for 1 hour.
Let set for 1 hour.
Key ingredients
Egg whites: This is the star of the keto cookie. You really can't substitute this ingredient. However, it is very important that you don't get any egg yolk into your egg white mixture or else you won't be able to get stiff peaks to pipe your meringue. With the leftover yolks, make up some keto cream cheese danishes.
Cream of tartar: Not a necessary ingredient but helps hold the sugar free meringue together.
Salt: A sweetness enhancer.
Sugar free sweetener: Make sure you use powdered sugar free sweetener so your low carb meringue cookies have an airy texture and not a grainy texture.
Subscribe to the KetoFocus YouTube Channel
With 100s of videos and millions of views, Ketofocus is one of the most popular Keto channels on YouTube.
Sugar-Free Meringue Cookies Ingredients
Keto Meringue Cookies Directions
Preheat oven to 200 degrees.

To a large clean, dry bowl, add egg whites. Add cream of tartar and a pinch of salt. Beat until mixture is foamy. It's important for the bowl to be clean and dry so you meringue forms stiff peaks.

Beat until stiff peaks form

Slowly add sweetener while continuing to beat mixture. Add food coloring and flavoring, like vanilla extract, if using at this point. Beat until very stiff peaks form (around 3-5 minutes). Meringue needs to be so stiff that you can flip the bowl upside down without it falling out.

Quick Tip
Use 1/2 to 1 teaspoon of flavoring if using.

Add meringue mixture to a piping bag fitted with a large star tip or desired tip. Pipe little star shaped cookies out onto a parchment lined baking tray. Space each cookie about ½ inch apart.

Quick Tip
Pipe in a motion like decorating a cupcake with whipped cream.

Bake at 200 degrees for 1 hour. After an hour, turn off the oven and let the meringue cookies sit in the oven undisturbed for another hour to allow the cookies to set and harden further.