Sheet Pan Chicken and Veggies
by KetoFocus.com
An easy way chicken and veggie meal tossed in herbs and olive oil and roasted on a sheet pan.
Enjoy a complete meal of roasted chicken and veggies with this one pot - easy clean-up recipe and all in under 30 minutes.
Sheet pan meals are a go-to dinner idea when I am short on time in the evening and want to put in minimal effort for cooking and clean-up. I have a couple of sheet pan dinners that I make often, like my sheet pan meatloaf and a delicious keto chicken teriyaki baked on a sheet pan.
Sheet pan dinners are a simple way to cook a protein and vegetables at the same time while limiting the need for extra pots and pans and time to cook extra food. The side dish gets cooked right along the protein at the same temperature and time.
Cooking chunks of chicken and a sheet pan with chopped up vegetables yields a healthy, balanced meal without a lot of fuss. It's a great way to use up any vegetables in the fridge that are about to turn. Coat with a little bit of olive oil and a mix of fresh or dried herbs for flavor and dinner is ready in less than 30 minutes!
How to make sheet pan chicken and veggies
Chop up the chicken and vegetables into bite sized pieces.
Add chicken and veggies to a large bowl. Toss with olive oil, seasoning and herbs like basil, oregano, garlic powder, paprika, salt and pepper.
Pour chicken and vegetable mixture onto a sheet pan and bake at 475 degrees for 15 minutes or until chicken is cooked through and vegetables are fork tender.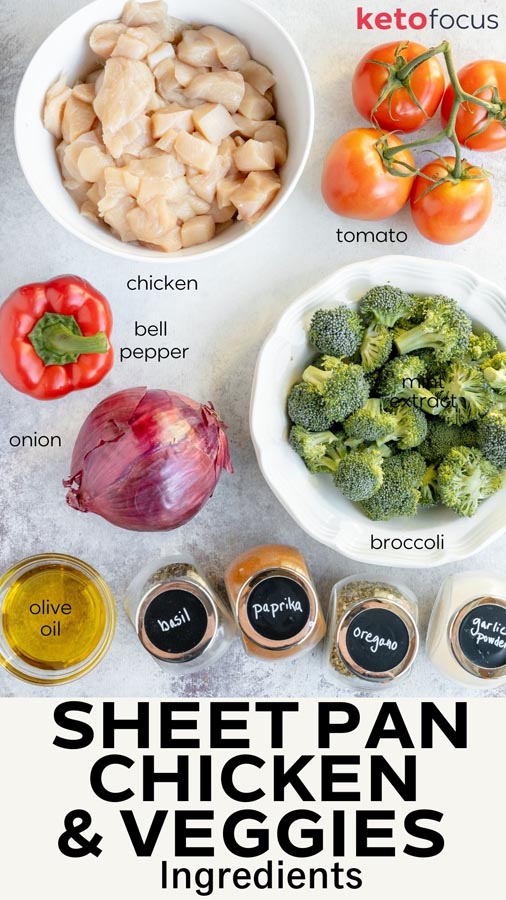 Key ingredients
The beauty about this sheet pan chicken recipe is that you can customize it with any vegetables you need to use up in the fridge or seasoning you have on hand.
Chicken – Use any cut of chicken, from chicken thighs to chicken breast. You can even use whole chicken drumsticks on the sheet pan but you may want follow a slightly different temperature and baking time.
Vegetables – For this recipe, I used a mixture of broccoli, onion, red bell pepper and tomato. Other vegetables you may consider adding or using are cauliflower, zucchini, green bell pepper, green beans, yellow squash, and radish.
Olive oil – Used to coat the chicken and vegetables to give flavor and to help crisp up the veggies as they roast. Any oil can be used. Try avocado oil or coconut oil – even melted butter would be delicious.
Seasoning & Herbs – In this recipe, I used dried herbs but fresh herbs can also be used. Consider using oregano, basil, parsley, paprika, garlic powder, lemon seasoning, salt and pepper.
Subscribe to the KetoFocus YouTube Channel
With 100s of videos and millions of views, Ketofocus is one of the most popular Keto channels on YouTube.
Sheet Pan Chicken Thighs And Veggies Ingredients
2 tablespoons olive oil
1 pound skinless, boneless chicken thighs, cut into bite sized pieces
3 cups broccoli florets
1 bell pepper, chopped
1/2 red onion, chopped
1/2 cup diced tomatoes
1 teaspoon salt
1 teaspoon dried oregano
1 teaspoon garlic powder
1/2 teaspoon dried basil
1/2 teaspoon black pepper
1/4 teaspoon paprika
Sheet Pan Chicken and Veggies Directions
Place cubed chicken and diced vegetables in a large bowl. Add olive oil, salt, oregano, basil, garlic powder, black pepper and paprika. Toss to evenly coat.

Line a large sheet pan with foil and evenly spread chicken and vegetable mixture on top of sheet pan.

Bake at 475 degrees for 15 minutes or until chicken is cooked through and vegetables are fork tender.

Quick Tip
Store leftovers in the refrigerator for up to 4 days.