Raindrop Cake
by KetoFocus.com
Rain drop cakes are a unique, translucent dessert that mimics the appearance of a fallen raindrop. Using sugar free sweetener, these delicate cakes are low in calories and carbohydrates and can be customized with various flavor, colors, creams, or even encapsulate edible flowers for a truly spectacular mini cake.
Nutrition Facts
Serving Size:
1 cream cake
The raindrop cake is a visually stunning dessert. Its translucent appearance mirrors a perfect raindrop. It has a similar texture to a panna cotta or jello salad but instead of using gelatin, agar powder is used. This raindrop cake recipe is an adaption of the traditional Japanese dessert boosting a creamy vanilla flavor that is sugar-free making this cake low calorie and low carb!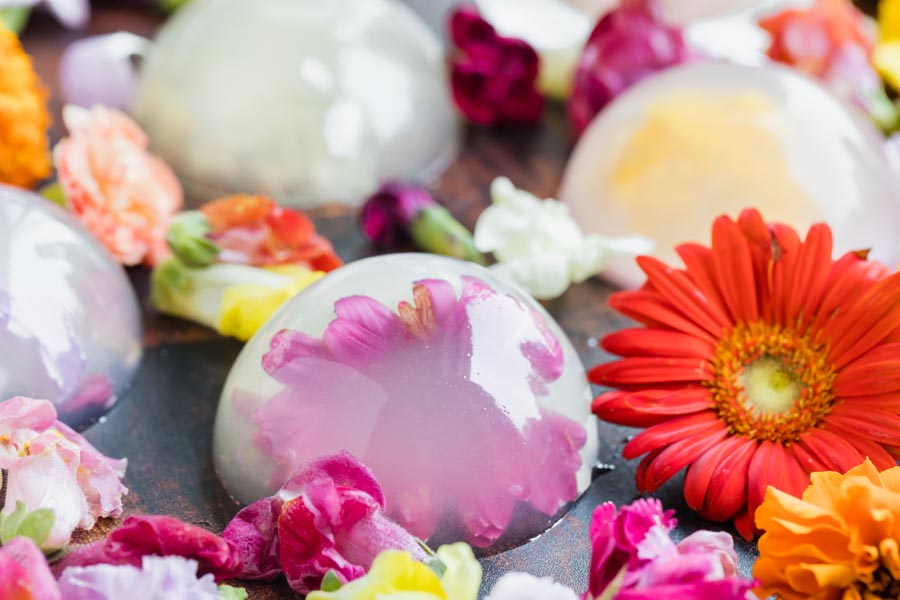 Vanilla isn't the only flavor that can be used, you can adapt the flavor by adding different flavoring extracts. Instead of a clear translucent raindrop, heavy whipping cream or coconut cream can be added along with food coloring to create different opaque colors. Housing edible flowers within the clear cake creates a ethereal, blooming raindrop effect.
Enjoy with a dollop of whipped cream and with only taking about 10 minutes of effort and 30 minutes of chill time, you'll be ready to dive into this refreshing creation whenever you fill like a treat!
The macros above are calculated for the clear, non-cream based cake. It is for one raindrop cake. If you choose to include cream to two-thirds of you cakes, your macros for each cream raindrop cake is:
Calories: 80
Fat: 8g
Total Carbs: 6.8g
Net Carbs: 0.8g
Protein: 0.2g
A Raindrop Cake is a clear, jelly-like cake traditionally made from mineral water and agar, a gelatin-like substance that comes from seaweed.  This Japanese dessert is also known as Mizu Shingen Mochi. It was originally developed to highlight the regions' pure, high quality water.
The cake is visually striking due to its translucency and delicate form, resembling a large droplet of water or a raindrop. It is traditionally served with a sweet syrup, like kuromitsu (black sugar syrup), and kinako (roasted soybean powder) on the side.
This raindrop cake recipe is far from traditional. Tap water is used instead of mineral water (although you could still use mineral water). The kuromitsu and soybean powder are also omitted. Cream, flavoring and food coloring are added for a fun variation.
What does a raindrop cake taste like?
Raindrop cakes have a mild flavor. This cake is slightly vanilla flavored although you can add any flavoring extract (lemon, cherry, etc) to achieve other flavors. Traditional Japanese raindrop cakes are also mildly flavored and get most of their flavor from the sugar syrup and soybean powder served on the side.
Raindrop Cakes Recipe Video
Subscribe to the KetoFocus YouTube Channel
With 100s of videos and millions of views, Ketofocus is one of the most popular Keto channels on YouTube.
Raindrop Cake Ingredients
Raindrop Cake Directions
Dissolve agar and sweetener

In a medium saucepan, heat 1 1/3 cup water, agar agar powder and sugar free sweetener over medium high heat until boiling. Remove from heat.

Ingredients

1 1/3 cup water
2 1/2 teaspoons agar agar powder
1/2 cup powdered sweetener

Stir in vanilla extract and 1 1/3 cup water.

Ingredients

1 teaspoon vanilla extract
1 1/3 cup water

Divide to color and make cream raindrop cakes

Divide mixture into three bowls. Keep one mixture clear. To the other two bowls, add 1/4 cup heavy cream and food coloring to each bowl. Mix until combined.

Ingredients

1/2 cup heavy whipping cream (two bowls get 1/4 cup each)
food coloring

Pour mixtures into silicone molds and add edible flowers if using.

Quick Tip
If mixture starts to set before you are finished pour, reheat gently over the stovetop to dissolve again.

Refrigerate molds for about 30 minutes or until set. Remove from the molds. Top with whipped cream if desired.