Crustless Pizza
by KetoFocus.com
A one pot meal filled with your favorite pizza toppings but no crust
The best part of a pizza is always the toppings with the melted cheese layered into slices of pepperoni, black olives and mushrooms. This pizza is all toppings and cheese without the crust.
Nutrition Facts
Serving Size:
1/4 of the pizza
Crustless pizza is a great option when you can't have the crust, but if you do enjoy a crunchy crust for your Italian pie, then try this pizza dough or even make a pizza casserole, where the crust is on top.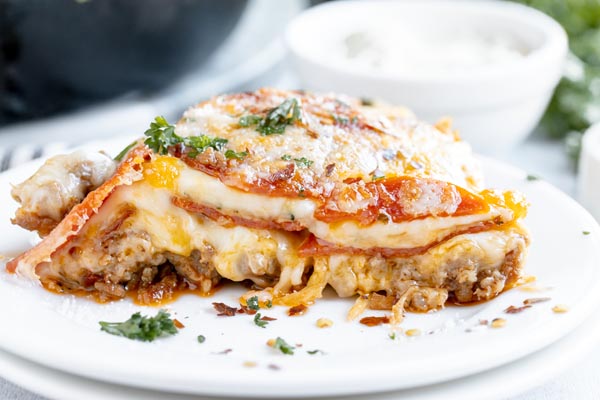 This cheesy, meat-lovers, easy crustless pizza is a one pot meal that you can make in under 15 minutes. Ground sausage is cooked in a skillet can becomes the base "meat crust" for our pizza. Topping and cheese are added. The shredded cheese melted down into the toppings and cooked sausage form a glue to hold the pizza together. You can still lift it out once your pizza pie is cooled or you can enjoy it with a fork.
Crustless pizza is the perfect recipe for someone who is avoiding crust, whether you are gluten-free, trying to limit your carbs, or just want to savor the saucy Italian flavors without having to spend time making a whole pizza.
How to make crustless pizza
Cook ground Italian sausage or ground pork in a cast iron skillet.
Stir in seasoning and marinara or pizza sauce.
Add any vegetables like green pepper, onions, mushrooms that need to be cook. Cook until softened.
Remove from heat and add the rest of your favorite pizza toppings.
Top with shredded cheese. Spread an even layer over the top.
Broil on high for 2-3 minutes until cheese is melted and bubbly.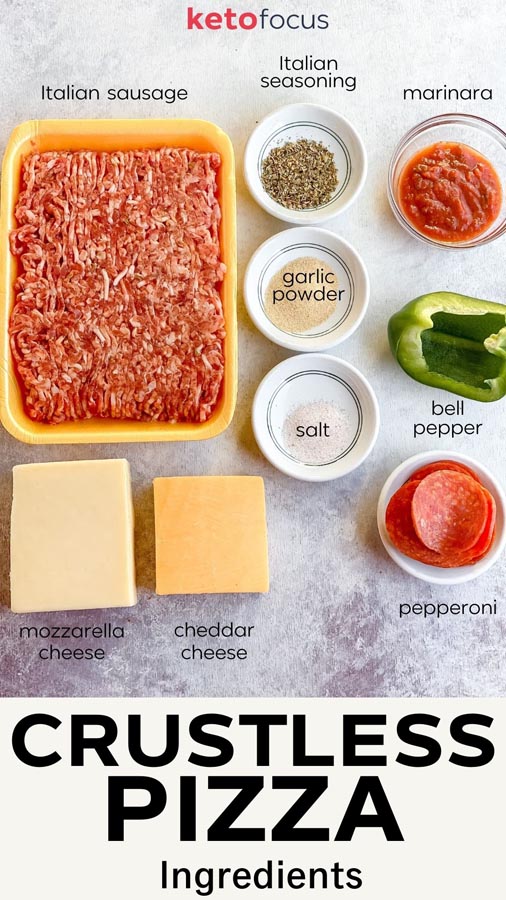 Key ingredients
Ground sausage or pork – Use Italian sausage or ground pork in this recipe. Ground beef or ground turkey can also be used just make sure you add in the Italian seasonings and pizza sauce to add more flavor.
Seasonings & marinara sauce – It's not pizza without pizza sauce. Add a little bit of your favorite marinara sauce to give the crumbled sausage that tomato sauce flavor. Although you can omit these if you are trying to get carbs down as low as possible.
Pizza toppings – Pile on your favorite pizza toppings. Pepperoni, salami, fresh basil, bell pepper, onion, mushroom, black olive, sliced tomato, even cauliflower.
Shredded cheese – Shredded cheeses like mozzarella cheese, provolone cheese, mild cheddar cheese or parmesan cheese can be used. You could even mix in some cream cheese for creamy pizza.
Crustless Pizza Recipe Video
Subscribe to the KetoFocus YouTube Channel
With 100s of videos and millions of views, Ketofocus is one of the most popular Keto channels on YouTube.
Crustless Pizza Ingredients
1 lb ground sausage or pork
1 teaspoon Italian seasoning, optional
1 teaspoon garlic powder, optional
1/2 teaspoon salt
2 tablespoons pizza or marinara sauce, optional
2 oz green bell pepper, optional
4 oz mozzarella cheese, shredded
4 oz cheddar cheese, shredded
14 slices pepperoni
Crustless Pizza Directions
In a cast-iron or oven proof skillet, brown and crumble the ground sausage or pork until cooked through. (About 5-6 minutes)

Ingredients

Italian sausage or ground pork

Quick Tip
Can use ground beef, chicken or turkey instead.

Once the ground sausage is cooked through, stir in Italian seasonings, garlic powder, salt and marinara sauce.

Ingredients

Italian seasonings
Garlic powder
Salt
Marinara sauce

Quick Tip
For zero carb pizza option, omit Italian seasoning, garlic powder and marinara sauce.

Push the ground sausage off to the sides of the skillet and add bell pepper or any vegetable that needs to be cooked into the center. Cook until softened, then stir into the rest of the ground meat. Remove from heat.

Quick Tip
Any vegetables that need to be cooked like onions, mushrooms, bell pepper, cauliflower, should be added here in order to get cooked before going under the broiler. Omit all vegetables for zero carb pizza.

Add remaining toppings and cheese

Sprinkle most of the shredded cheese blend on top of the ground sausage layer evening. Top with pepperoni slices or other toppings. Then sprinkle remaining cheese layer on top.

Ingredients

Mozzarella cheese (shredded)
Cheddar cheese (shredded)
Pepperoni

Place skillet in the oven under the broiler on high for 2-3 minutes or until the cheese is melted and bubbly.

Quick Tip
Option to cook this keto crustless pizza in the air fryer. Bake in the air fryer at 400 degrees for about 5 minutes.