Keto Pumpkin Whoopie Pies
by KetoFocus.com
Cream filled pumpkin flavored sandwich cookies
Soft keto pumpkin cookies filled with a luscious, cream cheese whoopie pie filling. Each bite is irresistible. Good thing they are only 1.4 g carbs per cookie!
Nutrition Facts
Serving Size:
1 whoopie pie
For a Fall twist on the cookie that makes you cheer, Whoopie!, these keto whoopie pies add fall flavors with only a few carbs. The holidays are filled with sugary temptations, but having low carb pumpkin recipes like keto pumpkin pie and pumpkin bread, you can easily fit your favorite holiday flavors into your life.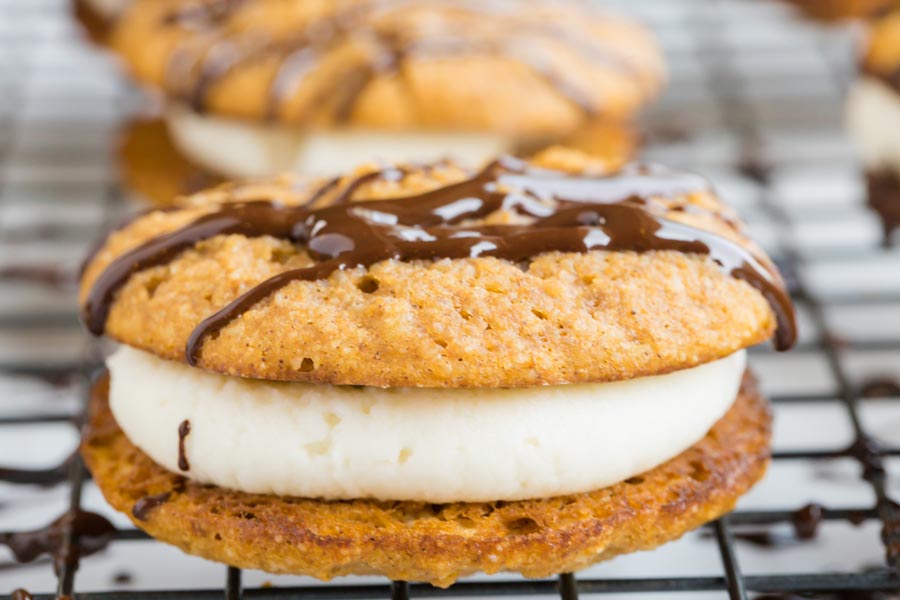 The keto pumpkin cookie of this whoopie pie is made using a blend of almond flour and oat fiber. The oat fiber gives it a hint of oat flavor without adding extra carbs since oat fiber has zero net carbs. A creamy cream cheese buttercream frosting is sandwiched between two of the pumpkin cookies to finish our pies. These festive, chewy cookies are the perfect way to enjoy Fall and stay sugar free.
How to make keto whoopie pies
Make keto pumpkin cookie batter. Add almond flour, oat fiber, pumpkin pie spice, baking soda and salt. Then beat eggs and sugar free brown sugar with pumpkin and melted butter. Combine.
Bake the pumpkin cookies. Pipe or scoop onto a baking tray and bake for 12 minutes.
Make the cream cheese filling by combining butter, sugar free powdered sweetener and cream cheese.
Assemble the keto whoopie pies by spreading or piping the filling in between two cookies.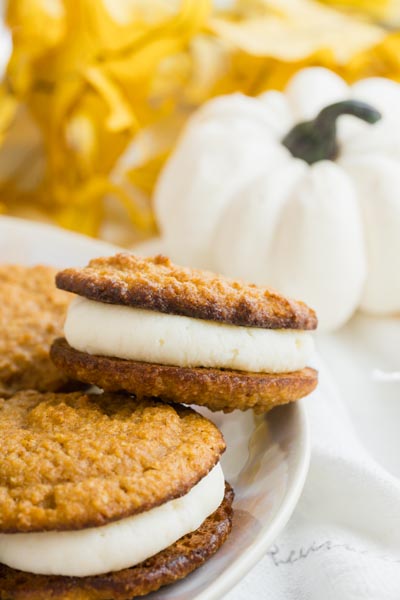 Key ingredients & substitutions
Almond Flour – Used as our keto flour base in these cookies as it has a neutral flavor and fine texture.
Oat fiber – Oat fiber is an insoluble fiber made from finely grinding oat husks. It adds a hint of oat flavor to these keto cookies but since it is fiber, it is zero net carbs per serving. For keto baking, oat fiber adds bulk and improves texture and flavor without adding carbs. Substitution: Can use ¾ cup almond flour and ¼ cup lupin flour if you don't want to use oat fiber.
Pumpkin pie spice – The amplify that Fall pumpkin flavor. Don't have pumpkin pie spice? Just add 1/2 teaspoon cinnamon, 1/4 teaspoon ground ginger, 1/8 teaspoon ground nutmeg and 1/8 teaspoon ground cloves.
Baking soda – Baking soda is used for these keto whoopie pies instead of baking powder because we don't want the cookies to rise very much. As a sandwich cookie, you want them to lie flatter.
Brown sugar free sweetener – Many different brands offer an alternative to brown sugar (Lakanto, Swerve, Truvia).  All have options that measure cup for cup with brown sugar.
Pumpkin puree – Canned pumpkin is easiest to use and it offers lots of flavor; however, homemade pumpkin puree can be used as well. Be sure you are purchasing 100% pumpkin puree from the grocery store and not pumpkin pie filling which has lots of added sugars.
Keto Pumpkin Whoopie Pies Recipe Video
Subscribe to the KetoFocus YouTube Channel
With 100s of videos and millions of views, Ketofocus is one of the most popular Keto channels on YouTube.
Keto Pumpkin Cookies Ingredients
1 ¼ cup almond flour
2 tablespoons oat fiber
1 teaspoon baking soda
1 teaspoon pumpkin pie spice
¾ teaspoon salt
2 eggs
½ cup sugar-free brown sugar
1 cup 100% pumpkin puree
6 tablespoon unsalted butter, melted
Sugar Free Cream Cheese Filling Ingredients
4 tablespoons unsalted butter, softened
½ cup sugar-free powdered sugar
4 oz cream cheese, softened
1-3 teaspoons heavy cream, optional
Chocolate Drizzle (optional) Ingredients
Keto Pumpkin Whoopie Pies Directions
In a small bowl, combine almond flour, oat fiber, baking soda, pumpkin pie spice and salt. Set aside.

Ingredients

Almond flour
Oat fiber
Baking soda
Pumpkin pie spice
Salt

Quick Tip
Can use ¾ cup almond flour and ¼ cup lupin flour if you don't want to use oat fiber.

In a large bowl, whip the eggs and sugar free brown sweetener (on medium-high speed of an electric or stand mixer) until fluffy (about 3 minutes). Reduce speed to low and stir in pumpkin and melted butter until just combined.

Ingredients

Eggs
Sugar-free brown sugar
Pumpkin puree
Butter (melted)

Quick Tip
The egg and sweetener mixture must be mixed for 3 minutes in order to get thicker, fluffier consistency.

Combine dry and wet ingredients

Slowly stir in almond flour mixture and mix until just combined.

Quick Tip
Don't overmix! Mix for no more than 30 seconds once combined.

Add cookie dough to a pastry bag and pipe 1 tablespoon mounds of batter onto a parchment lined baking sheet, spacing them about 1 " apart. Or scoop about a tablespoon using a spoon.

Quick Tip
Using a piping bag is preferred in order to get cookies that are the same size.

Bake at 350 degrees for 12 minutes. Remove from oven and let cool on the baking tray for 2-3 minutes until transferring to a wire rack to cool and set completely. Cookies will be soft when they first come out of the oven but will firm up as they cool.

Quick Tip
Don't overbake! Cookies will continue to cook and firm up on the sheet pan.

To make the filling, add butter to a medium bowl and whip with an electric mixer until fluffy. Add powdered sweetener and mix until combined, followed by the cream cheese. Continue mixing for 2 minutes. If your filling is too firm and not easily spreadable, add 1-3 teaspoons heavy cream to thin out the frosting.

Ingredients

Butter (softened)
Sugar-free powdered sweetener
Cream cheese (softened)
Heavy cream (if needed)

Assemble the whoopie pies

To assemble the whoopies, spread about ½ tablespoon filling in between two cookies that are about the same size. You can also use a piping bag to pipe a small amount of the filling.

Ingredients

Two pumpkin cookies (about the same size)
Cream cheese filling

Optional chocolate drizzle

Add chocolate chips and coconut oil to a small bowl. Microwave at 30 second intervals until melted, stirring in between. Stir in Cacao Bliss (if using). Drizzle on top of each pumpkin whoopie pie.

Ingredients

Chocolate chips (sugar free)
Coconut oil
Cacao Bliss