Best Keto Chocolate Chip Cookies
by KetoFocus.com
These keto chocolate chip cookies are just like Grandma used to make
One bite into these chocolate chip cookies and you'll swear you are eating Toll House cookies. I perfected this keto chocolate chip cookie recipe to produce a cookie that is so similar in texture, appearance and flavor to America's favorite cookie!
You should always have a great recipe for one of the classics like chocolate chip cookies up your sleeve. It will help you stay on track with your low carb goals during times when you feel like giving in. Besides this recipe, other recipes I reach for when I'm craving comfort sweets are this keto chocolate mug cake and low carb peanut butter cookies.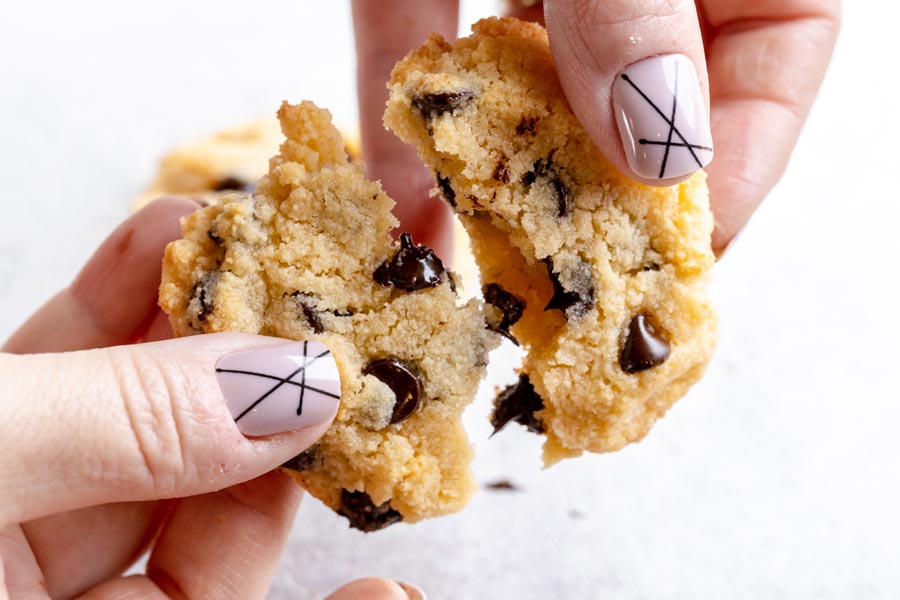 Keto cookies shouldn't be complicated with ingredients like gelatin or xanthan gum. That's why I created this easy keto chocolate chip cookie recipe. It uses simple ingredients that you probably already have in your keto pantry.
On top of that, it reminds me the cookies that my mom and grandma used to make. These keto chocolate chip cookies taste like Toll House cookies! I'd always have my hand in the cookie jar when they would make these. Now I can regularly offer my kids a keto cookie since these sugar free chocolate chip cookies are so similar.
How to make keto chocolate chip cookies
Mix together dry ingredients – almond flour, coconut flour, baking powder, baking soda and salt. Set aside.
In a large bowl, mix the softened butter and sugar-free sweetener until fluffy.
Stir in an egg and vanilla. Then sprinkle in the dry ingredients and keto chocolate chips.
Scoop cookie dough on a baking sheet and bake!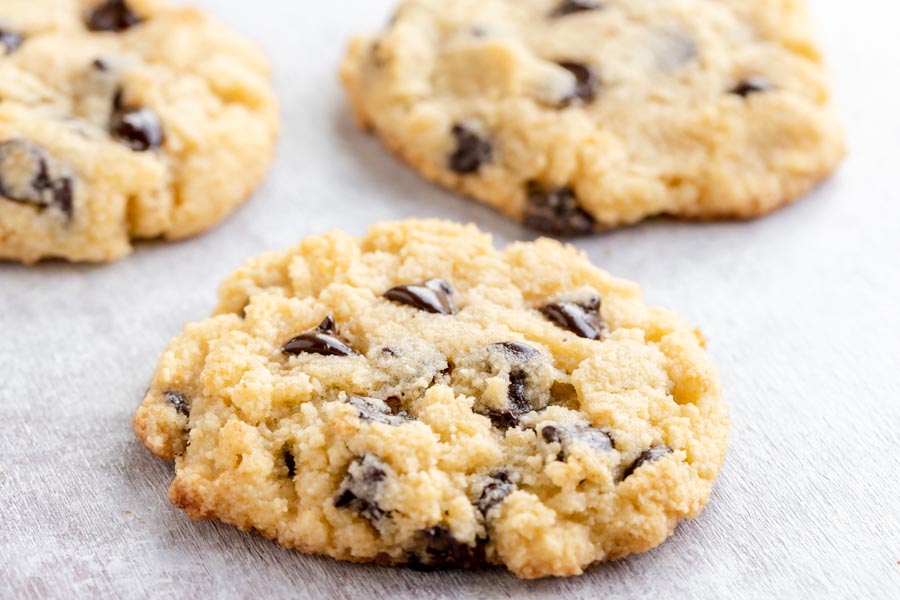 Key ingredients
Keto flours – In this recipe, I use both almond flour and coconut flour. The combination of the two produces a similar texture to all-purpose flour. Don't worry. These cookies won't taste like coconut flour. That flavor is masked from the other ingredients added. If you want a recipe that uses only almond flour, check out my almond flour chocolate chip cookie recipe.
Leavening agents – Both baking powder and baking soda to help the cookies rise and to give them a distinct flavor.
Butter – The fat used in this recipe for flavor and moisture. Make sure you are using butter and not margarine.
Egg – Used to hold the cookie together.
Sugar free chocolate chips – There are many brands on the market. The brand that I use is by ChocZero. You can save 10% on your order with my code KETOFOCUS. Their chocolate chips are sugar-free and sugar alcohol free. If you don't have access to keto chocolate chips, you can use a 90% dark chocolate bar. Break it into chunks with a knife.
Keto Chocolate Chip Cookies Recipe Video
Subscribe to the KetoFocus YouTube Channel
With 100s of videos and millions of views, Ketofocus is one of the most popular Keto channels on YouTube.
Keto Chocolate Chip Cookies Ingredients
1 cup almond flour
1/4 cup coconut flour
1 teaspoon baking powder
1/2 teaspoon baking soda
1/2 teaspoon salt
1/2 cup unsalted butter, softened
1/2 cup sugar free sweetener
1 egg
1 teaspoon vanilla extract
1/4 cup sugar free chocolate chips
Best Keto Chocolate Chip Cookies Directions
Preheat oven & prepare cookie sheets

Preheat oven to 350 degrees. Line cookie sheets with parchment paper. Set aside.

To a medium bowl, whisk together almond flour, coconut flour, baking powder, baking soda and salt. Set aside

Ingredients

Almond flour
Coconut flour
Baking powder
Baking soda
Salt

In a separate large bowl, cream together softened butter with sugar free sweetener until fluffy using an electric mixer. Mix in egg and vanilla.

Ingredients

Butter (softened)
Sweetener
Egg
Vanilla

Quick Tip
Can use graduated sugar-free sweetener or brown sugar substitute.

Mix in dry ingredients and chocolate chips

Slowly mix in dry ingredients. Once combined, stir in chocolate chips.

Using a 1 inch cookie scoop or tablespoon, scoop out a ball of cookie dough and place on the parchment line baking sheet. Flatten the ball down by pressing on the dough with a spatula or the back of a spoon. Space cookie dough about 1 inch apart. Bake at 350 degrees for 8 to 10 minutes.

Quick Tip
Bake until edges slightly turn golden brown. Cookies will still be soft, but will harden as they cool.

Remove cookies from the oven and continue to let sit on the baking sheet for 2-4 minutes. Cookies will continue to harden and bake as they cool. Once cool enough to handle, transfer to a wire rack to cool further.

Quick Tip
If your cookies crumble, you didn't let them cool long enough before handling. Eat warm cookies with a fork.