Keto Pumpkin Roll
by KetoFocus.com
No fail, No rolling & unrolling
A no-fail keto pumpkin roll recipe that features a spongy pumpkin cake wrapped around a buttery cream cheese filling, eliminating the traditional towel-roll method and ensuring a crack-free finish.
If you struggle or shy away from make pumpkin rolls or any type of swiss roll because the recipes are so fussy and often results in a flat, cracked cake that doesn't look anything like the photograph, this keto pumpkin roll recipe is for you!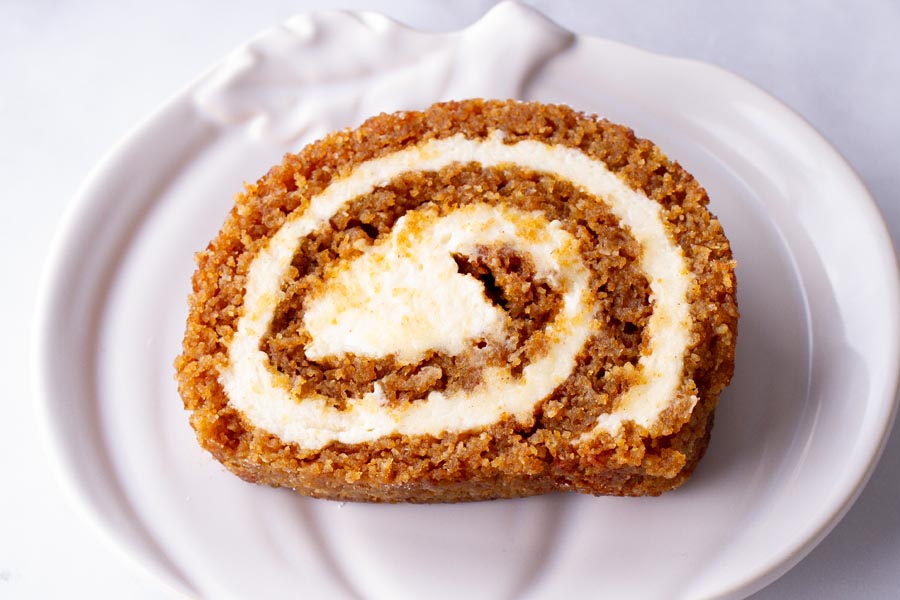 With this pumpkin roll recipe you don't need to mess with rolling the freshly baked cake up in a towel and the apprehension of unrolling it – trying not to crack it so you can have a picture perfect keto swiss roll. Instead, this recipe promises a spongy texture filled with a luscious buttery cream cheese concoction AND a crack-proof finish.
How I discovered this method…
Interestingly, this method was serendipitously discovered during an experiment with my keto oatmeal creme pies recipe. The first batch yielded cookies that spread out into a flat, thin sheet. When peeling them off the baking tray, I noticed they rolled seamlessly without cracking. This accidental discovery set the foundation for this impeccable pumpkin roll.
How to make a crack-free keto pumpkin roll
Make a low carb pumpkin cake – For the cake, you'll need ingredients like almond flour, oat fiber, baking soda, pumpkin pie spice, salt, softened unsalted butter, sugar substitutes, pumpkin puree, and room temperature eggs.
Bake the cake into a thin sheet – Spread the cake batter onto a baking pan (the half sheet size) and bake until set on top, golden perfection and your house smells like a Fall pumpkin candle. Take it out of the oven. Loosen the edges with a knife and let it sit there until it cools.
Make a sugar-free cream cheese frosting – While the pumpkin cake cools you can make the filling. Mix more unsalted butter, cream cheese, powdered sugar-free sweetener, oat fiber, milk, and vanilla extract until smooth and creamy.
Frost & roll – Once the cake has cooled, spread the frosting, roll it up tightly using the parchment paper as you guide, and finish with a dusting of powdered sweetener. See, no rolling and unrolling. No cracks!
Subscribe to the KetoFocus YouTube Channel
With 100s of videos and millions of views, Ketofocus is one of the most popular Keto channels on YouTube.
Keto Pumpkin Cake Ingredients
Cream Cheese Filling Ingredients
1 cup unsalted butter, softened
8 oz cream cheese, softened
1 cup powdered sugar-free sweetener
1 tablespoon oat fiber
1 tablespoon nut milk
1 teaspoon vanilla extract
Keto Pumpkin Roll Directions
Preheat oven & prepare baking pan

Preheat oven to 350 °F. Spray cooking oil on the baking sheet or jelly roll pan and line with parchment paper. Set aside.

Quick Tip
See FAQ section about using a 9x13 inch baking dish.

In a medium bowl, whisk together almond flour, oat fiber, baking soda, pumpkin pie spice and salt. Set aside.

Ingredients

1 1/2 cups almond flour
1/3 cup oat fiber
1 teaspoon baking soda
1 teaspoon pumpkin pie spice
1/2 teaspoon salt

In a large bowl, cream butter for 3-5 minutes with an electric mixer until light in color and fluffy. Stir in both sweeteners until fluffy and creamy. Add pumpkin puree and eggs. Mix until incorporated.

Ingredients

1 cup unsalted butter, softened to room temperature
3/4 cup packed brown sugar substitute
1/3 cup granulated sugar-free sweetener
1/3 cup 100% pumpkin puree
2 eggs, room temperature

Quick Tip
Don't use pumpkin pie filling. It is loaded with sugar.

Slowly mix the dry ingredients into the wet ingredients. Stir until combined.

Spread pumpkin cake batter

Evenly spread cake batter onto the prepared baking sheet, reaching all the sides and ensuring the top is smooth.

Quick Tip
Batter will be thick. Spraying the baking pan before adding the parchment paper will keep the paper from sliding on the pan while you spread.

Bake until your house smells like a Bath & Body Works Fall candle

Bake at 350 degrees °F for 14-15 minutes or until cake is golden and set on top. Remove cake from oven and let sit in the baking sheet for 2-3 minutes before running a knife along the edges to keep the cake from sticking to the edges. Leave in the cake pan to cool.

Quick Tip
You don't need to pre-roll this cake like you do with other keto pumpkin roll recipes.

Make your filling while you wait

In a large bowl, cream butter until light in color and fluffy (3-5 minutes). Add cream cheese and continue mixing until fluffy. Slowly add in powdered sweetener and oat fiber. Mix until combined. Stir in nut milk and vanilla extract.

Ingredients

1 cup unsalted butter, softened to room temperature
8 oz cream cheese, softened
1 cup powdered sugar-free sweetener
1 tablespoon oat fiber
1 tablespoon nut milk
1 teaspoon vanilla extract

Quick Tip
To lower the calories or fat in the pumpkin roll, use 3 tablespoons of butter in the frosting and lower sweetener to 1/2 cup.

Once cake is cool enough to frost, spread on an even layer of frosting on top of the cake covering from edge to edge.

Rolled cake without the cracks

To roll, start from one short edge. Grab hold of the parchment paper underneath the cake and pull, using it as your guide to roll the cake tightly. Continue rolling all the way through.

To get a beautiful cut, place cake in the freezer for 30 minutes. Dust with powdered sweetener if desired. Cut both edges off with a serrated knife and eat those pieces right away because they are ugly. You don't want your guests to think you come from a place where the chandeliers are made of solo cups.

Quick Tip
Wipe the knife if needed in between slices to keep from getting crumbs on the filling.