Keto Pumpkin Dump Cake
by KetoFocus.com
This keto pumpkin dump cake has unbeatable flavor with layers of pumpkin pie, spongy yellow cake and a pecan streusel topping. Not only is it a crowd favorite, but it uses a box keto cake and all of the ingredients are dumped into the baking dish for an easy keto dessert.
For a quick keto holiday dessert that doesn't require a lot of fuss, this keto pumpkin dump cake is your solution. It combines flavors of pumpkin pie with a keto cake in the middle and a crunchy pecan streusel topping. And separates them into 3 layers as the cake bakes!!!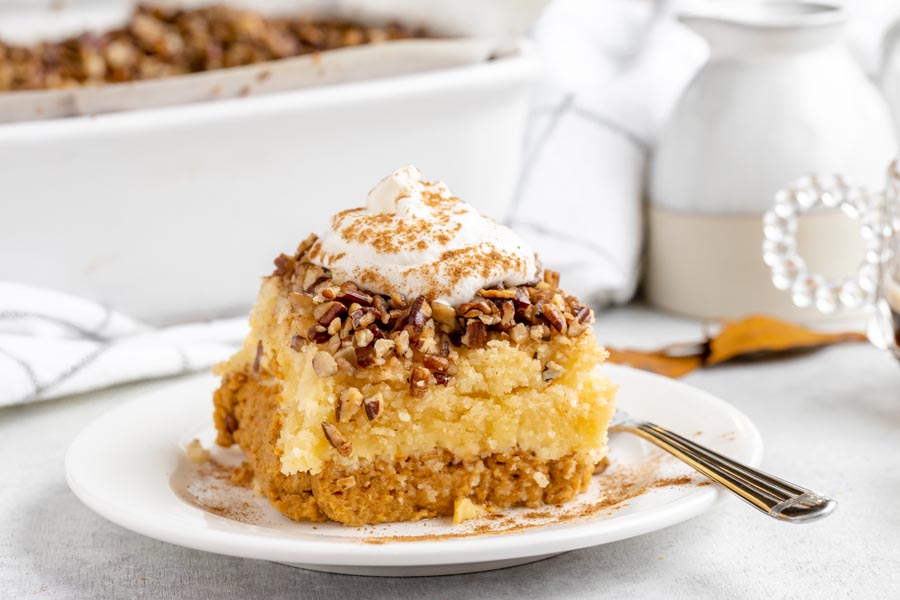 Dump Cakes are a delicious twist on a traditional cake where you don't have to bring out a bunch of bowls or utensils to make your cake. Everything is basically made in one bowl (although I do recommend making the pumpkin components in a separate bowl so that we can easily mix them without messing up the parchment lining.)
Using a few ingredients for a pumpkin pie base layer, like eggs, pumpkin puree, cream and sweetener, it is poured into a square baking dish then keto cake mix is dusted on top of the pumpkin along with melted butter and pecans.
Once baked, the cake mix bakes into the pumpkin layer to form a light, spongy gluten free cake on top with a pumpkin custard layer on the bottom.
Top with whipped cream or sugar free ice cream!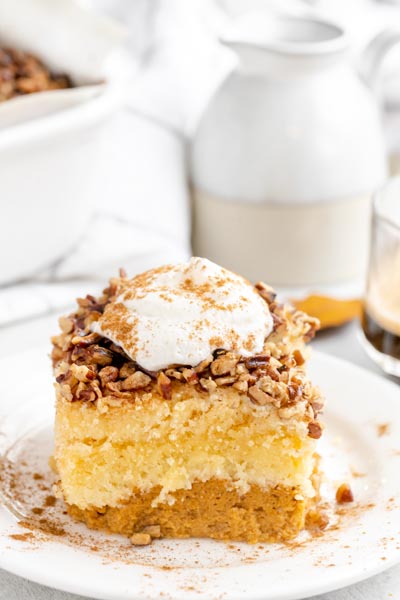 How to make keto pumpkin dump cake
Make pumpkin pie filling. Add pumpkin puree, eggs, whipping cream, nut milk, sweetener and pumpkin spice. Mix until smooth. Pour into a baking dish.
Sprinkle keto cake mix over the top of the pumpkin filling.
Drizzle melted butter all over the dry cake mix.
Top with chopped pecans.
Bake for 40-60 minutes or until spongy on top.
This is an easy way to make a keto pumpkin cake without all the dishes afterwards!
Keto Pumpkin Dump Cake Recipe Video
Subscribe to the KetoFocus YouTube Channel
With 100s of videos and millions of views, Ketofocus is one of the most popular Keto channels on YouTube.
Keto Pumpkin Dump Cake Ingredients
Keto Pumpkin Dump Cake Directions
Preheat oven to 350 degrees Fahrenheit. Spray cooking oil into either a square baking dish or a 9x13 baking dish and line with parchment paper. Set aside.

Quick Tip
A square baking dish will yield a taller cake with more pronounced layers.

In a large bowl, mix together pumpkin puree, heavy cream, nut milk, eggs, sweetener and pumpkin pie spice. Pour into prepared baking dish.

Ingredients

1 can pumpkin puree
1/2 cup heavy whipping cream
1/2 cup nut milk
5 eggs
1/2 cup sugar free sweetener
1 teaspoon pumpkin pie spice

Quick Tip
Can use all heavy cream (1 cup) instead of nut milk.

Evenly sprinkle keto cake mix on top of pumpkin mixture.

Quick Tip
Don't mix the cake mix into the pumpkin pie filling. It needs to sit on top as a dry layer. The cake will get moisture from the pumpkin pie layer as it bakes.

Drizzle melted butter on top of cake mix and top with chopped pecans.

Ingredients

3/4 cup butter, melted
1 cup chopped pecans

Quick Tip
Don't worry about trying to get melted butter to cover the entire areas of dry cake mix. These dry cake areas will help to create the streusel topping.

Bake at 350 degrees for 40-50 minutes if using a 9x13 rectangle baking dish or 50-60 minutes if using a square baking dish or until cake is spongy on top but not jiggly when you move it. Remove from the oven. Let cool for a few minutes. Serve with whipped cream or ice cream.

Quick Tip
If the pecans start to look toasty, cover the cake with aluminum foil while baking.