Keto Oatmeal Cream Pies
by KetoFocus.com
Recreate the iconic Little Debbie's Oatmeal Creme Pies with a healthier twist, using a few special ingredients to give authentic flavor without the added sugars or carbs. These soft, chewy cookies sandwich a creamy filling, delivering nostalgia in every bite.
Nutrition Facts
Serving Size:
1 sandwich cookie
Feel like a kid again with the nostalgic taste of Little Debbie's with this recipe for soft and chewy keto oatmeal cream pies.
Just like my other keto cookie recipes, like my pumpkin whoopie pies, chewy peanut butter cookies and (my favorite) keto chocolate chip cookies, you won't miss the sugar filled originals with these low carb versions of the classics.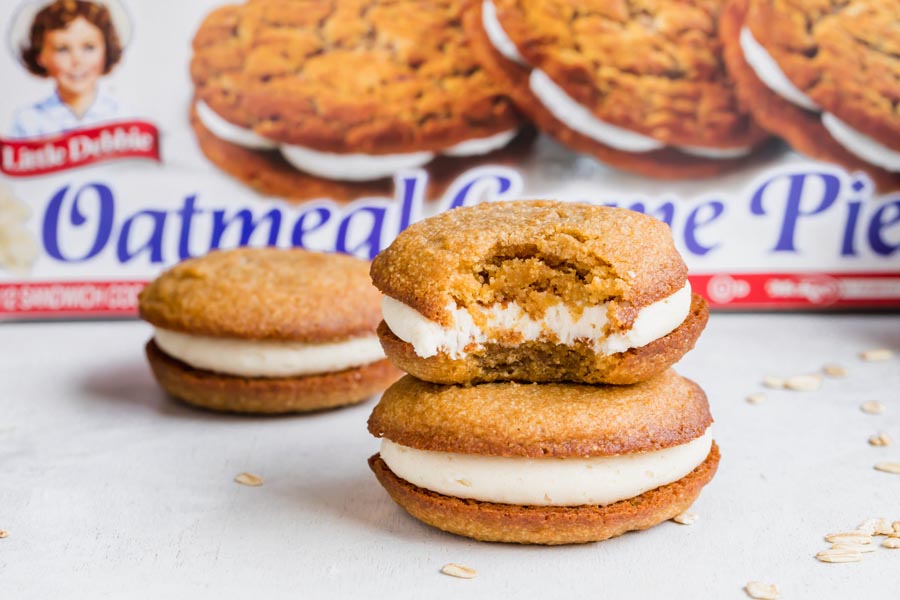 What makes them keto:
No rolled oats – These almond flour based sandwich cookies mimic the beloved oat flavor without actually using rolled oats. The secret lies in incorporating oat fiber, an insoluble fiber found in oat husks. Adding oat fiber to the almond flour gives our keto oatmeal cookies that hint of oat flavor without adding any additional carbohydrates since oat fiber is ZERO CARBS!
Molasses flavor without the sugar – Instead of molasses, which has sugar, we use a molasses flavor extract.
Perfectly sweetened cream filling – The cream filling stands out with its thick and creamy consistency. Unlike many keto frostings that can become overwhelmingly sweet due to an excess of powdered sugar-free sweeteners, this recipe strikes the right balance. By using a specific brand of sugar-free sweetener and oat fiber, the result is a filling that's perfectly sweetened, with an added depth of oat flavor and a desirable texture.
Marshmallow cream – Do you think the Little Debbie's version has a hint of marshmallow in the cream filling? Me too. Instead of using marshmallow fluff, a few drops of toasted marshmallow flavoring is added to the filling to give a subtle marshmallow undertone.
Only 1.4 g net carbs – Using the ingredients above along with a combination of brown sugar free sweetener and granulated sugar free sweetener, we are able to keep the carbohydrates very low.
Subscribe to the KetoFocus YouTube Channel
With 100s of videos and millions of views, Ketofocus is one of the most popular Keto channels on YouTube.
Keto Oatmeal Cookies Ingredients
Vanilla Cream Filling Ingredients
Keto Oatmeal Cream Pies Directions
Preheat oven to 325˚F. Line a baking sheet with parchment paper and set aside.

In a large bowl, cream together softened butter, brown sugar-free sweetener and granulated sweetener. Mix until creamy. Stir in molasses flavoring, vanilla extract and eggs. Set aside.

Ingredients

1 cup unsalted butter, softened to room temperature
3/4 cup packed browned sugar free sweetener
1/3 cup granulated sweetener
1 teaspoon molasses extract
1 teaspoon vanilla
2 eggs

Quick Tip
Use a brown sugar substitute that can pack and has moisture to it.

In a medium bowl, whisk together almond flour, oat fiber, baking soda, salt and cinnamon.

Ingredients

3 cups almond flour
1/3 cup oat fiber
1 teaspoon baking soda
1/2 teaspoon salt
1/4 teaspoon ground cinnamon

Quick Tip
Use super fine blanched almond flour.

Finish keto oatmeal cookie dough

While mixing continuously with an electric mixer, slowly add in the dry ingredients into the bowl with the wet ingredients. Continue to mix until both are combined.

Using a 1.25 inch cookie scoop, place balls of cookie dough onto the prepared baking sheet, spacing about 1 1/2 inches apart.

Quick Tip
If you don't have a cookie scoop, pinch off dough and roll into a 1 inch ball. Or add to a piping bag and pipe out cookie dough. No need to flatten cookies, although it won't hurt if you do.

Bake in the oven at 325˚F for 9-10 minutes or until the edges start to turn golden. Remove from the oven and let the cookies sit on the cookie sheet for several minutes until you can easily slide a spatula underneath. Then transfer to a wire rack to continue cooling.

Quick Tip
The tops of the cookies may look underdone and will be soft to the touch.

In a large bowl, cream butter with an electric mixer until fluffy. Slowly mix in sugar-free sweetener until combined. Add oat fiber, nut milk or cream, vanilla extract and marshmallow flavoring if using. Continue mixing until light and fluffy.

Ingredients

1 cup unsalted butter, softened to room temperature
1 1/2 cup sugar free sweetener (use recommended brand above)
1 tablespoon oat fiber
1 tablespoon nut milk or cream
1 teaspoon vanilla
1 1/2 droppersful marshmallow flavoring, optional

Quick Tip
Double the cream frosting if you love extra filling in your cookies.

Scrap frosting into a piping bag and pipe swirls of filling on the underside of one cookie. Place a second cookie on top.

Quick Tip
Makes about 18 sandwich cookies if you used a 1.25 inch cookie scoop.