Keto Pancake Pies
by KetoFocus.com
Can't decide whether you want pancakes or pie for breakfast? Have both! These mini keto pancake pies are a fun low carb breakfast you can meal prep and freeze. Add some sausage or bacon and top with sugar-free maple syrup for a delicious morning bite.
Mini keto pancake pies are the perfect way to enjoy pancakes and pie in the morning. Poppable and packable, it's an meal you can prep ahead of time and take with you on the go.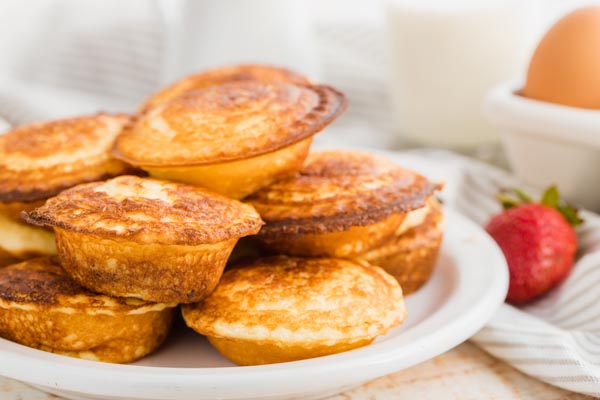 These fluffy pie shaped pancakes are filled with your choice of sausage or bacon. They make for an easy keto breakfast as you add the pancake ingredients into a blender and pulse until smooth. Then pour out into a pie maker and add your fillings.
Keto Pancake Pies Recipe Video
Subscribe to the KetoFocus YouTube Channel
With 100s of videos and millions of views, Ketofocus is one of the most popular Keto channels on YouTube.
Keto Pancake Pies Ingredients
8 oz cream cheese, softened
4 eggs
1/2 cup coconut flour
1/2 cup heavy whipping cream or nut milk
1/4 cup monkfruit sweetener or sweetener of choice>
2 teaspoons baking powder
1 teaspoon vanilla extract
18 mini cooked sausage patties or 4 slices of chopped cooked bacon
mini pie maker
Keto Pancake Pies Directions
Preheat mini pie maker. Spray each well with cooking spray.

Add cream cheese, eggs, coconut flour, heavy cream, sweetener, baking powder and vanilla to a blender. Blend until smooth.

Pour pancake batter into each cavity of the pie maker.

Add in sausage patty or bacon. Top with more batter until it reaches the top of the pie well. Close the pie maker and bake for 5 minutes. Remove and repeat with remaining batter.

To freeze, place all pancake pies in a freezer safe bag and freeze. To unthaw, wrap in paper towel and microwave for 45-60 seconds.