Mini Keto Pancakes Cereal
by KetoFocus.com
Miniature pancakes in a bowl topped with syrup or milk
Adorable mini keto pancakes for breakfast as cereal! Either pour some milk over your bowl to make keto pancake cereal. Drizzle sugar-free syrup on top or add these low carb pancakes as a topping your ice cream.
America's favorite weekend breakfast food, the pancake, just got transformed into a cereal! Keto pancake cereal is the latest trend on the internet. You can pour your favorite keto approved milk on top of these crispy, buttery tiny pancakes. Or top with a sugar-free maple syrup and dollops of butter to have little low carb pancakes in a bowl!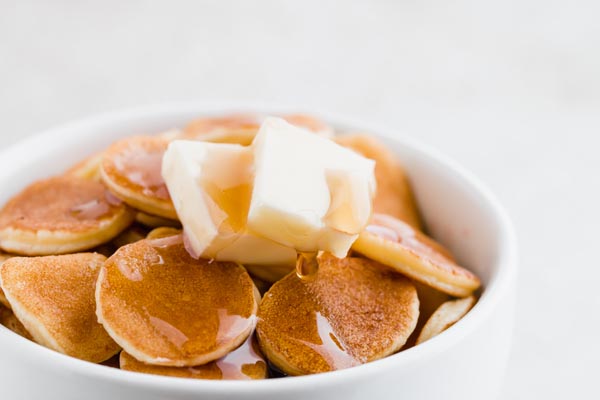 Mini keto pancake cereal might see like a tedious meal to make and you are probably right but this is a fun way to have pancakes and cereal at the same time. The preparation for the pancake batter is easy since everything is whipped together in a blender. Pouring out pancakes the size of a quarter is just the step that may take some time.
What is mini pancake cereal?
Mini pancake cereal is just that. Tiny pancakes in a bowl with either milk or syrup poured on top. It's the latest food trend to come from all the adventurous foodies on TikTok.
Truthfully, they are pretty time consuming to make. Obviously making large keto pancakes is more efficient than making tiny versions of the same thing. But this is a fun way to enjoy pancakes – especially for a special occasion like the holidays or a birthday.
Subscribe to the KetoFocus YouTube Channel
With 100s of videos and millions of views, Ketofocus is one of the most popular Keto channels on YouTube.
Mini Keto Pancakes Cereal Ingredients
8 oz cream Cheese, softened at room temperature
4 eggs
1/4 cup coconut flour
¼ c Swerve, or other favorite sweetener
½ cup heavy cream, or keto approved milk of choice
2 teaspoons baking powder
1 teaspoon vanilla
Mini Keto Pancakes Cereal Directions
Preheat your griddle or non stick skillet over low heat.

Add all ingredients in a blender. Blend until smooth.

Add keto pancake batter to a piping bag and squeeze out or spoon miniature sized pancakes (about the size of a small coin) to your preheated griddle or pan. Space around 1/4 to 1/2 inch apart. They shouldn't spread much.

Once you have finished piping out mini pancakes on the entire surface, return to the first keto pancake and flip it. I found using a small rubber spatula works best to flip the pancakes. Cook them longer for a crispier pancake cereal.

After all of the mini pancakes have been flipped, start to remove them.

Add mini keto pancakes to a small bowl and top with heavy cream or nut milk. Or add a few slices of butter and pour in sugar free pancake syrup.