Strawberries and Cream Keto Chia Pudding
by KetoFocus.com
Delicious chia strawberry pudding in an instant
Chia pudding is an easy breakfast recipe for when you are tired of the traditional bacon and eggs. This delicious keto chia seed pudding is strawberries and cream flavored and can be made in minutes!
If you are looking for an alternative to the traditional keto breakfast of bacon and eggs, then this keto chia pudding is your solution. Chia pudding is easy to make and you can prep a lot of it to enjoy all week long.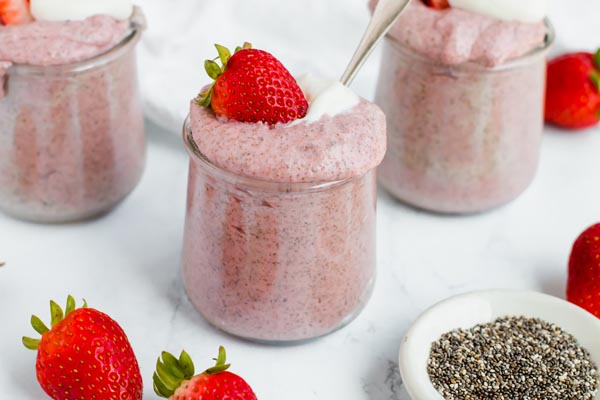 Chia seeds expand and create a gel like consistency when they sit in a liquid. They create thick puddings and can even be used as a thickener in smoothies. That's why they are used to make keto pudding.
In this chia pudding recipe, we have flavored it with fresh strawberries. Once added to the heavy cream, our keto pudding takes on a strawberries & cream flavor. Not only is it velvety smooth, but it's lightly sweetened, so you can enjoy this keto recipe as a breakfast or a dessert.
How to make keto chia pudding
There are a couple of ways to make chia pudding and it depends on how much time you have.
To enjoy your pudding right away, blend the chia seeds so they release their thickening agents make viscous pudding in an instant.
If you have time and want to make overnight keto chia pudding, add all your ingredients to a small mason jar and refrigerate. Overnight the chia seeds will absorb the liquid and expand.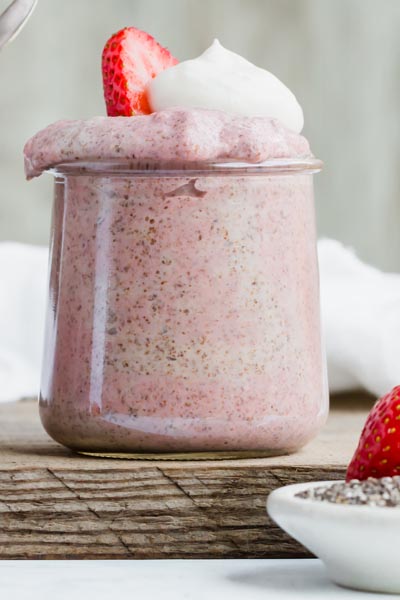 Key ingredients & substitutions
Heavy cream or nut milk – Adding a low carb milk, like whipping cream, coconut milk, coconut cream or almond milk will make this easy pudding creamy.
Strawberries – Can use fresh or frozen strawberries for this berry chia pudding.
Chia seeds – The special seed that serves as the thickener for this pudding. It's mostly fiber and contains healthy fat.
Keto Chia Pudding Recipe Video
Subscribe to the KetoFocus YouTube Channel
With 100s of videos and millions of views, Ketofocus is one of the most popular Keto channels on YouTube.
Keto Strawberries And Cream Chia Pudding Ingredients
1/2 cup heavy cream or nut milk
1/2 cup water
1/2 cup sliced strawberries
1/4 cup chia seeds
1/4 cup sugar free sweetener
1 teaspoon vanilla extract
squeeze of lemon juice
pinch of salt
Strawberries and Cream Keto Chia Pudding Directions
To a blender, add heavy cream or nut milk, water, strawberries, chia seeds, sweetener, vanilla extract, lemon juice and salt.

Ingredients

Heavy cream or nut milk
Water
Sliced strawberries (fresh or frozen)
Chia seeds
Sweetener (sugar free)
Vanilla extract
Lemon juice
Salt

Quick Tip
Nut milk options: coconut milk, almond milk or macadamia nut milk. For overnight chia pudding, add all ingredients to a bowl. Mix and refrigerate overnight.

Blend until smooth. Enjoy right away with whipped cream and coconut flakes or store in the refrigerator for later.

Quick Tip
Divide into small mason jars for an easy meal prep option.