Keto Doritos Locos Tacos
by KetoFocus.com
This keto Doritos Locos taco is just as good as the original cheesy, crunchy hard shell taco from Taco Bell, but only 3 g carbs!
Nutrition Facts
Serving Size:
1 taco shell
If you get tired of missing out on the latest fast food trends, like the Doritos Locos from Taco Bell, then you must try this taco recipe. I've taken my keto hard taco shell recipe and my keto Doritos chips recipe and combined them to make the ultimate cheesy, crunchy experience you will got loco over!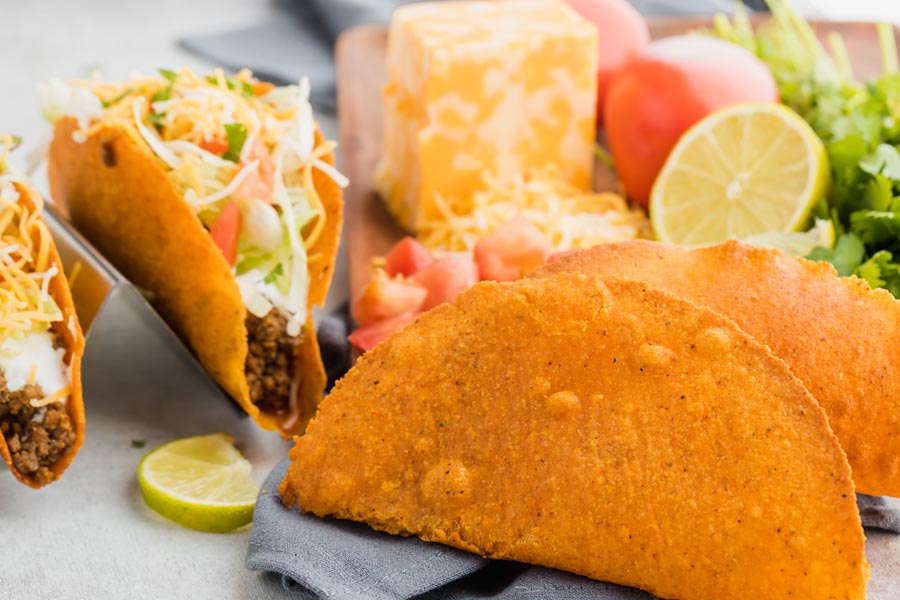 Hard shell tacos are made with a few key ingredients like almond flour, protein powder and xanthan gum. To get that Doritos flavor, we add cheddar cheese powder and some additional spices for that cheesy kick we all crave.
Keto Doritos Locos Tacos Recipe Video
Subscribe to the KetoFocus YouTube Channel
With 100s of videos and millions of views, Ketofocus is one of the most popular Keto channels on YouTube.
Keto Doritos Locos Taco Shells Ingredients
Keto Doritos Locos Tacos Directions
In a medium bowl, whisk together almond flour, protein powder, xanthan gum, salt, cheddar cheese powder, chili powder and smoked paprika.

Quick Tip
If you like getting the Doritos flavoring on your fingers, you can mix the cheese powder, chili powder and smoked paprika separately. Then dust this Doritos flavoring on after your hard shells are formed.

Pour in hot water and mix with a fork until combined.

Quick Tip
If dough is too sticky, add in more almond flour. If dough is too dry, add a splash of water.

Divide the dough into 8 balls (about 2 inches in diameter). Place each ball in between two circles of parchment paper and use a tortilla press or rolling pin to flatten into a circle about 6 inches wide. Leave each tortilla in between the parchment paper.

Pour 1/2 inch of avocado oil into a skillet and heat oil over medium heat. Add tortilla and submerge in the hot oil let cook for a minute then using two spatulas fold tortilla over to form a taco shape. Let fry for about a minute or until just about hardened. Flip and fry the other side after a minute.

Remove and let dry upside down on a paper towel lined tray. This will help hold the taco open as it dry. Keto taco shell will continue to harden as it dries.

Quick Tip
Dust with Doritos seasoning if wanting to add after shell is fried.