Keto Churro Donut Holes
by KetoFocus.com
A buttery keto doughnut hole dusted with cinnamon and your favorite sugar replacer. These churro bites make a perfect on-the-go breakfast or a sweet mid-afternoon snack.
Nutrition Facts
Serving Size:
1 donut hole
Donut cravings are legit. I love eating them with my morning coffee. Besides donut holes, chocolate glazed donuts and Krispy Kreme glazed donuts are my favorite.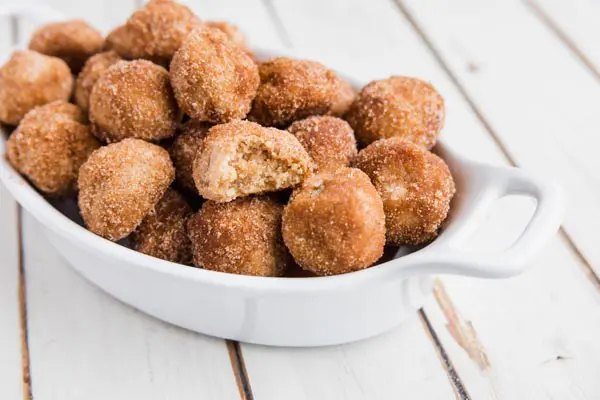 Speaking of donuts, did you know you can spell it doughnut or donut. Donut is the Americanize version. Either way, they are delicious but filled with tons of fat and carbs. I don't mind the fat but I don't want the carbs!!
Luckily I came up with a fabulous keto donut hole recipe that is only 0.7 g carbs per bite! These donut holes are buttery, soft and tastes like a churro since they are dusted with cinnamon sugar mixture.  Instead of using sugar, we use a sugar free sweetener.
Now you can satisfy your doughnut cravings with these churro bites!
How to make keto donut holes
Mix up donut batter using almond flour, low carb protein powder, baking powder, xanthan gum, cinnamon, salt, butter, sour cream and water.
Roll dough into 1 inch sized balls.
Bake donut holes in the oven until golden brown all around.
Dust with cinnamon sugar mixture made of butter, cinnamon and monk fruit sweetener.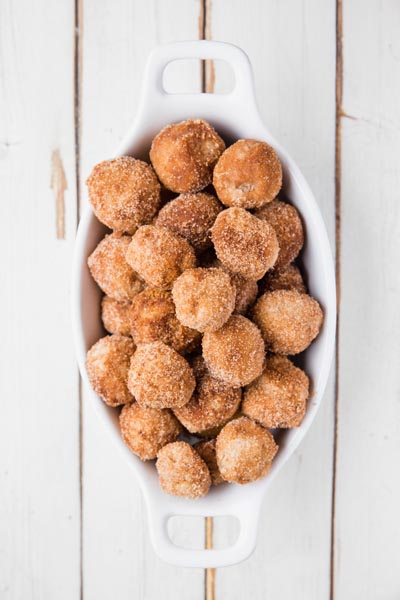 Keto Donut Holes Recipe Video
Subscribe to the KetoFocus YouTube Channel
With 100s of videos and millions of views, Ketofocus is one of the most popular Keto channels on YouTube.
Keto Doughnut Holes Ingredients
Cinnamon Sugar Coating Ingredients
Keto Churro Donut Holes Directions
Preheat oven to 325 degrees.

Quick Tip
Line a baking sheet with parchment paper.

Add almond flour, protein powder, baking powder, xanthan gum, cinnamon, salt, melted butter, sour cream and hot water to a small bowl. Mix until combined.

Quick Tip
If dough is crumbly, add a splash more of water.

Roll dough into 1/2 to 1 inch balls and place on a parchment lined baking tray, spacing about 1 inch apart.

Quick Tip
It's easiest to roll dough if your hands are wet or lightly greased with cooking spray.

Bake at 325 degrees Fahrenheit for 6 minutes.

Quick Tip
Let keto donut holes cool completely before handling. They are very delicate after they finish baking and may crumble if you handle them too soon.

Once doughnut bites have cooled to the touch, dip each one in the melted butter. Then dip in a mixture of monk fruit and cinnamon.

Quick Tip
Melted coconut oil can be used in place of butter for a dairy free option.