Keto Protein Chaffle with Salted Caramel Collagen Syrup
by KetoFocus.com
An easy keto protein waffle recipe loaded with protein and healthy collagen. This waffle recipe is perfect for as a post workout meal or when you need a low carb breakfast to keep you full all morning.
Whether you just finished a workout or you want to feed your family a delicious high protein breakfast to keep them full until their next meal, this protein waffle recipe is what you need. And the best part (besides the flavor) is that it doesn't take long at all to make! Ideal for when you are starving after hitting the gym hard or if you are running late in the morning. This protein chaffle recipe can be made in a few minutes – waffle, syrup and all!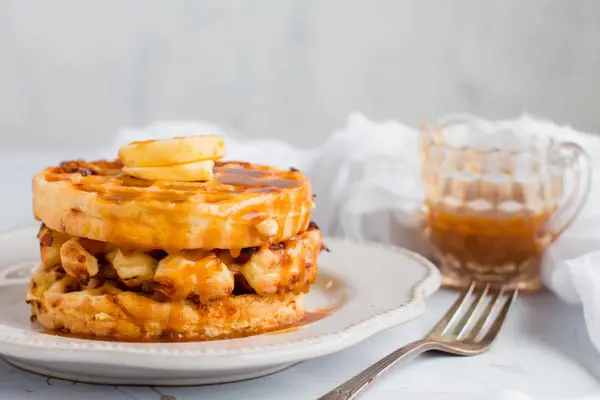 The syrup in this waffle recipe has an added protein bonus with the addition of the collagen in the syrup. It has an addicting salted caramel flavor that you will want to pour in every well of your protein waffle.
How to make keto protein waffles
Mix up all the ingredients for the keto protein waffles – egg, shredded mozzarella cheese, low carb protein powder and baking powder.
Pour waffle mix into waffle maker and let cook until golden brown.
Top with sugar free maple syrup and butter or just spread on peanut butter. Enjoy!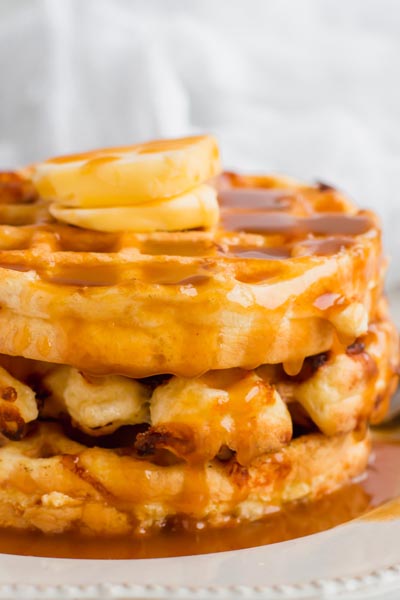 What is a protein chaffle?
A keto chaffle is a low carb waffle that is primarily made of egg and cheese. Many recipes will call for either mozzarella cheese, cheddar cheese or cream cheese. You can use any type of cheese. This recipe uses mozzarella cheese, but you can substitute with 1 oz of cream cheese if you prefer.
Adding protein powder to this keto waffle recipe not only provides extra protein to meet your high intensity lifestyle, it also provides substance to the chaffle, takes away from the egg or cheesy flavor and it means that we don't have to use almond flour or coconut flour in our protein waffles. Look for protein powders that are low carb or zero carb.
Instead of using a whole egg, for a lower fat option, use egg whites. Two egg whites would work to replace the whole egg in this waffle recipe.
Subscribe to the KetoFocus YouTube Channel
With 100s of videos and millions of views, Ketofocus is one of the most popular Keto channels on YouTube.
Keto Protein Waffles Ingredients
Salted Caramel Collagen Syrup Ingredients
2 tablespoons unsalted butter
1 tablespoon powdered erythritol
1 scoop collagen powder
1/4 cup heavy cream
1/8 teaspoon salt
Keto Protein Chaffle with Salted Caramel Collagen Syrup Directions
Preheat waffle maker to medium high heat. Whisk together all of the ingredients for the protein waffles - egg, shredded mozzarella cheese, protein powder and baking powder.

Pour protein chaffle batter into the middle of the waffle maker. Close and let cook for 3-5 minutes or until waffle is golden brown and set. If using a mini waffle maker, only pour one third the batter.

Once finished cooking, remove chaffle from the waffle maker and repeat with remaining batter.

Salted caramel syrup instructions

To make the salted caramel syrup, melt butter in a sauce pan over medium heat. Heat until butter get browned and lets off a nutty aroma.

Turn down heat to low. Whisk in powdered erythritol and collagen powder. Stir in heavy cream and whisk until combined. Remove from heat and add salt.