Keto Chai Pancakes
by KetoFocus.com
Cozy up to this stack of spiced pancakes
Nut-free keto pancakes filled with warm aromatic spices like cinnamon, ginger, nutmeg and cardamom. These are so delicious, you may even ditch the syrup!
Nutrition Facts
Serving Size:
3 inch pancake
Saturday and Sunday mornings were made for pancakes. I love enjoying a fat stack of pancakes on the weekend so much that I have many different types of keto pancake recipes. From chocolate pancakes to pancake cereal to these chai spiced pancakes – I got breakfast covered.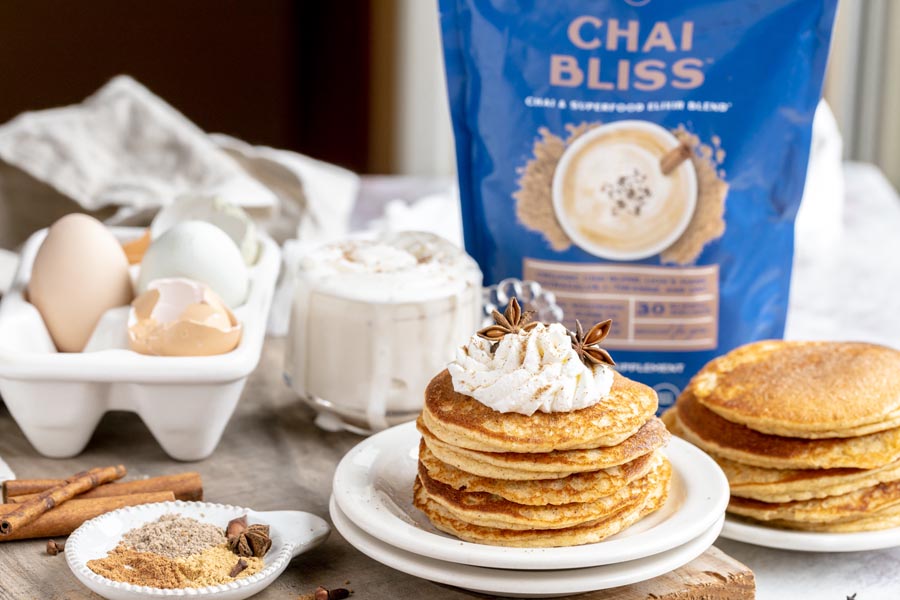 If you are looking to spice up your morning, try these keto chai pancakes. These coconut flour pancakes are spiked with a blend of spices – like cinnamon, ginger, cardamom and nutmeg. But if you want to make it easier, you can add scoop of Chai Bliss from Earth Echo, my partner for this recipe. Chai Bliss has a blend of organic chai spices, Lion's Mane, astragalus, L-theanine and Zinc. Not only does is create a delicious frothy chai latte but it helps energize, boost the immunity system and helps with brain fog. Each scoop has only 4 grams net carbs and is sweetened with organic monk fruit instead of added sugar.
To save 15% on your Chai Bliss order, use code KETOFOCUS15.
Subscribe to the KetoFocus YouTube Channel
With 100s of videos and millions of views, Ketofocus is one of the most popular Keto channels on YouTube.
Chai Spiced Keto Pancakes Ingredients
8 oz cream cheese, softened
4 eggs
1/2 cup coconut flour
1/4 cup sugar free sweetener
1/2 cup nut milk
2 teaspoons baking powder
1 teaspoon ground cinnamon
1/2 teaspoon ground cardamom
1/2 teaspoon ground ginger
1/4 teaspoon ground nutmeg
1/4 teaspoon salt
Keto Chai Pancakes Directions
Add cream cheese, eggs, coconut flour, sweetener, nut milk, baking powder, cinnamon, cardamom, ginger, nutmeg and salt to a blender or food processor. Blend until smooth.

Quick Tip
Can mix with an electric mixer; however, blending makes it easier to cut in the cream cheese.

Preheat a griddle or non-stick skillet to low medium heat. Spray with cooking spray. Pour enough pancake batter to form a 3 inch pancake. Repeat if you have room. Let cook until edges are set and you can easily slide a spatula under the pancake and drag it away.

Quick Tip
These pancakes take longer to cook compared to wheat based pancakes (about 5-6 minutes on the first side). The lower the heat and longer they cook on that first side, the easier it is to flip.

Flip the pancake and let cook for an additional 2-3 minutes.