Keto Cadbury Eggs
by KetoFocus.com
The keto version of your favorite Easter candy
Cadbury eggs are irresistible with their gooey, sugar filling that explodes when you bite into the chocolate covered shell. These keto Cadbury creme eggs have a similar filling to that of the real thing but without the carbs or sugars, so you don't have to give in or miss out this Easter.
Easter is another holiday that is flooded with delicious candies. From chocolates to jelly beans, they are everywhere! Just because you follow a low carb lifestyle doesn't mean you have to miss out on your favorites, including this keto Cadbury eggs. I also have recipes for chewy sugar-free caramels and even banana laffy taffy! There is something for everyone.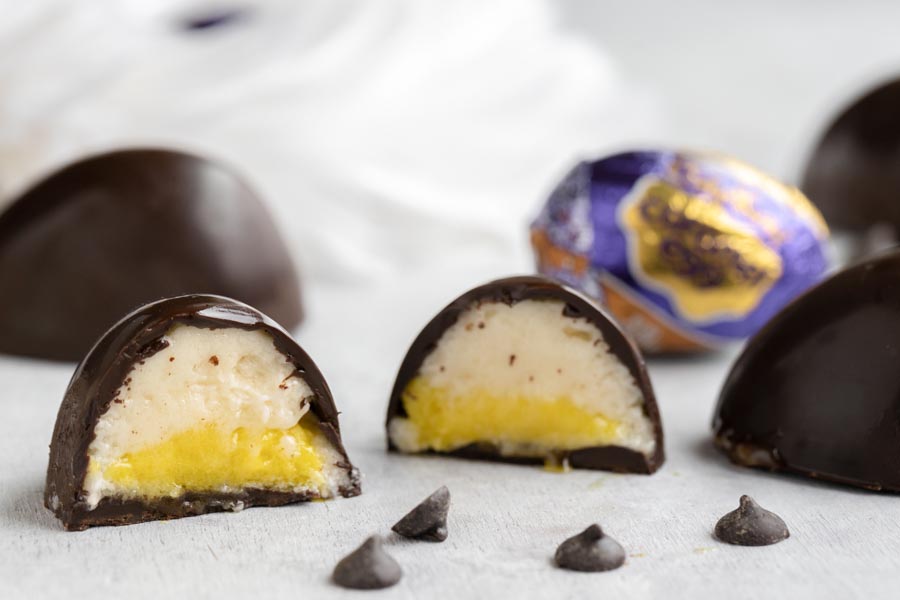 Making a keto Cadbury egg is quite simple as long as you have the right tools and ingredients. Sugar-free chocolate is melted with a touch of coconut oil. A silicone egg mold is lightly coated with the melted chocolate. For the filling, we use a combination of a thick keto syrup and butter. Some recipes for low carb Cadbury eggs use cream cheese or buttercream frosting as the filling but this strays away from the original recipe. With my keto Cadbury creme egg recipe, you will get that same delicious filling ooze out when you bite into these chocolate covered eggs.
How to make keto cadbury eggs
Make chocolate shell. Melt keto chocolate and coconut oil in the microwave or over the stove top using the double boiler method. Coat the inside cavities of a silicone egg mold with the melted chocolate. Freeze until hardened.
Make creamy filling. Combine sugar-free vanilla syrup with butter, vanilla and salt. Mix until smooth. Pull out a little bit of the filling for the yolk and add additional sweetener and yellow food coloring.
Assemble the eggs. Add a dollop of white and yellow filling to the inside of the harden chocolate shell. Top with additional melted chocolate and freeze for 5 minutes to set.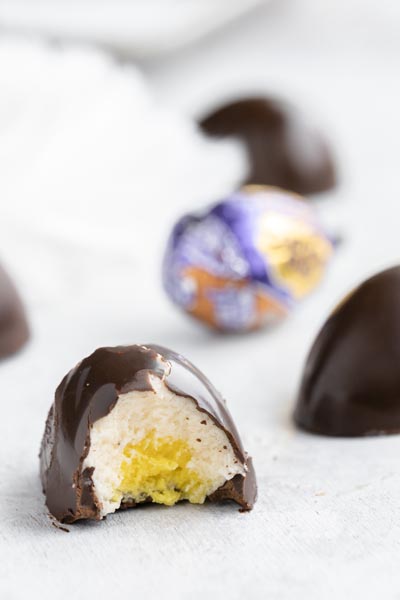 Key equipment
Of course, we will need to make these into an egg shape. It's easiest to use a silicone mold that makes a half egg shape. Not only do these lay properly so they don't roll around but we don't have to worry about sealing the two egg halves together. Here are some different mold options and sizes. Silicone molds are preferred over a plastic molds because it is easy to peel the mold away from the chocolate.
Key ingredients
Chocolate – For this keto Easter candy recipe, I use sugar-free chocolate. Baker's chocolate or a dark chocolate can also be used; however, it can be bitter so you may have to add additional powdered sugar-free sweetener. Coconut oil is added to the chocolate to thin it out so that it is easier to spread into the mold.
Vanilla syrup – Using a sugar free vanilla syrup has multiple roles. Not only does it help to create that gooey center, but it also adds a slight vanilla flavor and sweetness. Allulose syrup may be used as well.
Butter – Adds flavor to our candy center and helps thicken up the texture of the filling too.
Looking for another easy bite-sized keto treat? Try making these Almond Joy Bites.
Subscribe to the KetoFocus YouTube Channel
With 100s of videos and millions of views, Ketofocus is one of the most popular Keto channels on YouTube.
Keto Cadbury Eggs Ingredients
Keto Cadbury Eggs Directions
Place 2 oz chocolate and coconut oil in a glass, microwave safe bowl. Microwave at 30 second intervals until melted, stirring in between. Can also melt using the double boiler method over the stove-top.

Ingredients

Chocolate (2 oz)
Coconut oil

To each cavity of a silicone egg mold, add a small amount of melted chocolate and draw up the sides with the back of a spoon or a paintbrush until the entire cavity is coated with a thin layer of chocolate. Refrigerate or freeze until hardened (5-15 minutes).

In a medium bowl, mix vanilla syrup, butter, vanilla extract and salt until smooth and creamy.

Ingredients

Vanilla syrup
Butter (softened)
Vanilla extract
Salt

Take about 1/3 of the filling and add to a small bowl. This will be the yolk bowl as you don't need as much yolk as the white part of the egg. The larger bowl will be your 'whites' and the smaller bowl is your 'yolks'. To the yolk bowl, stir in powdered sugar free sweetener and 1-2 drops of food coloring.

Ingredients

Powdered sugar free sweetener
Yellow food coloring

To the harden chocolate shells, add a small amount of white filling followed by a small dollop of yellow filling. Add a final amount of white filling, leaving room for the final chocolate layer to seal everything inside.

Melt remaining 3 oz of chocolate in the microwave or over the stove top as instructed above. Spoon a small layer of melted chocolate over the top of each egg until no filling is showing. Freeze for 5 minutes to set.

Once the chocolate has hardened, remove from the freezer and peel the eggs out of the molds. The longer the eggs sit at room temperature, the more the inside filling will be gooey - perfect for biting into.

Quick Tip
Store in the refrigerator or freezer.