Grilled Flank Steak
by KetoFocus.com
For a tender, juicy steak that you can BBQ in less than 10 minutes, make this grilled flank steak recipe. Marinated in a tangy, aromatic mustard herb mixture, this quick cooking steak recipe is the ideal dish for a flavorful yet effortless meal.
This grilled marinated flank steak is tender, juicy and ultra-savory. Grilling brings out the natural robust, beefy flavor while adding a smoky char similarly to a ribeye or or high-end steaks. But this inexpensive cut of beef cooks quickly requiring less than 10 minutes due to the steak's thinness and the hot sear cooking method. Those juices are locked in from the caramelized crust, keeping the inside of beef flank steak succulent.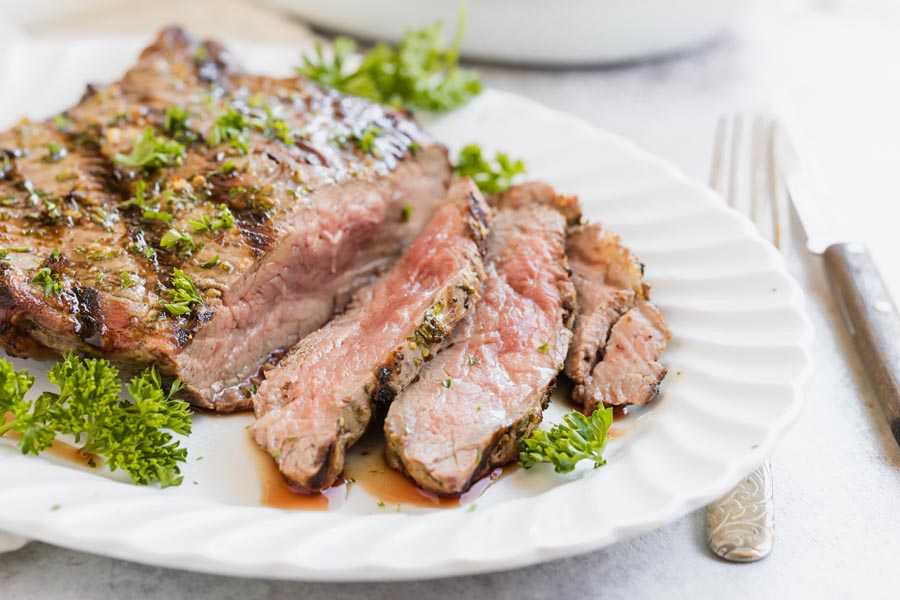 We used an oil-based marinade for this steak recipe. The neutral oil provides a vessel for the flavors of the herbs, garlic and mustard to season the meat evenly. Adding red wine vinegar to the steak marinade helps to tenderize the meat. The tanginess from the vinegar and mustard combined with the fresh cilantro and parsley have a resemblance to chimichurri sauce.
How to grill flank steak?
The best way by far to cook flank steak is on the grill. This butcher's cut steak typically has a large surface area so it's able to pick up a nice char and smoky flavors.
Flank steak has a close-grained texture that makes it ideal for grilling anywhere between a rare and medium cook. Cooking the flank beyond medium and you can get chewy, rubbery steak. Like other butcher's steaks, flank steak should be grilled over high heat, flipping it occasionally, until it develops a nice crust on both sides.
Preparation: Take the steak out of the refrigerator and allow it to come to room temperature for about 30 minutes. This helps the steak to cook evenly.
Marinade: Flank steak soak up marinades quite as well as similar quick cooking cuts like hanger or skirt steak, but it still gives a nice boost of flavor. Try the delicious mustard-herb marinade made by combining stone ground mustard, fresh cilantro and parsley with red wine vinegar and garlic. Marinade for 2-8 hours. 
Grilling flank steak: Very high heat is essential to grilling flank steak – 450 – 500˚F. Since it is relatively thin, you want to give the beef a nice char before it overcooks. Grill the steaks from start to finish over this high heat, flipping occasionally. Usually takes about 3-5 minutes per side, depending on the thickness of the steak and desired level of doneness.
Resting: Like any meat, flank steaks should be allowed to rest for a few minutes after cooking.
Slicing: Use a long, thin sharp carving knife to slice the steak against the grain.
Grilled Flank Steak Recipe Video
Subscribe to the KetoFocus YouTube Channel
With 100s of videos and millions of views, Ketofocus is one of the most popular Keto channels on YouTube.
Marinated Grilled Flank Steak Ingredients
18 oz flank steak
3 tablespoons avocado oil or neutral oil
2 tablespoons minced parsley
2 tablespoons minced cilantro
2 tablespoons stone ground mustard
1 tablespoon red wine vinegar
3 cloves garlic, minced
1 1/2 teaspoons salt
Grilled Flank Steak Directions
Pat steak dry with a paper towel on all sides. Place steak in a large baking dish, plate or Ziploc bag.

Quick Tip
Most butchers sell flank steak trimmed and ready to cook.

Make flank steak marinade

In a small bowl, whisk together avocado oil, minced parsley, minced cilantro, mustard, vinegar, garlic and salt.

Ingredients

3 tablespoons avocado oil
2 tablespoons minced parsley
2 tablespoons minced cilantro
2 tablespoons stone ground mustard
1 tablespoon red wine vinegar
3 cloves minced garlic
1 1/2 teaspoons salt

Quick Tip
1 teaspoon of garlic powder can be substituted for fresh garlic; however, fresh herbs are preferred

Rub or brush steak marinade all over the meat. Let marinade soak in for at least 1-2 hours but up to 8 hours. Refrigerate while marinating.

Quick Tip
Don't let flank steak marinade longer than 10 hours or else the meat can get chalky and firm from the vinegar.

Thirty minutes before cooking, remove the flank steak from the refrigerator and allow beef to come to room temperature for even cooking. Preheat one side of the grill to high (450 - 500˚F). Once the grill is hot enough, place the flank steak on the hot side of the grill and cook until well charred, about 3-5 minutes. Flip and continue to cook until the second side is well charred, about 3 minutes more. Transfer the steak to the cooler side of the grill, cover and cook until the internal temperature is 125˚F for medium-rate or 135˚F for medium.

Quick Tip
If using a charcoal grill, light up an entire chimney of coals and pile them all under one side of the grill. As soon as the coals on top are hot, add the steak and cook as instructed.

Transfer steak to a cutting board and allow to rest for at least 5 minutes before slicing the steak against the grain to serve.