Almond Flour Cookies
by KetoFocus.com
Soft keto cookies with only 3 ingredients
Get soft almond flour cookies using only 3 ingredients. These keto cookies might be a simple recipe but they have all the necessary ingredients to yield a light buttery cookie.
When I want the ultimate cookie, I'll make my favorite keto chocolate chip cookies or these soft cutout sugar cookies. But sometimes, you might have a cookie craving but don't want to fuss with pulling out a ton of ingredients or using multiple mixing bowls, measure cups and spoons. That's where these almond flour cookies come in handy.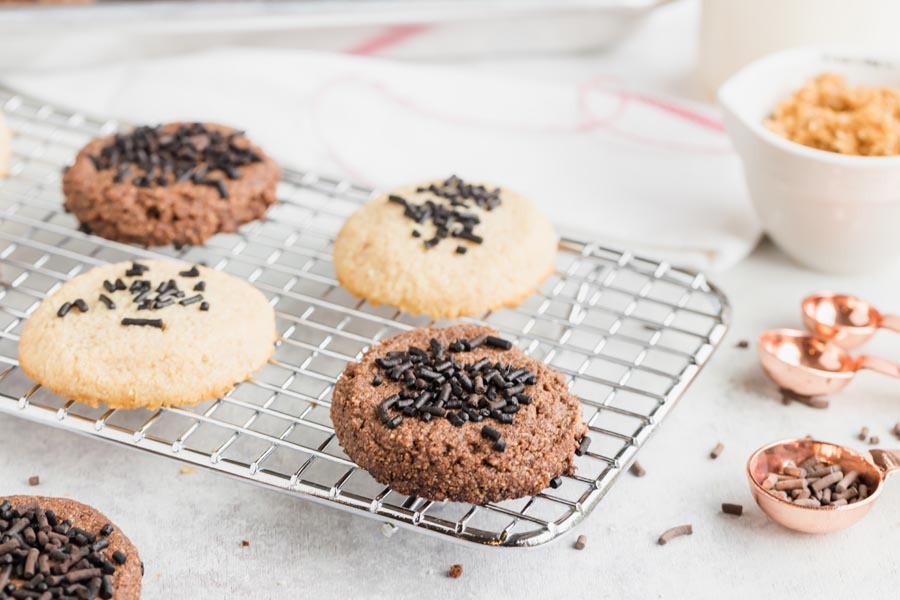 With only 3 ingredients – almond flour, butter and sugar-free sweetener, you can have a soft tender keto cookie without the effort or expensive ingredients. Most three ingredient keto cookies are those peanut butter cookies you see. But this cookie recipe is different!
Top with sugar-free sprinkle for crunch and decoration. Yes, this is a forth ingredient but worth it for the presentation.
Or make a chocolate almond flour cookie by adding a scoop of cocoa powder! Feel like a chocolate chip cookie? Just add chocolate chips!
How to make almond flour cookies
Mix together softened butter and sweetener until fluffy and creamy.
Add almond flour and mix until combined.
Using a cookie scoop, place cookie dough on a parchment lined tray and flatten. Refrigerate to prevent spreading.
Bake for 6-8 minutes or until edges are golden brown.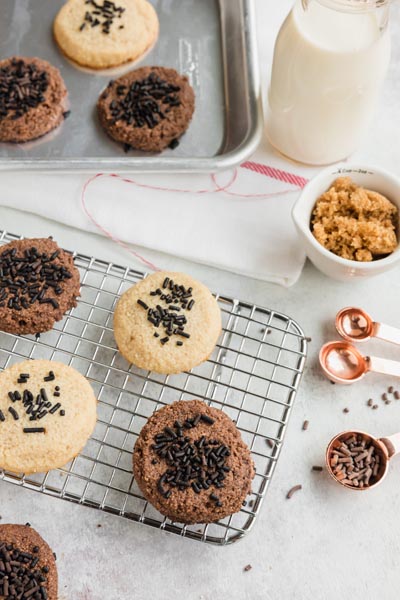 Key ingredients
Butter – These cookies do need a pinch of salt. Normally when it comes to baking, it's best to use unsalted butter and add salt seperately in order to control the level of saltiness. In this case, we are only using 3 ingredients; therefore, salted butter is preferred!
Sugar-free sweetener – Any sweetener can be used as long as it measures cup for cup with sugar. In this almond flour cookie recipe, it's best to use a golden or brown sugar alternative like Brown Swerve, Golden Lakanto or Truvia Sweet Complete Brown. These brown sugar replacers have a hint of molasses or caramelized flavor that adds additional flavor to each keto cookie.
Almond flour – The keto flour used in this recipe. Almond flour has a delicate texture and is widely available at most grocery stores.
Almond Flour Cookies Recipe Video
Subscribe to the KetoFocus YouTube Channel
With 100s of videos and millions of views, Ketofocus is one of the most popular Keto channels on YouTube.
Almond Flour Cookies Ingredients
Almond Flour Cookies Directions
Preheat oven to 350 degrees and line a baking sheet with parchment paper. Set aside.

Cream butter and sweetener

In a large bowl, cream together the softened butter and brown sugar free sweetener using an electric mixer until light and fluffy (2-3 minutes).

Ingredients

Butter (softened)
Brown sugar free sweetener

Quick Tip
Beating the butter for this long helps to incorporate air into the butter which will help these cookies rise when they bake.

Slow mix in almond flour (and cocoa powder if making chocolate cookies) until combined.

Ingredients

Almond flour
Cocoa powder (unsweetened)

Quick Tip
If making the chocolate version, only use 2 cups almond flour.

Scoop about a 1 inch ball of cookie dough onto the baking tray using a cookie scoop or tablespoon. Flatten with the back of a spatula or spoon.

Quick Tip
Top with sugar free sprinkles if desired.

Bake at 350 degrees for 6-8 minutes or until edges start to get golden brown. Remove from oven and let cookies sit on the baking tray until cooled completely before transferring to a wire rack.

Quick Tip
You must let the cookies cool completely before you pick them up or else they may crumble.