Keto Smores Bars
by KetoFocus.com
Keto Smores Bars are the best dessert for a low carb diet during summer. They are made with a keto graham cracker crust, a layer of melted sugar-free chocolate, and sugar free marshmallows. This classic camping treat is gluten-free and a delicious substitution for regular carb-heavy s'mores.
These smores bars are filled with gooey deliciousness of chocolate and marshmallows just like keto smores and keto smores bites.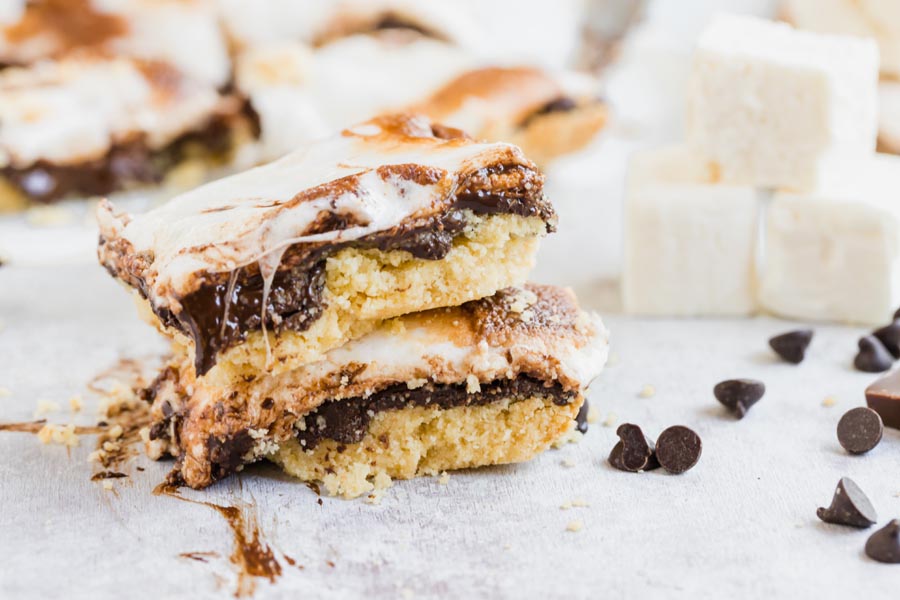 You won't need a campfire to cook up these s'mores! Just an oven. So it's the ideal smores recipe if you are at home or baking enough to share.
Instead of making homemade marshmallow and keto graham crackers, this keto smores bar recipe uses a short cut. Instead we use premade sugar free marshmallows and keto chocolate. The graham cracker crust is easy to make and only takes about 15 minutes to make. 
How to make keto smores bars
Use these steps to make your low-carb smores bars using keto-friendly ingredients.
Coat a square baking pan with cooking spray and preheat the oven.
Add almond flour, coconut flour, brown sugar sweetener substitute, baking powder, xanthan gum, and salt in a food processor. Pulse a few times, then add the cubed butter and graham cracker flavoring. Pulse until a coarse crumb forms.
Press the keto crust ingredients into the pan. Make sure you press into an even layer along the bottom and a little bit up the sides.
Top with a layer of melted chocolate then broil until melted.  .
Add sugar-free marshmallows. Broil until the marshmallows are golden brown and remove them from the oven to cool, place them on a cooling rack, freeze for 30-60 minutes then cut them into squares and serve.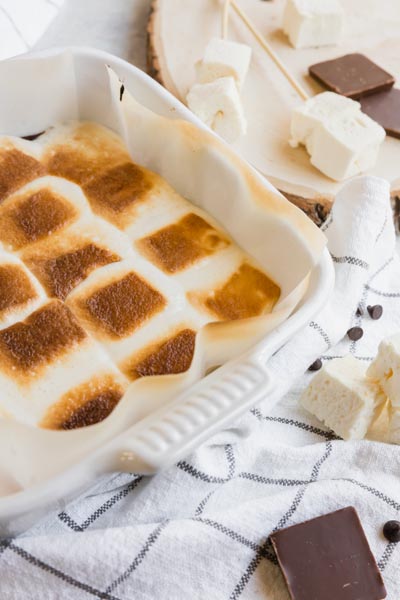 Keto S'mores Bars Recipe Video
Subscribe to the KetoFocus YouTube Channel
With 100s of videos and millions of views, Ketofocus is one of the most popular Keto channels on YouTube.
Keto S'mores Bars Ingredients
Keto Smores Bars Directions
Preheat oven to 350 degrees. To a food processor, add almond flour, coconut flour, sweetener, baking powder, xanthan gum and salt. Pulse to combine.

Quick Tip
A blender or pastry blender can be used in place of a food processor for making this crust.

Finish graham cracker crust

Add cold, cubed butter and graham cracker flavoring or vanilla extract. Pulse until coarse crumbles form.

Quick Tip
An egg can be added to help hold the crust together better but once the bars are chilled the crust will be firm.

Bake graham cracker crust

Press dough into a square baking dish lined with parchment paper and sprayed with cooking spray. Bake at 350 degrees for 9-12 minutes.

Spread chocolate chips evenly over the baked keto graham cracker crust. Position the oven rack to the top rack and place dish under the broiler over high for 1 minute. Remove and spread the chocolate into an even layer with a spatula.

Quick Tip
Sugar free chocolate squares or bars can be used in place of the chocolate chips.

Evenly spread marshmallows onto the top of the melted chocolate layer. Return under the broiler and broil for 1-2 minutes until marshmallows have melted and are golden brown.

Freeze bars for 30-60 minutes to set the layers and cut into squares.