Keto S'mores Bites
by KetoFocus.com
All the flavors of s'mores in a bite sized snack. These keto s'mores bites are so easy to make and don't require a campfire or flame to make!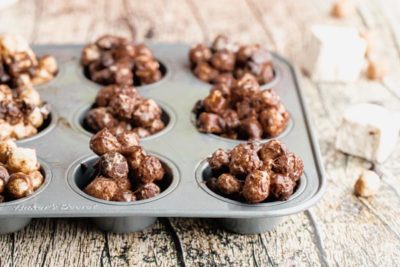 An easy solution to a smores craving is to make these keto s'mores bites. They are perfect for backyard campouts or when you desire smores but don't want to start a fire or rely on a flame to melt your sugar free marshmallows.
These bite sized cereal snacks are flavored with chunks of chocolate and marshmallow – both sugar free and keto approved. The melted marshmallow works as a glue to hold to these yummy flavors to the crunchy keto cereal. I love using chocolate, cinnamon or peanut butter low carb cereals.
Keto smores bites are easy to pop into your mouth! They make the perfect snack for your outdoor adventures or delicious treat for telling stories around the campfire when you are keto camping.
Subscribe to the KetoFocus YouTube Channel
With 100s of videos and millions of views, Ketofocus is one of the most popular Keto channels on YouTube.
Keto S'mores Bites Ingredients
Keto S'mores Bites Directions
Cut one sugar free marshmallow into small chunks. Set aside.

Melt marshmallows and butter

In a small bowl, melt the other marshmallows and butter in the microwave for 20 seconds.

Add keto cereal, chocolate chips and remaining marshmallow chunks to the melted marshmallow mixture. Stir to evenly coat.

Evenly distributed s'mores mixture into six, greased cavities of a mini muffin tin. Refrigerate for 10-15 minutes or until set. Store at room temperature or refrigerator.