Keto Pasta Chips
by KetoFocus.com
A crunchy pasta alternative to chips
A healthier alternative to chips, pasta chips is one crunchy snack that went viral on TikTok.
Crunchy pasta is actually a thing. Made famous from social media, these baked pasta chips are a healthy substitute to chips. TikTok is always feeding us unique, easy recipes that change our lives – like baked feta pasta and the wrap hack. And these pasta chips are no exception.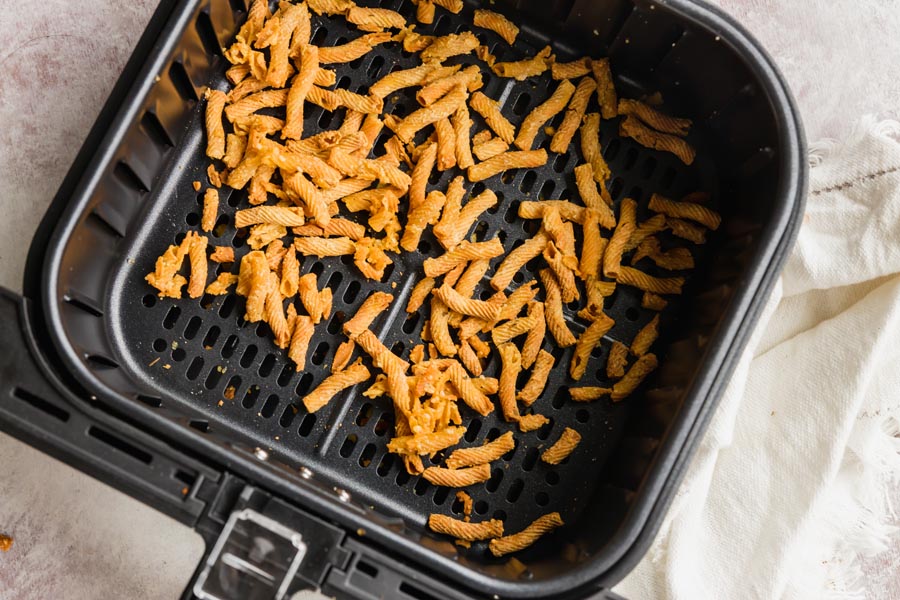 The hardest part of this recipe was trying to find a low carb pasta that would bake up and be crispy. There are many keto pasta noodles out there but to work for this pasta chip recipe, they were either the wrong shape or the wrong texture (so they wouldn't air fry correctly).
Luckily I found a gluten-free, keto pasta that was in a ziti pasta shape and would hold up to the air fryer when baked. After the noodles are cooked to al dente texture, we toss them in olive oil, parmesan cheese, garlic powder and Italian seasonings. Cooking the pasta in the air fryer evaporated the moisture while the oils coating the noodles make each pasta noodle extra crispy.
These keto pasta chips make the perfect alternative to popcorn on movie night or when you want something crunchy.
Cook pasta until al dente in texture. Drain water and add to a medium bowl.
Add seasonings – grated parmesan cheese, olive oil, garlic powder Italian seasoning, salt and pepper. Toss to coat evenly.
Air fry at 400 degrees for 6-8 minutes. Enjoy!
Key ingredients
Pasta – The low carb pasta used in this recipe is a lupin flour pasta. It was the perfect size, shape and noodle type for this recipe. You might be able to use these wheat based keto noodles as well.
Parmesan cheese – Added for flavor.
Seasoning – A combination of garlic powder, Italian seasonings, salt and pepper are used to add a hint of Italy to our dish.
Air fryer – The air fryer is key to getting that crispy, crunchy texture of our pasta chips; however, you can bake these in the oven at 400 degrees for 8-10 minutes or until crispy.
Subscribe to the KetoFocus YouTube Channel
With 100s of videos and millions of views, Ketofocus is one of the most popular Keto channels on YouTube.
Keto Pasta Chips Ingredients
8 oz low carb pasta
2 tablespoons olive oil
3 tablespoons grated parmesan cheese
1/2 teaspoon Italian seasoning
1/2 teaspoon garlic powder
salt and pepper to taste
Keto Pasta Chips Directions
Cook pasta in boiling water according to package directions. Cook until al dente. Drain and add to a medium bowl.

Quick Tip
This pasta tends to crumble easily so it's better to undercook the pasta to prevent crumbling.

Add olive oil, parmesan cheese, Italian seasoning, garlic powder, salt and pepper. Toss or stir to coat.

Place an even layer of pasta in the basket or tray of an air fryer. Air fry at 400 degrees for 6 minutes or until crispy. Enjoy once cooled.