Keto Jelly Danish
by KetoFocus.com
Soft and fluffy low carb pastry filled with a fruit jelly. These Keto Danishes are perfect for breakfast or a brunch.
Whether you are attending a brunch or it's just another day at the office, you can easily find yourself surrounded by delicious carb-heavy pastries and donuts. Instead of giving into temptation, make a keto danish! Just like my Keto Krispie Kreme Donuts, Cream Cheese Danishes and Gooey Low Carb Cinnamon Rolls, these puff pastry wonders will kick those cravings to the curb!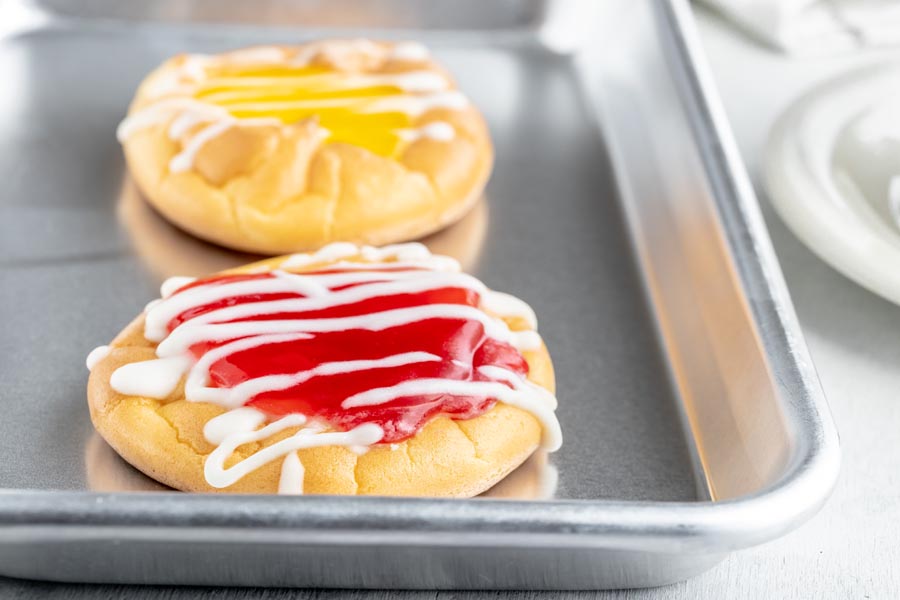 The perfect morning is a freshly baked pastry and a cup of hot coffee. And these jelly danishes go hand-in-hand with a freshly pot of coffee. If you are looking for a soft, fluffy keto danish filled with a vibrantly colored jelly, you found your low carb recipe.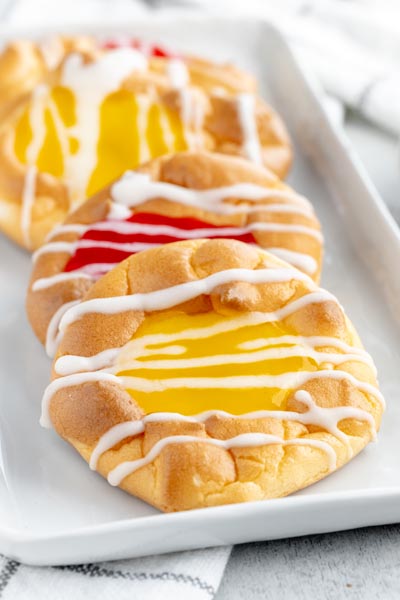 Subscribe to the KetoFocus YouTube Channel
With 100s of videos and millions of views, Ketofocus is one of the most popular Keto channels on YouTube.
Keto Pastry Dough Ingredients
Sugar Free Jelly Filling Ingredients
Sugar Free Icing Ingredients
Keto Jelly Danish Directions
Separate the egg whites from the yolks and place each in a small bowl.

Quick Tip
Make sure no egg yolk gets in the whites or else you will have trouble beating to stiff peaks.

To the bowl with the egg yolks, add protein powder, almond flour, softened cream cheese and sugar free sweetener. Mix with an electric mixer until smooth. Set aside.

Ingredients

Egg yolks
Almond flour
Cream cheese (softened)
Sugar free sweetner

Quick Tip
Wash and dry beaters before mixing egg whites

To the bowl with egg whites, mix with a clean and dry electric mixer at a low medium speed until the mixture turns frothy. Add in the cream of tartar and turn the speed of the mixer up to high, continue mixing until stiff peaks form.

Ingredients

Egg whites
Cream of tartar

Quick Tip
The cream of tartar helps to stabilize the meringue.

Carefully fold the yolk mixture into the egg meringue until combined. Don't aggressively fold or mix, the goal is to keep the airiness of the batter in order to get the danish pastry to rise.

Scoop about 1/4 cup of the pastry batter onto a parchment lined baking tray spacing about 1 ½ inches apart. Using the back of a spoon make a well in the center of each danish batter to make room for the filling. Bake at 325 degrees for 12 minutes.

Mix the konjac gum powder with the powdered sugar free sweetener. Then pour mixture into boiling water. Immediately stir to combine to avoid clumping. Add lemon juice flavor extract and food coloring. Stir to combine. Mixture will continue to thicken as it cools.

Ingredients

Konjac gum powder
Powdered sugar free sweetener
Water (boiling)
Lemon juice
Flavoring
Food dye

Quick Tip
Water must be boiling to avoid clumping of the konjac gum. If your mixture does clump, just microwave it at 20 second intervals until it is smooth. Let rest to thicken.

Once your keto danish pastries have cooled. Add 1-2 tablespoons of the jelly to the center well.

In a small bowl, combine powdered sugar free sweetener, lemon juice and heavy whipping cream. Adjust the amount of whipping cream to create a thin icing capable of drizzling. Drizzle over danishes.

Ingredients

Powdered sugar free sweetener
Lemon juice
Heavy whipping cream