Keto Jelly Donuts
by KetoFocus.com
Pillowy soft homemade keto jelly donuts. Pour yourself a cup of coffee and sink your teeth into these pastries that are bursting with a sugar free jelly.
Your morning just got better with these homemade, soft, fluffy keto donuts coated with sugar free powdered sugar and filled with a sweet zero carb jelly. After I created the perfect bakery style pastry jelly from my keto danish recipe, I had to marry my basic donut recipe with the jam to make the ultimate low carb jelly donut.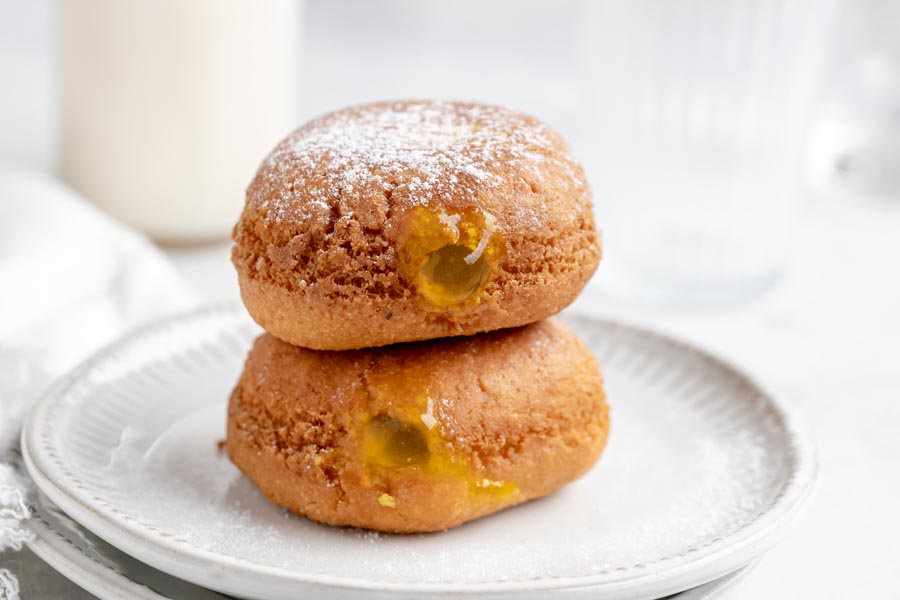 This donut recipe starts with a gluten free pastry batter that is made from almond flour and a few other ingredients to create the perfect cake donut texture. After frying to a crispy golden, brown the keto donuts are filled with a gooey sugar free lemon jelly that will burst in your mouth as you bite into the donut.
How to make keto jelly donuts
Make keto donut batter by combining the dry ingredients with the wet ingredients.
Mold donuts into balls and flatten into a bun shape.
Fry in oil until golden brown.
Fill each donut with sugar free jelly and dust with powdered sweetener.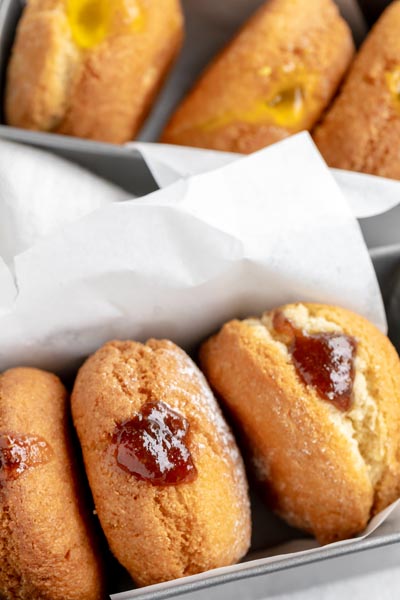 Key ingredients and swaps
Almond flour: The gluten-free flour of choice in the donut recipe. Sunflower seed flour could be substituted if allergic to nuts.
Protein powder: Helps to form a matrix to puff up the keto donuts into fluffy pillows. Look for a zero carb protein powder.
Sweetener: Can be omitted, but most donuts need a hint of sweetness.
Xanthan gum: Helps to form a structure support to hold the donuts together and keep them from crumbling. Also helps with texture.
Baking powder: The leavening agent to help the donuts rise will frying.
Sour cream: Used as an acid to help the leavening agent work to rise the cake donut. Also used for flavor. Yogurt or buttermilk can be used instead.
Oil for frying: Need a high temperature oil that has a high smoke point like avocado oil or lard. Baking or air frying is not recommended. 
Sugar free filling: Make a zero carb jelly by using sugar free powdered sweetener and konjac gum powder. Add flavor extracts and food coloring to get the flavor you desire. Keto jam like the strawberry jam preserves by ChocZero can used as a substitute. Use code KETOFOCUS to save 10% off your order. 
Keto Jelly Donut Recipe Video
Subscribe to the KetoFocus YouTube Channel
With 100s of videos and millions of views, Ketofocus is one of the most popular Keto channels on YouTube.
Sugar Free Jelly Filling Ingredients
Keto Jelly Donuts Directions
In a large bowl, whisk together almond flour, protein powder, sweetener, baking powder, xanthan gum and salt.

Ingredients

Almond flour
Protein powder
Sweetener (sugar-free)
Baking powder
Xanthan gum
Salt

To the dry ingredients, add melted butter, sour cream and egg. Stir with an electric mixer until smooth and combined.

Ingredients

Butter (melted)
Sour cream
Egg

Roll dough into 8 balls and flatten into a round bun shape.

Add lard or avocado oil to a small non-stick skillet and heat to medium heat. Add enough lard or or oil to cover the donut almost halfway. Add a couple of donuts to the skillet and fry on each side until golden brown (about 2-3 minutes per side). Can swirl the oil in the pan to help coat the donuts as they cook. Transfer to a paper towel lined plate to cool.

Quick Tip
Baking in the oven or the air fryer is not recommended.

Mix the konjac gum powder with the powdered sugar free sweetener. Then pour mixture into boiling water. Immediately stir to combine to avoid clumping. Add lemon juice flavor extract and food coloring. Stir to combine. Mixture will continue to thicken as it cools.

Ingredients

Water (boiling hot)
Powdered sugar free sweetener
Konjac gum
Lemon juice
Flavor extract
Food coloring

Quick Tip
If your jelly mixture clumps, microwave for 30 second intervals until smooth.

Add jelly to a piping bag fitted with a injector tip and pipe jelly into the center of each donut.

Dust with powdered sugar free sweetener if desired.