Keto Gingerbread Chaffle
by KetoFocus.com
Christmas time is all about the gingerbread and this keto waffle has all the flavors of the holiday season mixed together to form a gingerbread chaffle.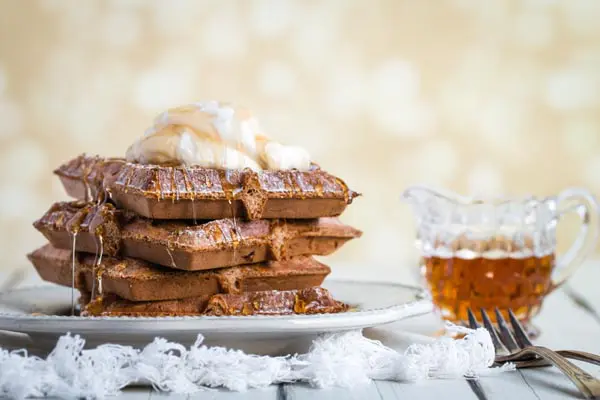 These low carb gingerbread chaffles tastes like Christmas.
In fact, you should probably make them on Christmas morning. They are easy to make so you can focus on presents and family time instead of cooking.
These gingerbread keto waffles are filled with gingerbread flavor. They are seasoned with cinnamon, ginger, all spice and coffee. Top them with whipped cream or ice cream and enjoy!
Keto Gingerbread Chaffle Recipe Video
Subscribe to the KetoFocus YouTube Channel
With 100s of videos and millions of views, Ketofocus is one of the most popular Keto channels on YouTube.
Keto Gingerbread Chaffle Recipe Ingredients
1 egg
1 oz cream cheese
2 tablespoons almond flour
1 tablespoon brewed coffee
2 teaspoons monkfruit
1/2 teaspoon baking powder
1/2 teaspoon cinnamon
1/2 teaspoon ginger
1/8 teaspoon allspice
Keto Gingerbread Chaffle Directions
Preheat waffle maker to medium high heat.

Whisk together all of the ingredients.

Pour gingerbread chaffle batter into the center of the waffle iron. Close the waffle maker and let cook for 3-5 minutes or until waffle is golden brown and set. If using a mini waffle maker, only pour in half the batter.

Remove chaffle from the waffle maker and serve.