Pumpkin Spice Keto Waffle
by KetoFocus.com
It's pumpkin everything season so let's add pumpkin to our chaffles to make keto pumpkin waffles!
The beginning of September usually marks the start of pumpkin spice season. Pumpkin Spice Latte emerge on the Starbuck's menu and other popular coffeehouses. Pumpkin muffins, pumpkin bagels, pumpkin yogurt are littered throughout the grocery stores.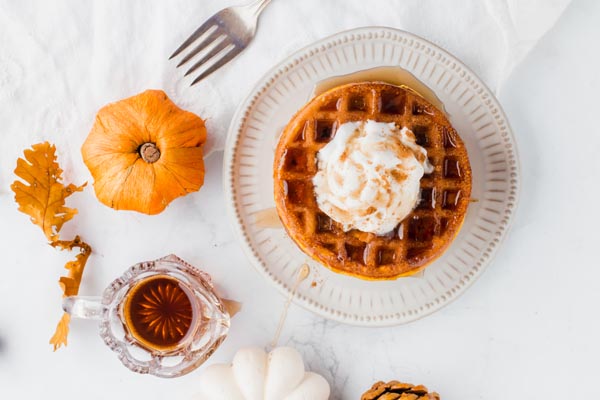 Unfortunately, there's not a lot of low carb options for pumpkin flavor available at the grocery store, so we usually have to make our own. If you are a pumpkin fanatic and are on the prowl for keto pumpkin recipes, this low carb pumpkin waffle is for you.
This isn't just a pumpkin waffle recipe, it's technically a keto pumpkin chaffle. Chaffles are keto waffles made from cheese (usually mozzarella cheese) and egg.
These pumpkin chaffles are made with cream cheese (instead of mozzarella). Since it's a sweet waffle, cream cheese pairs better compared to mozzarella which can add an underlying tang flavor to the chaffle recipe. Pumpkin and pumpkin pie spice are added to give that classic Fall favorite flavor.
How to make keto pumpkin waffles
These keto pumpkin waffles are easy to make and portion controlled, so you don't have to make a bunch of waffles that will go to waste. But if you want to feed a crowd, just double or triple the recipe! 
Preheat your waffle iron. Can use a dash mini waffle maker or a Belgian waffle maker.
Mix keto pumpkin waffle ingredients in a small bowl – Add egg, softened cream cheese, pumpkin puree, coconut flour, sweetener, vanilla extract, baking powder, pumpkin pie spice and salt.
Make pumpkin chaffles! Pour batter to the waffle iron, close and let cook.
Remove and top with sugar free maple syrup, butter and/or whipped cream.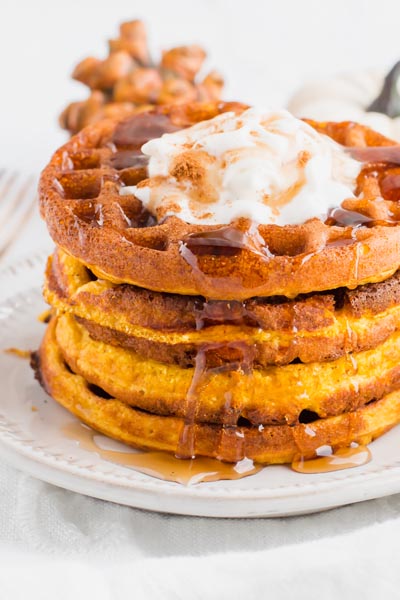 Key ingredients & Substitutions
Egg – A key ingredient when making a chaffle recipe, the egg provides volume and structure for our waffle based. It is a necessary ingredient but if you are egg-free, you can always try to adapt my vegan chaffle recipe to make a vegan pumpkin chaffle.
Cream cheese – The other necessary ingredient when making a keto chaffle recipe. The cheese is the glue that holds the waffle together. Most chaffle recipes use mozzarella cheese, but I prefer to use cream cheese in my sweet waffle recipes as it has a neutral flavor.
Pumpkin puree – To get that pumpkin flavor and classic orange coloring, add pure puree (not the pumpkin pie filling) to your pumpkin chaffle.
Pumpkin pie spice – Add's the Fall flavor and iconic pumpkin flavoring. If you don't have pumpkin pie spice, just add 1/4 teaspoon cinnamon, 1/8 teaspoon ginger, pinch of nutmeg and a pinch of all-spice.
Coconut flour – The keto flour for the base for the waffles. Almond flour can be used as well, just use 2 tablespoons of almond flour.
Pumpkin Spice Keto Waffle Recipe Video
Subscribe to the KetoFocus YouTube Channel
With 100s of videos and millions of views, Ketofocus is one of the most popular Keto channels on YouTube.
Pumpkin Spice Keto Waffle Recipe Ingredients
1 egg
1 oz cream cheese
2 tablespoons pumpkin puree
1 tablespoon coconut flour
2 teaspoons sugar-free sweetener
½ teaspoon vanilla
¼ teaspoon baking powder
⅛ teaspoon pumpkin pie spice
pinch of salt
Pumpkin Spice Keto Waffle Directions
Preheat waffle maker to medium high heat.

Whisk together all of the ingredients.

Pour pumpkin chaffle batter into the center of the waffle iron. Close the waffle maker and let cook for 3-5 minutes or until waffle is golden brown and set. If using a mini waffle maker, only pour in half the batter.

Remove chaffle from the waffle maker and serve.