Keto Basic Egg Loaf
by KetoFocus.com
Basic keto bread made from eggs
An egg loaf is an easy keto breakfast quick bread that has hints of cinnamon and vanilla. It's delicious hot out of the oven with some grass fed butter smeared on top. Or you can fry it in some butter to make an incredible keto french toast.
Before grocery store shelves started filling up with keto breads, we had egg loaf. This easy quick bread can be used to make sandwiches, french toast or just enjoy on it's own with some homemade butter.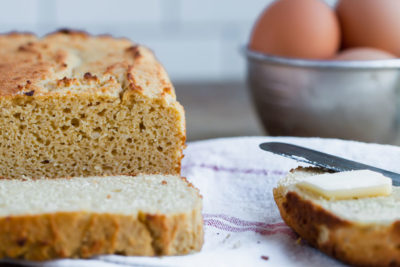 Harnessing the leavening power of eggs, we are able to create a low carb bread with a few simple ingredients – coconut flour, cream cheese, butter, heavy whipping cream and some other important ingredients. The result is a spongy bread that's easy to prepare and gluten free.
An egg loaf is a quick bread popular on the keto diet as it is very low in carbs. Egg loaf is primarily made up of eggs, which is used to provide structure and a flexible matrix to trap air bubbles from the carbon dioxide released from the leavening agent, baking powder. This helps the bread to be spongy and puff up.
How to make egg loaf
Combine all the ingredients in a blender or mixing bowl.
Pour into a parchment lined loaf pan.
Bake for 45 minutes.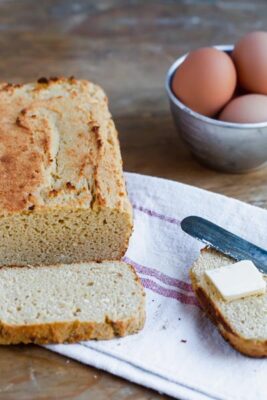 Key ingredients & substitutions
Cream cheese – Used to neutralize the egg flavor from all the eggs used.
Eggs – It wouldn't be egg loaf without eggs. This helps to puff up the bread and make it spongy.
Butter – Provides fat and flavor to our bread
Heavy cream – Helps to thin the batter to the correct consistency. Nut milks, like coconut milk, almond milk or macadamia nut milk, can be substituted.
Sweetener – An optional ingredient but adds a hint of sweetness if you plan to make french toast from your keto egg loaf recipe.
Coconut flour – The base flour for the recipe. Coconut flour is preferred as it doesn't brown as readily as almond flour does. If you choose to use almond flour, try using 1 1/4 cup of almond flour.
Subscribe to the KetoFocus YouTube Channel
With 100s of videos and millions of views, Ketofocus is one of the most popular Keto channels on YouTube.
Keto Basic Egg Loaf Ingredients
8 oz Cream Cheese, softened at room temperature
4 Eggs
4 tablespoons butter, melted
¼ cup heavy cream
1 teaspoon vanilla extract
3 tablespoons Swerve, or sweetener of choice
1/3 cup coconut flour
2 teaspoons baking powder
1 teaspoon cinnamon
Keto Basic Egg Loaf Directions
Preheat oven to 350 degrees.

Add all the ingredients to a bowl or blender and mix together until cream cheese is fully incorporated.

Quick Tip
Mixing with an electric mixer is preferred.

Pour the egg mixture into a loaf pan lined with damp parchment paper. Leave a couple of inches of parchment paper hanging over the edges for easy lifting out of the pan.

Bake at 350 degrees for 45 minutes. The egg loaf should be firm to the touch but will deflate as it cools. Once cooled slice up into the desired thickness.

Quick Tip
To lift your egg loaf out of the loaf pan, grab the edges of the parchment paper to lift the bread out once cooked.