Keto French Toast Sticks
by KetoFocus.com
Fried french toast sticks without the carbs or a ton of eggs!
Keto french toast sticks are a bite-sized, dunkable breakfast coated with a sweet, cinnamon coating and fried for form a crispy, crunchy outer crust. Just like you would find at Wendy's or Burger King, except these are low carb!
A sweet breakfast option that is ideal for on the go eating or for kids who are picky eaters, these keto french toast sticks will soon be a favorited recipe. They have all the flavor that you would find in my keto french toast recipe or french toast casserole, except these are bite sized and only take a few minutes to make.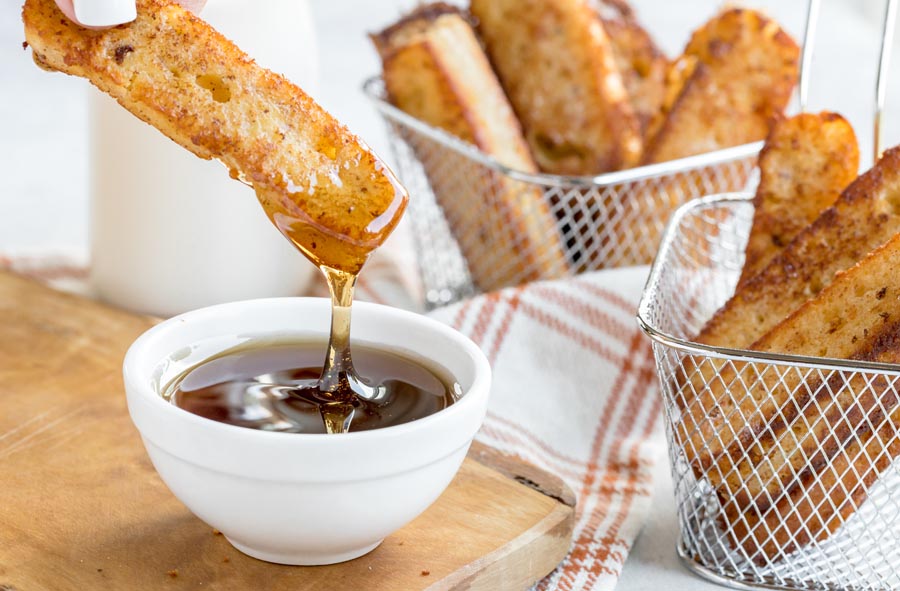 The easiest way to make keto french toast sticks would be to buy a loaf of keto bread from the store, cut it up into thin pieces, coat it with the egg mixture and then fry. However, most keto bread that you can get at the store either contains gluten or is expensive. If you aren't gluten-free, this would be an excellent option and would save you the effort of making your own keto bread.
But for those who need to be gluten free, it's easy to make up a small portion of keto bread in 90 seconds. This almond flour bread doesn't take long to prepare and it is baked in the microwave for 90 seconds.
The french toast coating has a special blend of spices and an ingredient to help get the crust crispy when it is fried – just like they do at Wendy's.
Dip in your favorite sugar-free syrup, jam or just enjoy on their own.
How to make keto french toast sticks
Make keto bread using almond flour, protein powder, heavy cream, butter, baking powder, egg white and sweetener.
Bake the bread in the microwave or oven. (See below for full instructions)
Slice bread into thin strips.
Dip each slice into egg mixture – egg yolk, heavy cream, protein powder, sweetener, spices.
Fry each french toast stick in avocado oil until golden brown and crispy.
Dunk in your favorite low carb syrup, jam or just enjoy on their own.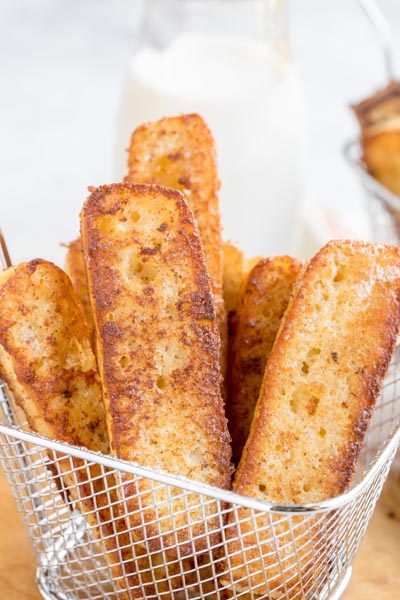 Key ingredients & substitutions
Keto bread – In this low carb french toast recipe, we make our own almond flour bread using a few simple ingredients. If you are short on time and don't want the hassle of making your own keto bread, then use store bought bread. Franz, Kiss My Keto, Base Culture and Carbonaut are all good options. 
Egg yolk – Use only the egg yolk for this french toast stick recipe as the egg white can give that sulfurous, "eggy" flavor which can be overpowering.
Protein powder – This is what produces a crunchy crust to the outside of the french toast sticks as they fry in the oil. Look for a low carb protein powder (unflavored or vanilla flavored).
Sweetener – To add sweetness in order to achieve that cinnamon sugar flavor. The sweetener can be omitted or adjusted (more or less) to fit your taste preference.
Heavy cream – Used to thin out the batter. Nut milk (like almond milk, coconut milk or macadamia nut milk) can be substituted.
Spices – Cinnamon and nutmeg are added for the classic cinnamon french toast flavor.
Keto French Toast Sticks Recipe Video
Subscribe to the KetoFocus YouTube Channel
With 100s of videos and millions of views, Ketofocus is one of the most popular Keto channels on YouTube.
Keto Bread Ingredients
1/2 cup almond flour
2 tablespoons low carb protein powder
1 teaspoon sugar free sweetener
1/2 teaspoon baking powder
1/8 teaspoon salt
3 tablespoons unsalted butter, softened
1 egg white, reserve the yolk
2 tablespoons heavy whipping cream
French Toast Batter Ingredients
Keto French Toast Sticks Directions
Mix dry ingredients for bread

In a small bowl, whisk together almond flour, protein powder, sweetener, baking powder and salt.

Ingredients

Almond flour
Protein powder (low carb)
Sugar free sweetener
Baking powder
Salt

Add softened butter, egg white and heavy cream. Mix together with a fork in order to cut the butter into the mixture. Mix until uniform.

Ingredients

Unsalted butter (softened)
Egg white
Heavy cream

Quick Tip
Reserve the egg yolk for the french toast mixture.

Line a rectangle baking dish (about 3x5 inches) with strips of parchment paper and spray with cooking oil. Scoop in batter. Bake in the microwave at 100% power for 90 seconds or bake in a 350 degree oven for 9-11 minutes. Remove from the dish and let cool before slicing.

Quick Tip
I used a microwave/oven safe glass dish from a storage container set.

Slice into french toast sticks

Slice bread into 10 small french toast sticks.

To a small plate, add egg yolks, heavy cream, protein powder, sweetener, cinnamon and nutmeg. Whisk to combine.

Ingredients

Egg yolks
Heavy cream
Protein powder (low carb)
Sugar free sweetener
Cinnamon
Nutmeg

Quickly dip each bread slice into the french toast mixture. Don't let soak in the mixture, just enough to cover all sides.

Fry french toast slices in a skillet filled with about 1/2 inch of avocado oil over medium heat. Fry until golden brown on all sides. Remove and transfer to a paper towel lined plate.

Quick Tip
Oil will start to foam and bubble the more french toast sticks you fry. This is normal.