Keto Chicken Alfredo
by KetoFocus.com
Juicy chicken tossed in a creamy, white keto alfredo sauce
Your favorite Italian pasta dish made low carb! This keto chicken alfredo is simple to make with grilled chicken thighs tossed with tender noodles and coated in a rich, thick and creamy white sauce. A show-stopping keto dinner in about 30 minutes!
Eating low carb may sound restrictive, but we know better. With a few substitutions, you can enjoy classic pasta dishes by using keto alfredo sauce and low carb noodles like heart of palm noodles or konjac fettucine.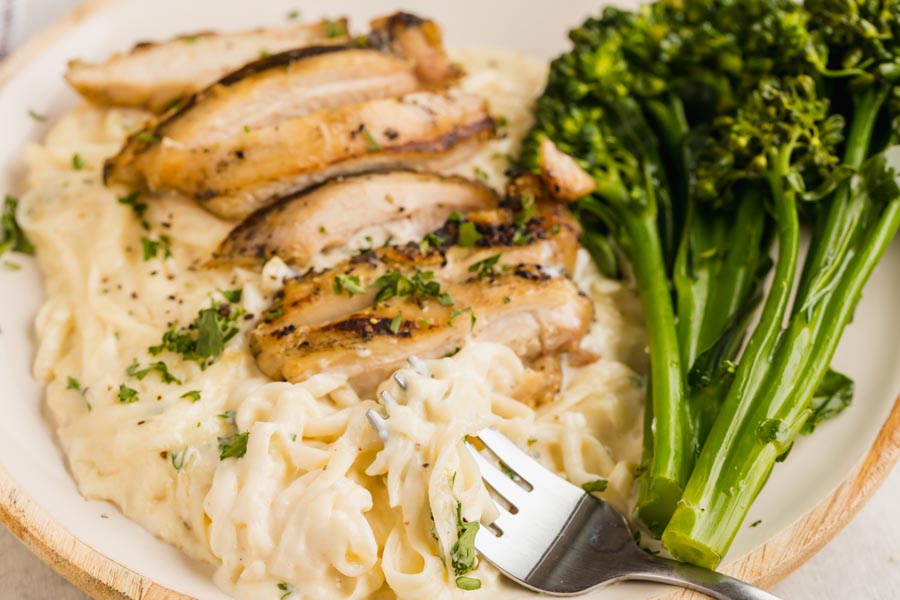 This low carb spin on classic chicken alfredo pasta is unbelievably creamy and easy to make. Most keto chicken alfredo recipes use cream cheese as a shortcut for a luscious sauce, but that means extra carbohydrates that you don't need.
This simple recipe takes a whole food approach, taking advantage of egg yolk and heavy whipping cream for a velvety smooth keto alfredo sauce that will rival any jarred or restaurant alfredo. Toss in noodles and your favorite cut of chicken to complete this Italian comfort meal.
How to make keto chicken alfredo
Grill the chicken and set aside. Can also pan-fry, bake or cook the chicken in an instant pot. Cut the chicken into ½ inch slices.
Make keto alfredo sauce by sautéing garlic in a skillet with butter. Add thickeners (egg yolk and cream) and let cook until thickened.
Stir parmesan cheese and let cook until melted.
Add keto fettucine and chicken.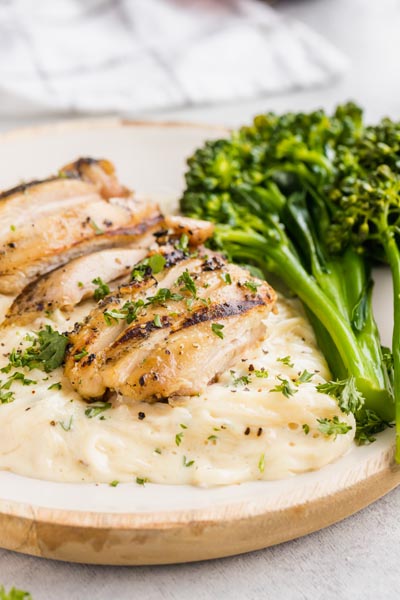 Key ingredients and substitutions
Chicken – Use boneless, skinless chicken breast or chicken thighs. Use my grilled chicken tenders recipe for easy and delicious chicken, then slice or dice to the size you'd like for your pasta.
Keto noodles – Use low carb noodles, either homemade, store-bought or even zucchini noodles. See my recommendations below for the perfect pasta (even available in fettucine or linguine shapes).
Butter – salted or unsalted butter will work.
Garlic – Fresh garlic adds fantastic flavor to the sauce. If you can't get your hands on fresh, jarred minced will work too.
Egg yolk – Serves as the thickener to our classic white sauce along with the cream.
Heavy whipping cream – Heavy cream is the perfect thickness for this sauce. Using a lighter dairy like half and half or milk won't give you the same creaminess. Nut milks cannot be substituted.
Parmesan cheese – Use freshly grated parmesan cheese for a creamy and flavorful sauce. Pre-grated cheese may melt slowly and can give your sauce a gritty texture.
Nutmeg – You can omit it if needed, but just a small amount of nutmeg adds a warm, nutty flavor that goes perfectly with comfort foods like fettucine alfredo.
Keto Chicken Alfredo Recipe Video
Subscribe to the KetoFocus YouTube Channel
With 100s of videos and millions of views, Ketofocus is one of the most popular Keto channels on YouTube.
Keto Chicken Alfredo Ingredients
2 pounds skinless, boneless chicken thighs
2 tablespoons butter
2 cloves garlic, minced
Pinch nutmeg
1 egg yolk
1 ½ cups heavy whipping cream
1 cup grated parmesan cheese
16 oz keto noodles of choice
Keto Chicken Alfredo Directions
Salt and pepper chicken on both sides. Grill, covered, over medium high heat for 3-4 minutes. Flip and grill on the other side until chicken reaches an internal temperature of 165 degrees Fahrenheit. Remove and slice into strips.

Ingredients

2 pounds chicken
Salt and pepper

Quick Tip
Can also pan fry chicken or use pre-cooked chicken.

Make alfredo sauce: Sauté garlic

In a large skillet over medium high heat, melt butter. Stir in garlic and nutmeg and let cook until fragrant (about 30 seconds).

Ingredients

2 tablespoons butter
Pinch nutmeg (optional)

Make alfredo sauce: Thicken the sauce

In a small bowl or measuring cup, whisk together egg yolk and heavy whipping cream. Pour into garlic butter mixture and reduce heat to medium low. Continue stirring and cooking until the sauce has thickened enough to coat the back of a spoon (about 5-10 minutes). Do not let the sauce boil.

Ingredients

1 egg yolk
1 ½ cups heavy whipping cream

Stir in parmesan, noodles & chicken

Once thickened, stir in keto noodles and parmesan cheese. Stir until cheese is melted. Season with salt and pepper. Add chicken. Serve with your favorite keto vegetables like broccoli or asparagus.

Ingredients

1 cup grated parmesan cheese
16 oz keto noodles
Salt & pepper to taste