Keto Chick-Fil-A Sauce
by KetoFocus.com
You favorite dipping sauce from a famous chicken restaurant made keto
Dress up your chicken with this keto Chick-Fil-A sauce. You're favorite sauce to dip your chicken with is easier than you think and you only need 4 ingredients!
Nutrition Facts
Serving Size:
1 tablespoon
Sauces keep you food interesting, which is a MUST on the keto diet. Whether it's BBQ sauce for chicken, chimichurri sauce for steak or this honey mustard sauce for your chicken strips, having an easy keto sauce recipe will keep you enjoying your keto favorites while sticking to your goals.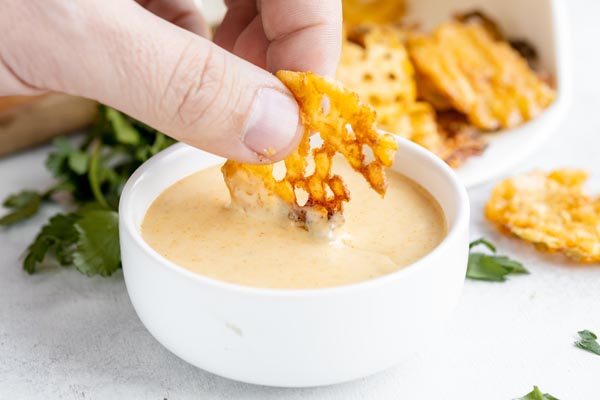 Out of all the sauces from all the fast food restaurants, Chick-Fil-A sauce is my favorite! It is creamy, tangy and slightly sweet. It's the perfect sauce to dip your chicken tenders in or smother over a chicken sandwich. It's so good that Chick-Fil-A started bottling it and selling it to their customers. I would buy this sauce; however, it is not made with keto friendly ingredients. Instead, we have to make our own sauce. But luckily we only need four ingredients – mayonnaise, bbq sauce, keto honey and mustard.
How to make keto chick-fil-a sauce
Mix together, mayonnaise, bbq sauce, honey and yellow mustard.
Stir with a whisk or spoon until combined.
Serve with chicken, french fries or corn dogs.
Key ingredients
Mayo – The mayonnaise is the base for this sauce. It's the vehicle to combine all the flavors and it makes this keto dipping sauce creamy. You can use regular mayo or avocado mayo.
BBQ sauce – This is the secret ingredient to Chick-Fil-A's sauce, otherwise it would just be honey mustard sauce. The BBQ sauce provides a hint of Southwest tangy and sweet. There are sugar free BBQ sauces you can purchase at most grocery stores or you can make your own.
Honey – Real honey has sugar in it. Instead we use a keto honey which is really allulose syrup flavored as honey.
Yellow mustard – Gives this sauce that mustard tangy which pairs perfectly with the sweet honey. Dijon mustard could be used if you don't have yellow mustard.
Keto Chick-Fil-A Sauce Recipe Video
Subscribe to the KetoFocus YouTube Channel
With 100s of videos and millions of views, Ketofocus is one of the most popular Keto channels on YouTube.
Keto Chick-Fil-A Sauce Ingredients