Keto Berry Pie
by KetoFocus.com
This patriotic keto dessert that will have your friends and family oohing and aahing at the 4th of July cookout! Keto Berry Pie is a show-stopping low carb indulgence that everyone will want to dive into.
If you need to bring a dessert to the many patriotic gatherings this Summer, this American Flag pie is for you. Just like my keto berry trifle and berry Bundt cake, this treat adorns the red, white and blue.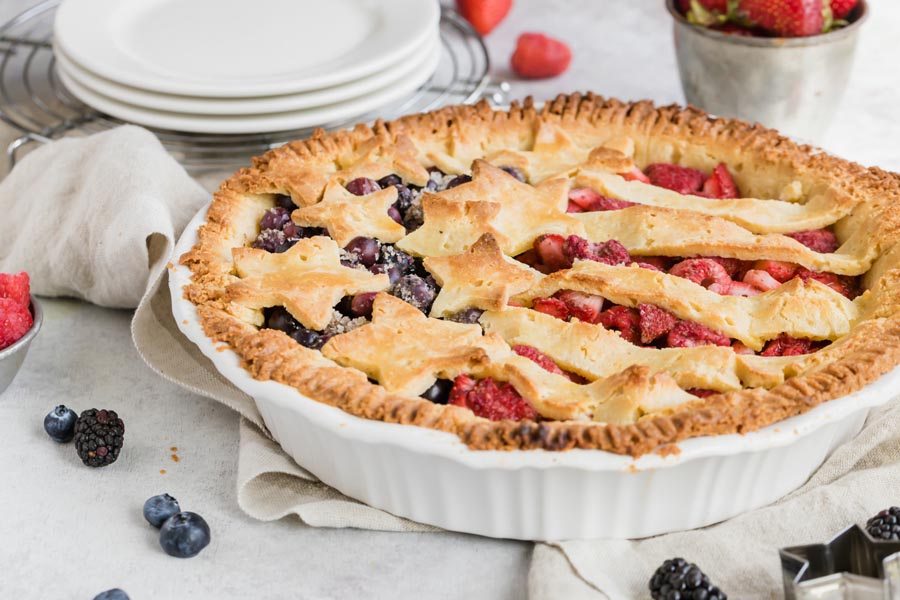 This keto pie starts with a low carb flaky pie crust. It's a keto pie crust that you can roll out which is prefect for punching out stars and stripes to decorate with. The filling is composed of four different types of low sugar berries – raspberries, strawberries, blackberries and blueberries. The blueberries and black berries are separated from the red berries to symbolize the American Flag. And pieces of keto pie crust are cut into stars and stripes.
Besides being a picture perfect creation, this keto pie is truly delicious and has been enjoy by many – even those who don't follow a keto lifestyle.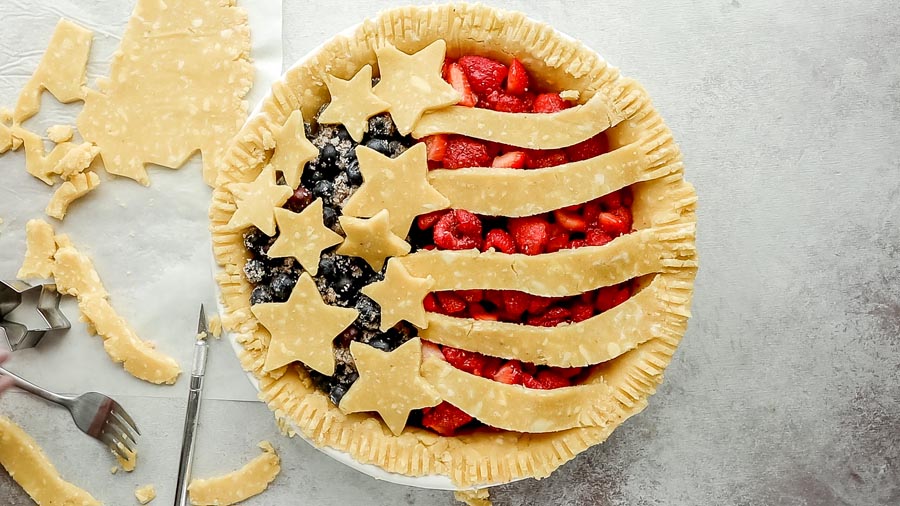 How to make an American Flag Pie
Make the pie crust. This is a low carb pie crust that uses almond flour, eggs, cream cheese, butter, rice wine vinegar and other ingredients to make the flakiest keto pie crust that you can roll out.
Mix the berries. Combine the blueberries and blackberries with a sweetener and thickener. Do the same with the raspberries and strawberries.
Separate the berries. Using a folded pieces of aluminum foil, separate the berries. Pour the "blue" berries on the left side of the foil and the "red" berries on the right side. Remove foil.
Punch out stars and stripes. Use a cookie cutter and knife, cut out stars and wavy stripes to put on top of the pie.
Bake at 350 degrees for 30 minutes.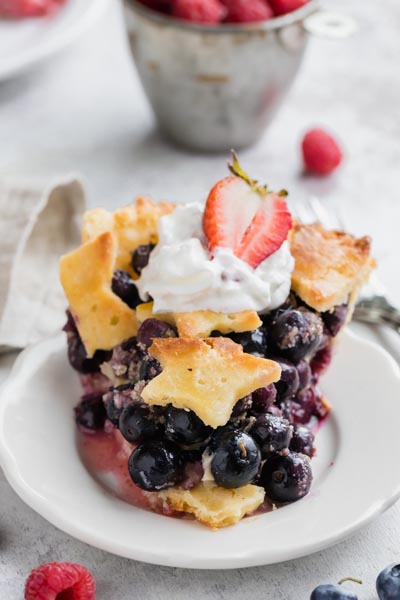 Keto Berry Pie Recipe Video
Subscribe to the KetoFocus YouTube Channel
With 100s of videos and millions of views, Ketofocus is one of the most popular Keto channels on YouTube.
Keto Pie Crust Ingredients
American Flag Pie Ingredients
Keto Berry Pie Directions
To a food processer, add almond flour, coconut flour, xanthan gum and salt. Pulse to combine. Add chilled cubed butter and cream cheese. Pulse until coarse crumbles form. Add egg and vinegar. Pulse until combined and a dough ball forms. Separate into two ball (make one ball slightly larger for the bottom crust)

Quick Tip
If you don't have a food processor, you can use a blender or a pastry blender. Cutting the butter into the dough with two forks works in a pinch.

Place the larger dough ball in between two sheets of parchment paper. Roll out, using a rolling pin, in all directions forming a circle a few inches larger in diameter compared to the pie plate. Dough should around 1/8-1/4 inch thick. Refrigerate for 30 minutes. Repeat with top crust.

Make the thicker for the filling by adding sugar free sweetener, ground chia seeds and arrowroot powder to a small bowl. Mix to combine.

Quick Tip
See below for recommendations on alternative thickeners.

Make 'blue' berry mixture

In a medium bowl, combine blueberries, blackberries and 2 1/2 tablespoons of the sweetener thickener mixture. Stir in 1 teaspoon lemon juice. Refrigerate while you work on the "red" berry mixture.

In a large bowl, combine raspberries, strawberries, remaining sweetener thickener mixture, and lemon juice. Stir to combine and refrigerate while inserting the bottom layer pie crust.

Lay down the bottom crust

Remove the top layer of parchment paper to the bottom pie crust. Place a pie plate upside down on top of the pie crust. Slide your hand underneath the pie crust and flip. Remove the parchment paper and press the dough into the pie pan.

Fold a piece of aluminum foil until it fits the diameter of 1/3 of the pie and is about 2 inches wide. Place at the 1/3 mark. Pour the 'blue' berry mixture into the left side (smaller) of the foil. Pour the 'red' berry mixture into the right side. Be careful not to pour in any juices as that will make your pie filling to soupy. Remove the foil.

Take the top pie crust out of the refrigerator and remove the top layer of parchment paper. Using a cookie cutter and knife, punch out star shapes and cut out wavy flag stripes. Place on top of pie crust. Crimp around the edges with a fork.

Bake the pie at 350 degrees for around 30 minutes. Remove from the oven to cool at room temperature for 2-3 hours before transferring the the refrigerator to cool further if not serving right away.

Quick Tip
Brush top crust with an egg wash (1 egg + 1 tablespoon water) if desired for a glossy appearance to the top crust.