Juicy Lucy Burgers
by KetoFocus.com
A twist on the classic cheeseburger
Juicy Lucy Burgers are a delicious weeknight meal that you can make in under 30 minutes. These burgers are filled with melted cheese, topped with your favorite condiments, and held together with toasted hamburger buns. This juicy burger recipe will be loved your whole family!
Nutrition Facts
Serving Size:
1 burger (without bun & toppings)
If you love making an awesome burger, don't forget to pair it with homemade french fries and hamburger buns for the ultimate burger night.
If this is your first time making a juicy lucy burger, you're in for a treat! Regular burgers just can't compare to biting into a burger stuffed with gooey cheese and topped with lettuce, tomatoes, pickles, and another cheese slice. You can make them in a skillet on the stove, a flat-top grill, or even a cast iron skillet. Any way you choose to cook them, you'll never make a better burger.
How to make juicy lucy burgers
The steps to make a juicy lucy burger are super simple.
Prepare the cheese and divide each slice of cheddar or American cheese into four squares.
Make the burger mixture. Combine the ground beef, salt, pepper, garlic powder, and onion powder. Combine, but do not over-mix. Divide the mixture into fourths and those fourths into halves to make 8 hamburger patties.
Stuffed burgers. Using a small spoon, make a small depression in the center of the patty and add the cheese. Top with the other half of the beef patty and seal the sides with your fingers and form one large patty.
Cook or grill the stuffed burgers until a crust forms and then flip them.
While your burgers are cooking, toast the buns and prepare your toppings.
Serve on a bun or bunless with desired sauce and toppings.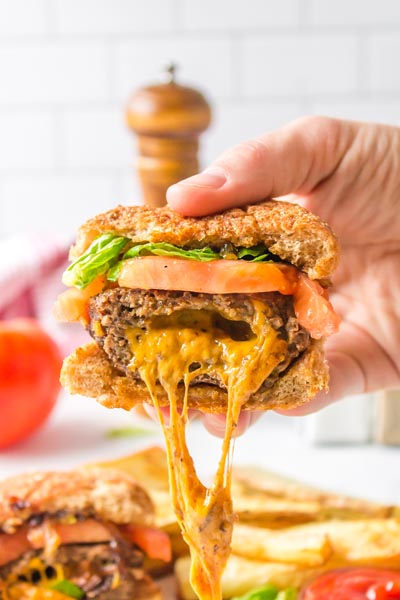 What is a Juicy Lucy?
A Juicy Lucy burger is not your typical cheeseburger. It's a stuffed burger that originated in Minnesota where a slice of cheese is inside two thin burger patties. The cheese stuffed burger is cooked developing serious char; however, the burger stays moist and juicy thanks to the molten cheese inside.
Here are all the ingredients you will need for the juiciest cheeseburger:
Ground beef – Seasoned ground beef makes the best burgers!
Cheese – Melty cheese is best for stuffing burgers. Typically American cheese is used, but sharp cheddar is also delicious!
Kosher salt – A little salt enhances the flavors in this dish.
Black pepper – Use freshly cracked black pepper if possible.
Garlic powder & onion powder – Add a little extra flavor to these hamburgers.
Avocado oil or olive oil – Use a little oil to get the burgers golden brown.
Subscribe to the KetoFocus YouTube Channel
With 100s of videos and millions of views, Ketofocus is one of the most popular Keto channels on YouTube.
Juicy Lucy Burger Ingredients
1 lb ground beef (80/20)
4 slices sharp cheddar cheese or American cheese
½ tablespoon salt
½ tablespoon black pepper
½ tablespoon garlic powder
1 teaspoon onion powder
3 tablespoons avocado oil
Burger Fixings, Optional Ingredients
Juicy Lucy Burgers Directions
Divide each slice of cheese into 4 squares each. Set aside.

Ingredients

4 slices cheddar or American cheese

Quick Tip
If using block cheese, grate about 1/2 to 1 cup of cheese and divide it between the burgers.

To a large bowl, add ground beef, salt, pepper, garlic powder, and onion powder. Combine, but DO NOT OVERMIX! Divide mixture into fourths and those fourths into halves.

Ingredients

1 lb ground beef
½ tablespoon salt
½ tablespoon pepper
½ tablespoon garlic powder
1 teaspoon onion powder

Quick Tip
Overmixing your ground beef can make your burgers dry.

Using a small spoon, make a dip or divot into four of the burger patties. Add 4 small squares (1 slice cheese) into the cavity of these patties. Top with the other patty and seal the sides with your fingers and form one large patty. Do this until you have 4 hamburger patties.

Quick Tip
Make sure the edges of the cheeseburgers are sealed or else the cheese could escape while cooking.

Preheat a large skillet, griddle or a grill to medium high heat. Add oil to the skillet or gently spray the grill with cooking spray. Cook the stuffed cheeseburgers on one side until a crust forms (about 4-5 minutes). Then flip and cook the other side for about 3-4 minutes. Remove, add to a bun, add burger toppings and serve!

Ingredients

3 tablespoons cooking oil