Keto Granola
by KetoFocus.com
Crunchy keto granola that doesn't lack on flavor
Tasty and nutritious, this easy keto granola is grain-free and makes perfect addition to morning breakfast routine.
Homemade keto granola has many perks starting with being cheaper, tastier, and healthier than the store-bought version. It can be an excellent source of iron, fiber, heart-healthy fats, and protein. Making your own granola also lets you ensure it is gluten free, low carb, grain free, and low on sugar.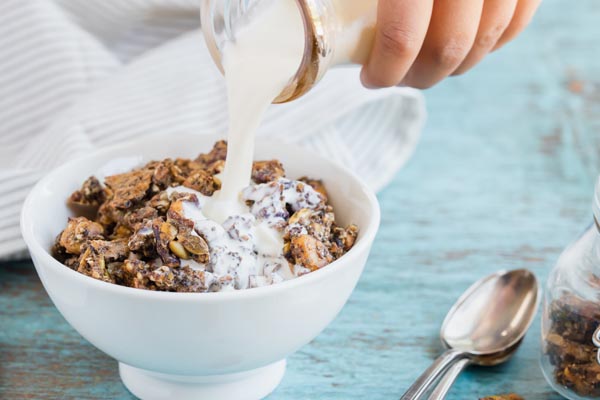 There are often so many varieties of low carb granola flooding the aisles at the supermarkets; however, many of these can still have grains or hidden sugars. So, why not make keto granola at home instead and ensure you only get the goodness of this nutritious snack? And this keto granola recipe is the easiest to follow.
This grain-free granola is a keto cereal you can prep ahead of time and serve it traditionally in the morning breakfast. Quick to make, it is a go-to snack to make for kids before they leave for school. This recipe makes six 1/2 cup servings and there are about 4.4 grams net carb per serving.
Select which nuts and seeds you want to put in your low carb granola. Choose from nuts like raw almonds, walnuts, macadamia nuts, pecans or brazil nuts. Or seeds like pumpkin seeds, sunflower seeds and chia seeds.
Lightly toast nuts and seeds to maximize their flavor and to give your granola a nutty aroma.
Add in other ingredients like chia seeds, hemps hearts, coconut flakes, flax meal, sugar free sweeteners and spices that don't need to be toasted.
Beat egg whites until soft peaks form.
Fold meringue into the nut and seed mixture.
Spread onto a baking sheet and bake at a low temperature (250 degrees Fahrenheit) for 45 minutes.
Remove from the oven and let cool completely before breaking into bite sized pieces.
Pour a bowl of cereal and add your favorite keto milk.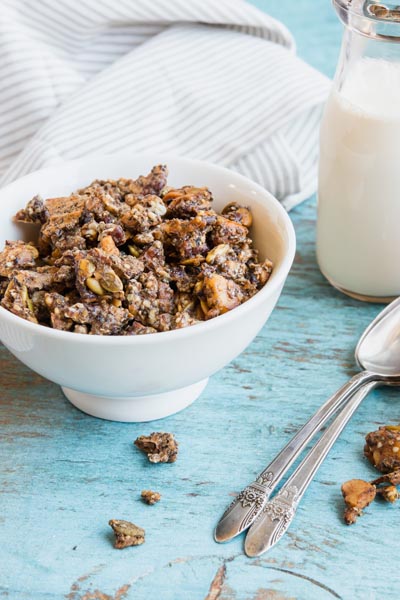 Key ingredients
Our low carb granola recipe uses five main ingredients – nuts, seeds, cinnamon, sugar-free sweeteners, and egg whites. Adding these ingredients make the keto granola not only contributes to granola earthy flavor but adds nutritional benefits as well.
Macadamia nuts: Rich in Vitamin B1 and manganese, Macadamia nuts are antioxidants that promote brain health and reduces risks of diabetes and hunger cravings.
Pecans: A low carb source of ellagic acid and beta-carotene that potentially reduces free radical damage, risk of diabetes, and chances of high cholesterol levels.
Almonds: These are fiber rich and promote healthy digestion.
Pumpkin seeds: High source of fiber, minerals, and healthy fats.
Sunflower seeds: Replete with Vitamin B1, essential fatty acids, and magnesium, Sunflower seeds are fuel for energy, aid weight loss, boost heart health, and prove great for detoxification.
Chia seeds: Rich in calcium and heart-healthy omega-3 fatty acids. Chia seeds can detox and help with weight loss.
Hemp hearts: Technically a nut, Hemp hearts provide omega-3, omega-6, high amounts of Vitamin E, and plant-based protein.
Sugar free sweeteners: These sweeteners add flavor and make the keto granola sugar-free. Look for brands that measure cup for cup with sugar and have monk fruit, erythritol, allulose or stevia as sweeteners.
Cinnamon: Balances the sweetness of the granola cereal with its earthy flavor. It also acts as an antioxidant with prebiotic properties that promote a healthy gut.
Nutmeg: Adds flavor
Together these ingredients also give our easy keto breakfast the quintessential nutty flavor.
Keto Granola Recipe Video
Subscribe to the KetoFocus YouTube Channel
With 100s of videos and millions of views, Ketofocus is one of the most popular Keto channels on YouTube.
Keto Granola Directions
Preheat oven to 250 degrees.

Add macadamia nuts, pecans, almonds and pumpkin seeds to a skillet. Cook over medium heat until nuts and seeds are lightly toasted. Remove from heat.

Ingredients

1 cup chopped macadamia nuts
1/2 cup chopped pecans
1/2 cup almond slices
1/4 cup pumpkin seeds

Add sunflower seeds, chia seeds, hemp hearts, sweeteners, cinnamon, nutmeg and a pinch of salt. Stir to combine. Set aside.

Ingredients

2 tablespoons sunflower seeds
2 tablespoons chia seeds
2 tablespoons hemp hearts
2 tablespoons granulated sugar-free sweetener
2 tablespoons brown sugar-free sweetener
1/2 teaspoon cinnamon
1/4 teaspoon nutmeg

In a medium bowl, beat egg whites until soft peaks form.

Gently fold nut and seed mixture into the egg white meringue until combined.

Spread granola mixture over a parchment lined baking tray. Bake at 250 degrees for 45 minutes.

Remove from the oven and let cool completely. Granola will continue to harden as it cools. Once cool, break into bite sized pieces. Store in a air tight container.