Cilantro Lime Chicken
by KetoFocus.com
Cilantro lime chicken is an easy dish that is bursting with flavor and perfect for a family dinner, summer BBQ or meal prep for the week ahead. The combination of fresh cilantro and zesty lime juice creates a marinade that infuses the chicken with an incredible tangy and aromatic flavor.
Cilantro lime chicken is a delicious and easy-to-make dish that's perfect for any occasion but I enjoy it most cooked on the grill and served over a side of grilled vegetables.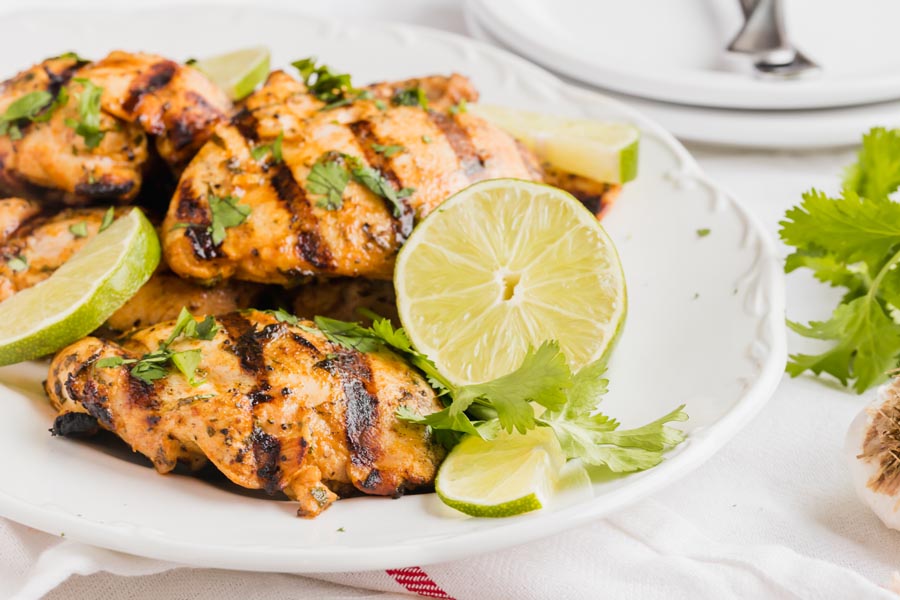 This is a simple and easy recipe that combines fresh and zesty ingredients to create a flavorful chicken marinade to coat chicken thighs, breasts or chicken legs. You only need at least 30 minutes of marinating to infuse flavor; however, 2 hours is ideal.
Whether you're a fan of Mexican cuisine or simply looking to try something new, cilantro lime chicken is a tasty meal that will sure to become a favorite in your household. And if you have leftovers, just toss the diced chicken in tacos, wraps or a salad.
How to make cilantro lime chicken
Make cilantro lime marinade – whisk together avocado oil, lime juice, chopped cilantro, minced garlic and seasonings.
Marinade chicken – pour marinade over chicken and let marinade for at least 30 minutes (ideally 2 hours).
Cook chicken either by grilling, roasting in the oven or air fryer.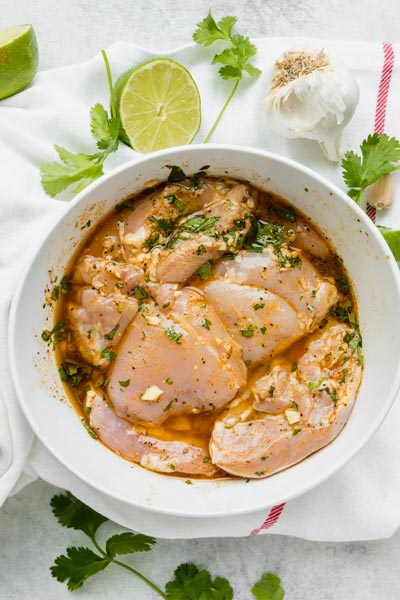 Key ingredients & substitutions
Cilantro lime marinade – An easy chicken marinade that only takes 30 minutes to infuse zesty flavor. Every good marinade has a fat, acid and flavor component. This marinade uses avocado oil as a fat and lime juice for acidity. For flavor, cilantro, garlic and smoked paprika are added (as well as salt & pepper). Regular paprika could be substituted for smoked paprika and garlic powder could be used in place of minced garlic. 
Chicken – In this grilled chicken recipe, I used boneless, skinless chicken thighs; however, any cut of chicken can be used. Chicken thighs, chicken breasts, wings, legs or even chicken tenderloins. Can use bone-in chicken or boneless cuts of chicken.
Cilantro Lime Chicken Recipe Video
Subscribe to the KetoFocus YouTube Channel
With 100s of videos and millions of views, Ketofocus is one of the most popular Keto channels on YouTube.
Cilantro Lime Chicken Ingredients
2 pounds skinless, boneless chicken thighs, breasts or legs
¼ cup avocado oil
¼ cup lime juice (fresh or bottled)
¼ cup chopped cilantro
3 cloves garlic, minced
1 teaspoon salt
1 teaspoon smoked paprika
½ teaspoon black pepper
Cilantro Lime Chicken Directions
In a small bowl, combine all ingredient except the chicken. Whisk until evenly mixed.

Ingredients

¼ cup avocado oil
¼ cup lime juice
¼ cup chopped cilantro
3 cloves garlic, minced
1 teaspoon salt
1 teaspoon smoked paprika
½ teaspoon pepper

Add chicken to a large bowl or ziploc bag. Pour in marinade and mix to evenly coat all over chicken.

Ingredients

2 lbs chicken thighs, breasts, legs, etc

Quick Tip
Can marinade chicken in a bowl or ziploc bag. Make sure the chicken is submersed in the marinade or you may have to turn chicken every 15-30 minutes, depending on your marinating time.

Add chicken thighs to a grill preheated to medium high heat (375 degrees). Grill on each side for about 3-4 minutes. Cook until the internal temperature of the chicken is 165 degrees Fahrenheit. Chicken will take longer to cook if it is bone-in or chicken breast.

Quick Tip
Chicken can be cooked in an air fryer, skillet or oven. See full blog post below for instructions on other cooking methods.