Yogurt Fruit Dip
by KetoFocus.com
For a creamy, slightly sweet dip to dip your strawberries or fresh fruit in, try this yogurt fruit dip. Made with only four ingredients, this crowd favorite is perfect for parties or snacking when you need satisfy that sweet craving.
Whether you are looking for a healthy snack for your kids or something to calm that late night sweet tooth, this yogurt fruit dip recipe will be your go-to favorite to pair with strawberries, grapes, blueberries or other sliced fruit.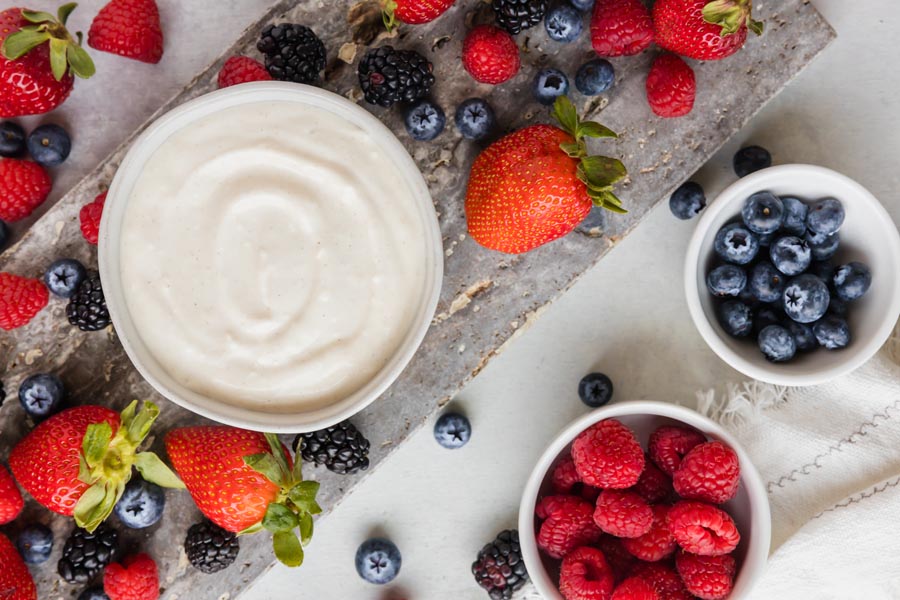 This easy fruit dip takes less than 5 minutes to make and can feed a crowd! So it's ideal for large parties or a last minute addition to a fruit tray. You can even place it on a fruit charcuterie board and serve at a bridal or baby shower.
When it comes to plunging snacks in dips, most would opt for a savory dip recipe like buffalo chicken dip or nacho cheese. But with this yogurt dip, you can easily please other taste buds by making a sweet option.
How to make fruit dip with yogurt?
Grab a small bowl. Add in plain yogurt, softened cream cheese, a sweetener like sugar free sweetener, brown sugar or honey and vanilla extract. A pinch of cinnamon could also be used.
Stir to combine.
Scoop into a serving bowl.
Scatter your favorite fruits around to dip into the fruit dip with yogurt. Use berries, like strawberries, blackberries, raspberries or blueberries. Or even sliced apples for your kids!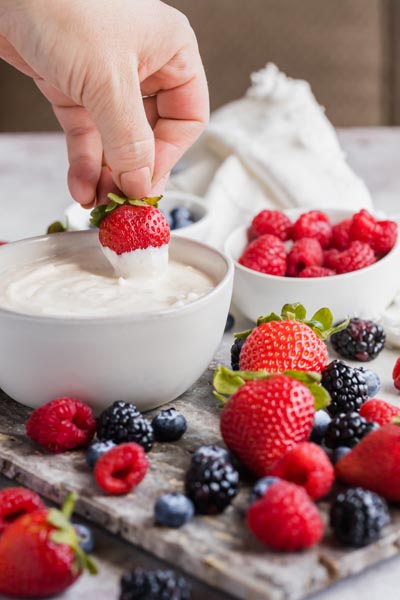 Key ingredients
Yogurt – Although any flavor of yogurt can be used, ideally plain yogurt is best as it doesn't contain added sugars and you can adjust the sweetness on your own. Greek yogurt will have more protein compared to traditional yogurt made with skim milk. If using vanilla yogurt, you can omit the vanilla extract – unless you want extra vanilla flavor in your Greek yogurt.
Cream cheese – Helps soften the tang flavor from the yogurt and adds a hint of cheesecake flavor.
Sweetener – To limit the sugars added, use a powdered sugar-free sweetener, honey or even maple syrup.
Subscribe to the KetoFocus YouTube Channel
With 100s of videos and millions of views, Ketofocus is one of the most popular Keto channels on YouTube.
Yogurt Fruit Dip Ingredients
Yogurt Fruit Dip Directions
In a small bowl, add yogurt, softened cream cheese, sweetener, vanilla extract and cinnamon (if using). Stir to combine using an electric mixer until creamy and smooth.

Ingredients

1 cup yogurt
2 oz cream cheese (softened)
1 tablespoon sweetener
1 teaspoon vanilla extract

Quick Tip
Can use any flavor of yogurt.

Serve with your favorite fruits, like berries, apple slices, cherries.