Sugar Free Ketchup
by KetoFocus.com
Sugar Free Ketchup is an excellent way to eat your favorite condiment on a keto diet, not to mention that it's incredibly flavorful! Most bottled ketchups contained added sugar for flavor, making them not so keto-friendly. This homemade recipe is made with whole ingredients, no sugar, and tastes fantastic!
Nutrition Facts
Serving Size:
1 tablespoon
This easy homemade keto ketchup recipe is perfect for a low-carb diet and only takes 15 minutes to make. Pair them with keto corn dogs, hot dog buns, and keto fries.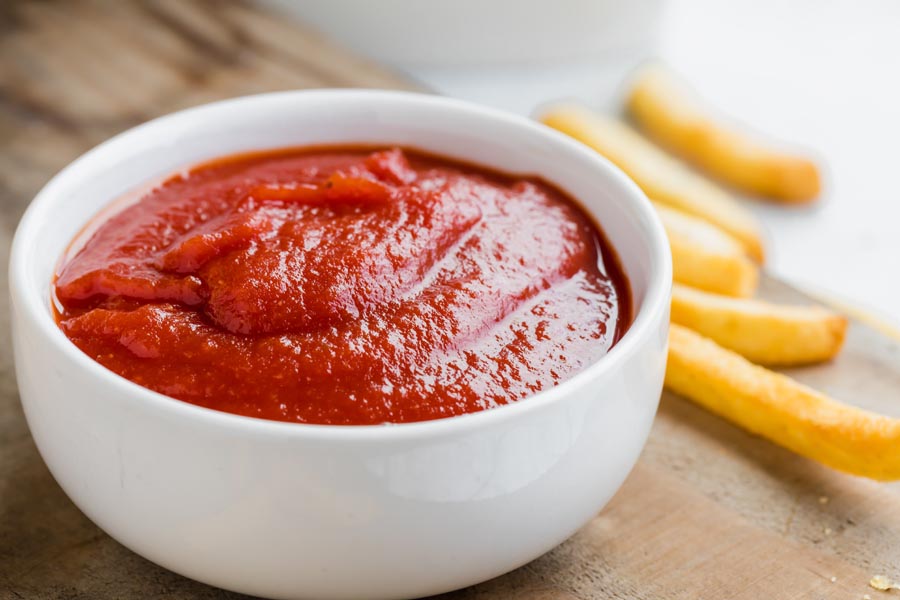 The biggest and best reason to make tomato ketchup at home is so you can control the ingredients. There are no preservatives, added "flavors," and no sugar or high fructose corn syrup, which is common in most bottle ketchups you can find at the grocery store. Even some homemade ketchup recipes call for a ton of sugar!
Most bottled and store-bought ketchup contains sugar and those who don't are very expensive, so do yourself a favor and make it yourself!
How to make sugar-free ketchup
It's incredibly easy to make this condiment and only takes about 15 minutes all together. See the recipe card for a full description.
Whisk together all the ingredients in a saucepan.
Bring them to a simmer over low heat and cook, stirring and occasionally scraping the bottom of the pan. Cook until the mixture thickens.
Strain the ketchup, if necessary, to get out any solids and serve.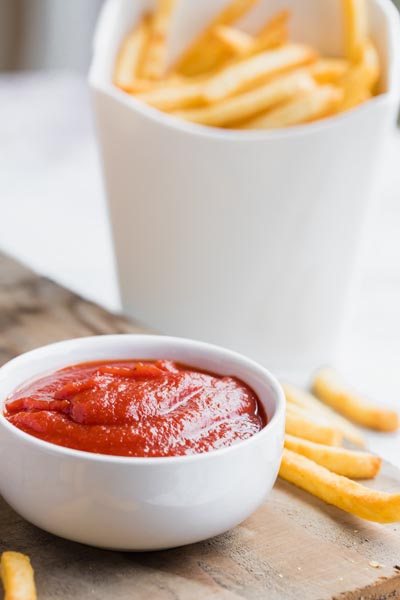 Key ingredients
Here are the ingredients you'll need to make this sugar-free ketchup. You can find these everyday items at your local grocery store if you don't already have them in your own kitchen.
Tomato paste: Tomato paste is rich and flavorful and the perfect base for the ketchup. Make sure there is no added sugar here too.
White vinegar: You can also use apple cider vinegar if you prefer.
Sugar-free sweetener: Sweeteners that can be used are erythritol, allulose, monk fruit, or blended sweeteners like erythritol & monk fruit or allulose and monk fruit. Basically, any sweetener that measures a cup of sugar.
Water: A little bit helps the consistency to thin out and become easier to spread or dip.
Salt: Kosher salt adds and enhances the natural flavors.
Dry mustard powder: This adds flavor and helps bind the ingredients, so they don't separate.
Onion powder and garlic powder: Adding some spices makes this dish even more flavorful.
Sugar Free Ketchup Recipe Video
Subscribe to the KetoFocus YouTube Channel
With 100s of videos and millions of views, Ketofocus is one of the most popular Keto channels on YouTube.
Keto Ketchup Ingredients
6 oz tomato paste
1/2 cup white vinegar
1/4 cup sugar free sweetener
1/4 cup water
1 teaspoon salt
1/4 teaspoon dry mustard powder
1/4 teaspoon onion powder
1/8 teaspoon garlic powder
Sugar Free Ketchup Directions
Add tomato paste, white vinegar, sweetener, water, salt, mustard powder, onion powder and garlic powder to a small saucepan. Whisk until combined.

Heat over low medium heat and bring to a simmer. Let cook until thickened (about 10 minutes), stirring occasionally to prevent sticking to the bottom and sides of the pan. Remove from heat and let cool.

Quick Tip
Strain if necessary to get out any solids. Discard the solids. Let cool at room temperature then refrigerate to store for up to 3 weeks.