Smoked Salmon Breakfast Scramble
by KetoFocus.com
A quick salmon breakfast to make in under 5 minutes that's loaded with protein and healthy fats
Silky scrambled eggs are mixed with smoked salmon and dill to create a surprisingly delicious breakfast you can make just a few minutes. The combination of protein and healthy omega 3 fatty acids in this salmon breakfast will keep you satisfied throughout the day.
Smoked salmon scrambled eggs is not your typical breakfast food, but just like blender pancakes and my ham frittata, they are very easy to make.
Before you turn your nose up at this dish, you really try it first. Smoked salmon with scrambled eggs is a favorite among most people that dare to try it. If you are a fan of lox and bagels than you will love this salmon breakfast recipe. The combination of the creamy scrambled eggs with the smokiness of the salmon and dill makes a satisfying savory bite. And the best part, this breakfast recipe only takes a few minutes to make!
How to make salmon and eggs
Add smoked salmon to a non-stick skillet and sauté briefly just to heat through.
Crack in two eggs and scramble until cooked through.
Mix in salt and a pinch of dill for flavor.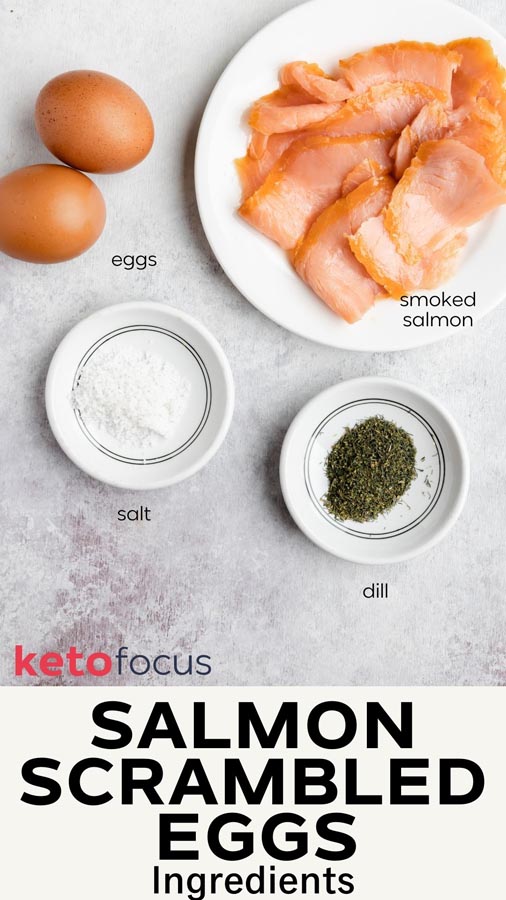 Key Ingredients
Smoked salmon – When it comes to cold-smoked salmon, there are many types that are mostly distinguished by their region of source and the smoke style. Nova, Scottish salmon, Norwegian salmon, Irish salmon and Western Nova. Norwegian salmon usually has less oil and a mild flavor. Irish salmon is fattier with a milder smoke flavor. When it comes to scrambled eggs and salmon breakfast, you can use any kind of salmon. Although I prefer smoked salmon, even leftover salmon can be used in this breakfast quickie.
Eggs – Fresh eggs are best in this recipe; however you can substitute with liquid egg whites or liquid eggs as well.
Dill – An iconic pairing with salmon is dill. They go together like bread and butter.
Subscribe to the KetoFocus YouTube Channel
With 100s of videos and millions of views, Ketofocus is one of the most popular Keto channels on YouTube.
Smoked Salmon Breakfast Ingredients
1/2 tablespoon unsalted butter
2 oz smoked salmon
2 eggs
pinch salt
pinch dried or fresh dill
Smoked Salmon Breakfast Scramble Directions
Melt butter in a small non-stick skillet over medium heat. Add smoked salmon and cook until almost heated through.

Crack in eggs and scramble by gently scraping a spatula down the middle and sides of the non-stick skillet to mix and cook the eggs evenly. Sprinkle in salt and dill.

Quick Tip
Add 1-2 tablespoons of cream to make creamier scrambled eggs.