Cucumber Smoothie
by KetoFocus.com
This cucumber smoothie is a creamy and refreshing take on a green smoothie.
Enjoy this frothy green smoothie made of cucumbers and avocado without having to use a banana or milk. This cucumber smoothie will provide hydration and keep you satisfied without using dairy or sugar.
This cucumber smoothie makes the perfect breakfast or mid-day sip when you need a little bit of tranquility or to quench your thirst. Since it has cucumber in it, you know you are getting a mild flavor with lots of hydration. I love using cucumbers in other surprising recipes where you wouldn't think to add it – like my keto apple pie or my cucumber lime margarita.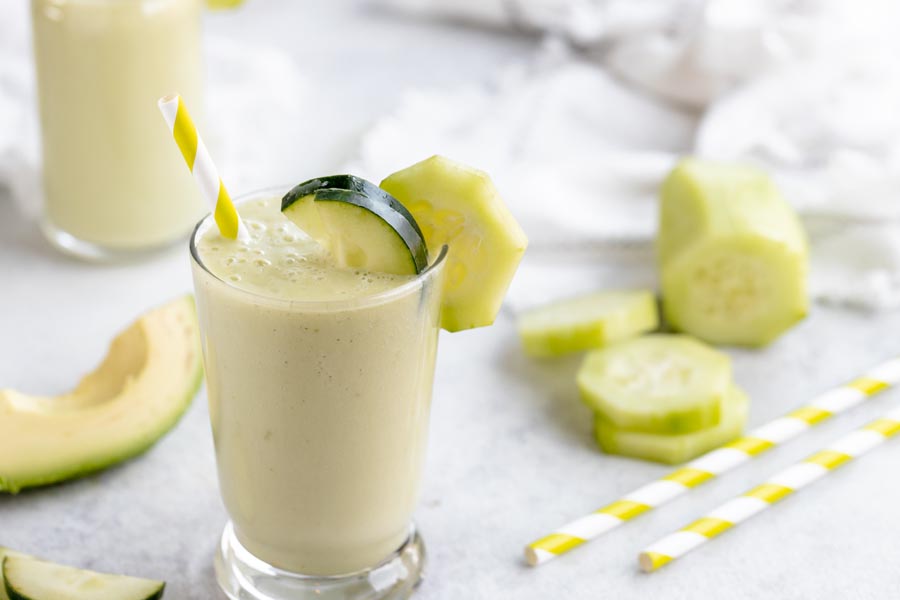 This delicious frothy smoothie is creamy and slightly sweet and we didn't have to use an high sugar fruit like bananas or pineapple to sweeten it or making it smooth. Instead we pair this with avocado to get that same creamy texture and mix it in with nut milk and a bit of keto sweetener. If you love smoothies in the morning, this smoothie recipe will keep you satisfied and moving all morning long.
How to make a cucumber smoothie
Add ice, peeled cucumber, fresh or frozen avocado, nut milk and sugar-free honey or sweetener to a blender.
Blend until smoothie
Pour creamy smoothie and enjoy!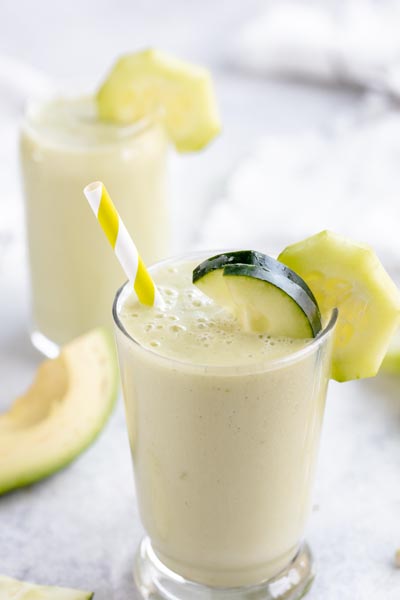 Key ingredients
Ice – Ice will help create a slushy consistency and help keep your smoothie cold.
Cucumber – Cucumber's are high in water so this is a hydrating smooth. It is also filled with fiber to help promote regularity.
Avocado – Avocado is used for creaminess. Most cucumber smoothie recipes include a banana for sweetness and to get that smooth, creamy texture. Bananas have a lot of sugar so they really aren't as healthy as most would think.
Nut milk – Any nut milk will work (macadamia nut milk, almond milk, coconut milk, even cashew milk).
Sweetener – This is an optional ingredient but does help with the flavor. I like to use a sugar-free honey which is honey flavored allulose syrup.
Looking for healthy smoothie recipes that use avocado instead of banana? Try a raspberry avocado smoothie.
Cucumber Smoothie Recipe Video
Subscribe to the KetoFocus YouTube Channel
With 100s of videos and millions of views, Ketofocus is one of the most popular Keto channels on YouTube.
Cucumber Smoothie Ingredients
Cucumber Smoothie Directions
Add ingredients to a blender

To a blender, add ice, peeled cucumber, avocado, nut milk and honey.

Quick Tip
I used macadamia nut milk, but almond milk or coconut milk can be used instead.

Blend until smooth and all of the ice is pulverized. Pour and enjoy right away.