Peppermint Ice Cream
by KetoFocus.com
Scoopable creamy peppermint ice cream straight out of the freezer
Bring a touch of winter in your home with this frosty batch of peppermint ice cream. Creamy mint ice cream filled with chucks of crunchy peppermint swirls and candy canes, this frozen holiday dessert is scoopable right out of the freezer.
Nutrition Facts
Serving Size:
1/2 cup ice cream
Christmas isn't just meant for gingerbread houses and sugar cookies, peppermint ice cream is a popular frozen dessert that will warm your heart this holiday season.
You can get the creamiest ice cream from home without using eggs or sweetened condensed milk! How? We add my secret ingredient which is vodka. You'll get a soft ice cream texture that you can easily scoop into a cone or dish right from the freezer. No need to mess with trying to make a custard from egg yolks in order to make ice cream. I always seem to curdle my eggs at my first attempt! It's just so much easier to make it without eggs.
This peppermint stick ice cream is so appealing too. The crushed peppermints or candy canes turn the ice cream a soft pink that really makes those chunks of crushed candy canes pop out!
How to make peppermint ice cream
Whisk together your five ingredients – heavy cream (or coconut milk if making dairy-free ice cream), powdered sweetener, vodka, salt and peppermint oil.
Refrigerate the ice cream mixture for 2 hours. This helps for the mint flavors to meld together with the cream. You get a more pronounced, developed flavor. It also helps to give the ice cream a creamier texture.
Churn in an ice cream maker. Pour in your mix to an ice cream maker and churn until thick, creamy and frozen.
No ice cream maker? No problem. For no-churn ice cream, beat mixture with an electric mixer or add mixture to a mason jar and shake to thicken. Then freeze.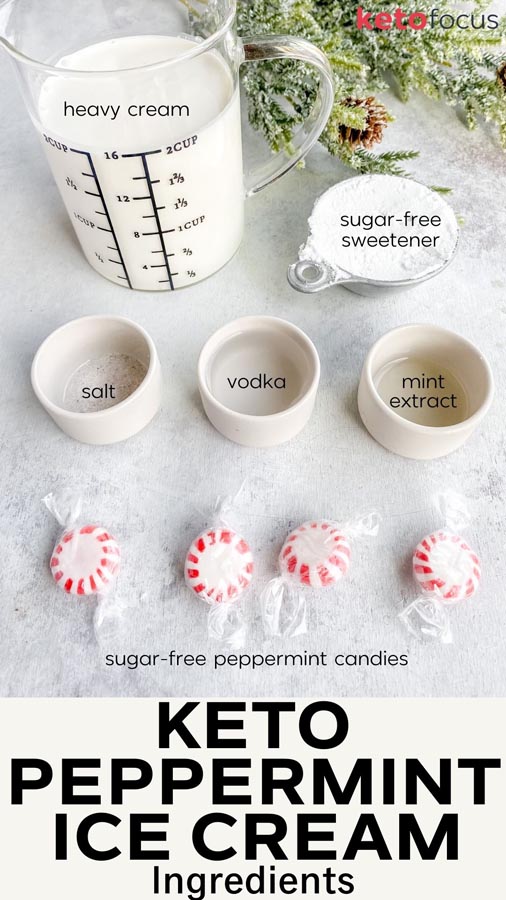 Key ingredients
Heavy cream – This keto ice cream is meant to be indulgent. For the ultimate silky ice cream, we use heavy cream. If you prefer to make a non-dairy ice cream, use canned coconut milk instead.
Sweetener – Ice cream is sweet – at least most prefer it that way. To minimize the sugar and carbs in this recipe, we use a powdered sugar-free sweetener. The powdered or confectioner's sugar dissolves into the cream better compared to granulated sweeteners.
Vodka or rum – Using a clear, neutral-flavored distilled spirit, like vodka or white rum, raises the freezing point of liquids. This decreases the iciness. Instead of rock hard ice cream straight out of the freezer, you get softer ice cream that you can easily slide an ice cream scoop with.  You don't have to worry about getting to rummy or punchy with this ice cream recipe since we only add 2 tablespoons of hard alcohol for the entire batch of ice cream.
Salt – Adding salt to a sweet recipe will enhance the sweet flavor. Salt will also lower the freezing point of water resulting in a softer ice cream you can scoop.
Peppermint – It's up to you whether you want to use mint or peppermint flavoring. And you can use either extract or oil. Extracts are alcohol based and oils are oil-based (of course). Both will help create a soft ice cream.
Peppermint Candies – The finishing touch to any worthy peppermint ice cream are the chunks of crushed peppermint swirls or candy canes mixed in the base.
Subscribe to the KetoFocus YouTube Channel
With 100s of videos and millions of views, Ketofocus is one of the most popular Keto channels on YouTube.
Keto Peppermint Ice Cream Ingredients
Peppermint Ice Cream Directions
Combine peppermint ice cream ingredients

In a medium bowl, whisk together heavy cream, powdered sweetener, salt, vodka or white rum and peppermint flavoring. Cover with plastic wrap and refrigerate for 2 hours before churning or freezing.

Ingredients

Heavy cream
Powdered sugar-free sweetener
Salt
Vodka or white rum
Peppermint flavoring

Quick Tip
Use powdered sweetener as it will dissolve into the heavy cream better than granulated sweetener would. Substitutions for vodka or rum: You can use 1/4 cup of allulose syrup or ChocZero vanilla syrup instead (decrease or omit powdered sweetener as well) or 1/2 teaspoon xanthan gum.

Add ice cream base to your ice cream maker and churn according to manufacturer instructions. Add crushed peppermint candies during the last few minutes of churning.

Add ice cream base to a mason jar and shake until thickened or whip base with an electric mixture until fluffy. Stir in crushed peppermint candies. Freeze in an freezer safe container.