Keto Turkey Soup
by KetoFocus.com
Got leftover turkey from Thanksgiving? Make this creamy keto turkey soup using your leftover turkey carcass and meat along with cauliflower rice to warm your belly this holiday season.
The keto diet has a number of wonderful soups, including clam chowder, chicken soup and this keto turkey soup recipe.
Low carb turkey soup
One of the best ways to use leftover turkey and make use of that leftover turkey carcass is to make a keto turkey soup with cauliflower rice. This keto soup recipe is creamy and filled with healthy fall vegetables. In place of potato in this low carb soup, we add daikon radish. It looks and tastes very similar to a potato.
This soup has fantastic flavors and a great way to use up all of your holiday leftovers. The whole family will get on board with this keto turkey soup, especially if you pair it with these plump, delicious keto rolls.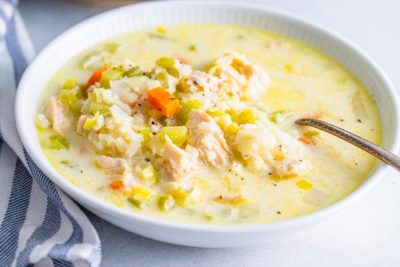 Keto Turkey Soup Recipe Video
Subscribe to the KetoFocus YouTube Channel
With 100s of videos and millions of views, Ketofocus is one of the most popular Keto channels on YouTube.
Keto Turkey Soup Ingredients
4 tablespoons butter
4 garlic cloves, minced
1 medium onion, diced
4 stalks celery, diced
1/2 cup sliced leek
1/2 carrot, diced (optional)
1 cup cubed daikon radish
3 cups leftover turkey
4 cups turkey stock or chicken broth
1 (10 oz) package frozen cauliflower rice
1/2 cup heavy whipping cream
salt and pepper to taste
Keto Turkey Soup Directions
In a stock pot, melt butter over medium heat. Add garlic and saute for 1-2 minutes. Add in onion, celery, leeks and carrot and cook for 3 minutes or until softend.

Add in daikon radish and cook for 1-2 minutes. Add leftover turkey and turkey stock. Bring to boil, then lower heat to simmer for 15 to 20 minutes or until daikon radish is soft and cooked through. Add in cauliflower rice and cook for an additional 2 minutes or until heated.

Remove from heat. Pour in heavy cream and season with salt and pepper to taste.