Keto Takis
by KetoFocus.com
A keto version of the famous spicy rolled corn chip
For those who can't resist the heat, keto takis are gluten free, rolled low carb chips dusted with a spicy lime flavored seasoning.
Takis have their own cult following. Those who love Takis, really love Takis. So I had to make a low carb version for those who miss their favorite snack chip. I used a similar recipe to my keto corn chips and Doritos and made these crunchy, spicy rolled chips!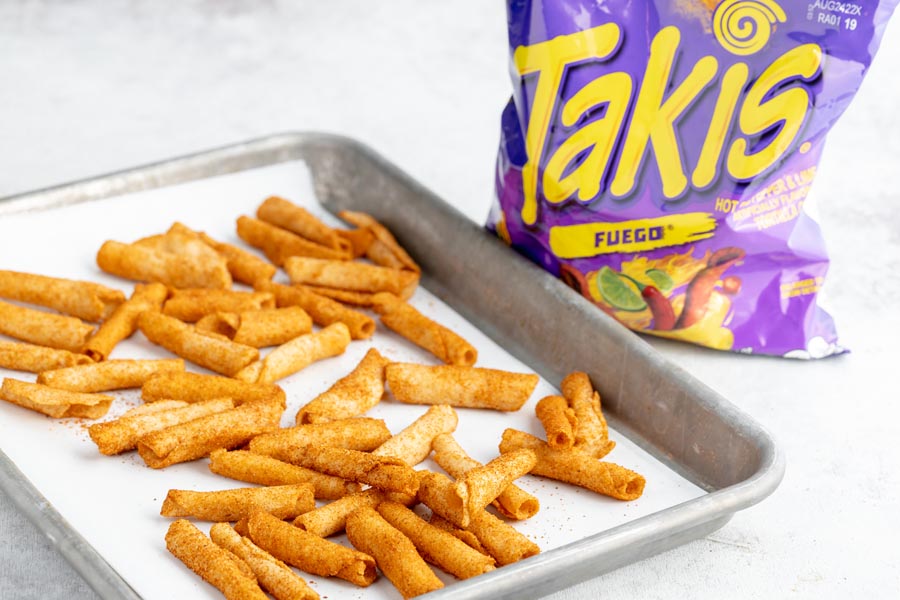 There are different Taki flavors out there, but I'm tackling the Fuego flavor today as it is the most popular. Use my base keto tortilla chip recipe, I roll the dough into tubes then fry them in avocado oil. The Fuego seasoning was a little complex to match.
Not only are Fuego Takis spicy and obviously contain a mixture of chile peppers rather than just chili powder, but it has a slightly sweet and tangy note of lime.  For the chile pepper flavor, I settled on a mixture of chili powder, cayenne pepper and habanero powder. For the sweetened hint of lime flavor, instead of using lime juice which might make the rolled chips soggy, I used small amount of a sugar-free citrus drink powder. This is an electrolyte powder, so it adds additional salt to enhance the flavor of the keto Takis.
Make rolled chips. Combine almond flour, unflavored protein powder, xanthan gum and salt. Roll very thing. Punch out small circles. Roll into tubes.
Fry the chips in avocado oil until golden.
Make Takis seasoning by combing chili powder, lime drink powder, powdered cayenne pepper, habanero pepper powder and garlic powder.
Dust homemade Takis in the seasoning by adding to a ziploc bag or bowl and toss the rolled chips in the Taki seasoning.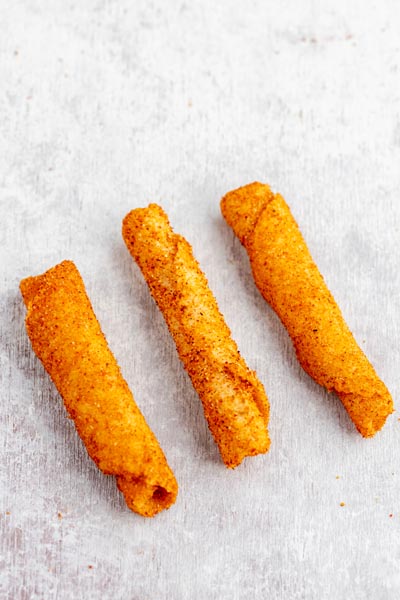 Subscribe to the KetoFocus YouTube Channel
With 100s of videos and millions of views, Ketofocus is one of the most popular Keto channels on YouTube.
Keto Takis Directions
Make dough for rolled chips

In a medium bowl, combine almond flour, unflavored protein powder, xanthan gum and salt. Stir to combine. Pour in hot water and mix until dough forms.

Quick Tip
May need to knead with hands in order to full mix dough.

Roll out dough into a thin sheet

Place dough in between two sheets of parchment paper. Roll out in all directions using a rolling pin, forming a rectangle shape, until the dough is very thin. The thinner the dough, the crispier the homemade Takis.

Quick Tip
To easily keep the dough from sticking to the parchment paper, carefully peel away the top parchment paper. Then replace and flip over. Then remove the new parchment paper on top. Now the dough will remove easily when you punch out the circle shapes

Punch out circles and roll

Using a small biscuit cutter or the rim of a cup, punch out small circles from the dough and roll each circle to form a tube. Repeat with remaining dough.

Add enough avocado oil to a skillet to submerge each rolled chip. Heat over medium heat. Once oil is hot, add rolled chips and fry until they start to turn golden. Remove using a spotted spatula and transfer to a paper towel lined plate to dry.

To a small bowl, mix together chili powder, lime drink mix, cayenne pepper, habanero powder and garlic powder.

Dust the Takis with seasoning

Add rolled chips to a large ziploc bag or bowl. Pour in Taki seasoning and shake or toss until evening coated.