Keto Quiche
by KetoFocus.com
A creamy custard quiche lorraine with bits of bacon and gruyere cheese on a keto crust
Perfect for a brunch a breakfast meal prep, this keto quiche recipe is filled with bacon and cheese within a silky egg custard and sitting on top a flaky low carb pastry crust.
I like to serve quiche when I am entertaining like for Mother's Day brunch or Christmas morning. This keto quiche with a batch of my low carb cinnamon rolls and a fresh pot of bulletproof coffee will surely start of your morning right!
This low carb quiche recipes uses a combination of nut milk and cream to make the egg filling silky and creamy. Fill the quiche with your favorites like bacon and cheese, even spinach, sausage or mushrooms. This velvety quiche filling sits on a homemade flaky keto pie crust made from almond flour and a bit of coconut flour.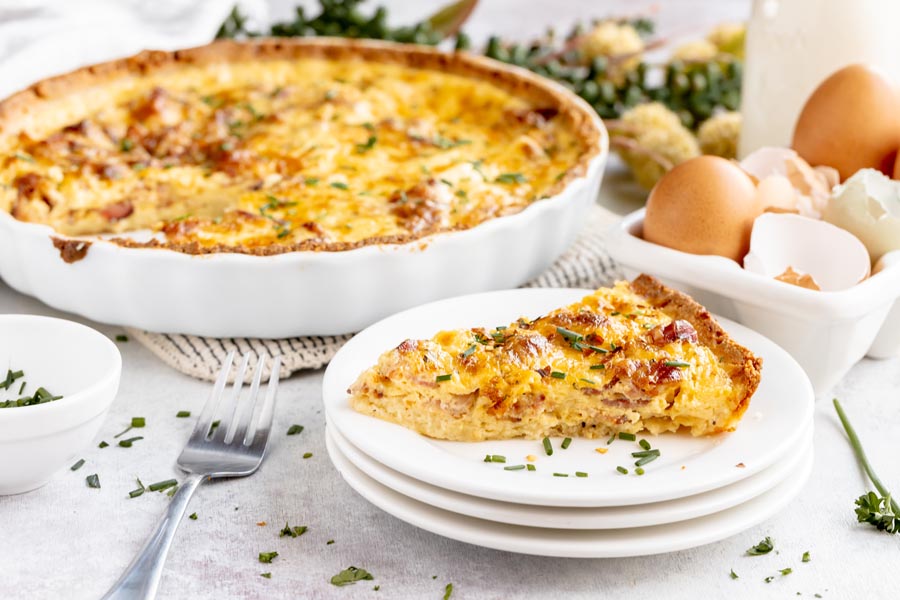 This is the type of brunch recipe that can be served for any meal and any occasion (bridal showers, baby showers, potlucks, Easter supper). The bonus is that you can make it ahead of time! It's also great for those who make up their meals in bulk because you can enjoy your keto quiche lorraine as a meal over the course of several days. Serve your quiche hot or cold.
Make a flaky keto pastry crust as a base to hold your cheese. Check below for instructions on how to make a crustless quiche.
Bake pastry crust.
Cook bacon or sausage (if using instead).
Fill your keto crust with bacon, sausage, vegetables and cheese.
Whisk up eggs, egg yolks, nut milk and cream.
Pour into crust and bake.
Key ingredients
Eggs – You really can't make quiche without eggs. It's what a quiche is. It's a french tart custard and a custard is made from eggs.
Egg yolks – Additional yolks are add to make our keto quiche recipe velvety smooth.
Meat – Here you can customize what you add to your quiche and meats or seafood can be added from bacon (to make a quiche Lorraine), sausage, shredded chicken. Even seafood like lobster, shrimp or salmon.
Vegetables – Add any vegetables you choose. From mushrooms, spinach, broccoli, cauliflower, peas, bell pepper, onion.
Cheese – For flavor to this classic brunch dish, we add cheese. I used gruyere cheese in this recipe, but cheddar, pepper jack, fontina, colby jack or even mozzarella cheese can be used.
Milk – To make your quiche extra creamy don't forget the cream! I had a combination of heavy cream and nut milk in order to limit the calories but still get that ultra creamy indulgence.
Subscribe to the KetoFocus YouTube Channel
With 100s of videos and millions of views, Ketofocus is one of the most popular Keto channels on YouTube.
Keto Pastry Crust Ingredients
1 cup almond flour
3 tablespoons coconut flour
1 teaspoon xanthan gum
1/2 teaspoon salt
1/2 cup unsalted butter, chilled and cubed
1 ounce cream cheese, softened
1 egg
1 1/2 teaspoons rice vinegar or apple cider vinegar
Keto Quiche Filling Ingredients
8 oz bacon, cooked and diced
4 oz gruyere cheese, grated
2 eggs
2 egg yolks
1 cup nut milk
1 cup heavy whipping cream
1/2 teaspoon salt
1/2 teaspoon pepper
Keto Quiche Directions
To a food processor, add almond flour, coconut flour, xanthan gum and salt. Pulse until combined. Add cold, cubed butter, cream cheese, egg and rice vinegar. Pulse until dough comes together. Don't over mix or crust will not be flaky.

Ingredients

Almond flour
Coconut flour
Xanthan gum
Salt
Butter (chilled and cubed)
Cream cheese (softened)
Egg
Vinegar

Quick Tip
If you don't have a food processor, cut the butter into the remaining ingredients using a pastry blender or fork.

Roll pastry crust in between two sheets of parchment paper. Roll to a 1/8-1/4" inch thickness and to circle about 1-2 inches larger than your quiche dish, tarte pan or pie plate. Remove the top layer of parchment paper. Place quiche pan upside down on top of the center of the crust. Slide a hand underneath the crust and flip over so that the crust falls into the dish. Remove the top layer of parchment paper. Mold crust into place. Cut off excess dough.

Bake at 350 degrees for 8-9 minutes. Remove and let cool.

Quick Tip
Don't over bake as the quiche will need to bake again and you don't want the crust to overcook or burn.

To the prepared pastry crust, sprinkle in cooked and crumbled bacon and shredded cheese. Set aside.

Ingredients

Bacon (cooked & crumbled)
Gruyere cheese (shredded)

Quick Tip
If using other meats, vegetables or cheese, add these here.

In a large bowl, whisk together eggs and egg yolks using an electric mixer. Pour in nut milk, heavy cream, salt and pepper. Mix until combined. Pour into crust.

Ingredients

Eggs
Egg yolks
Nut milk (macadamia, almond, coconut)
Heavy Cream
Salt & pepper

Quick Tip
For a creamier quiche, use all heavy cream. For a lighter quiche, use less or all nut milk.

Bake quiche at 350 degrees for 30-35 minutes.

Quick Tip
Bake until the center feels set but soft - like jello. If you insert a knife in the center, it should come out clean.