Carnivore Sandwich
by KetoFocus.com
This almost ZERO CARB carnivore sandwich is perfect for someone who only eats meats. Fried egg, bacon and cheese are sandwiched between two waffles made of pork rinds, egg and cheese.
On a carnivore diet, you might get bored of eating the same things every day – like beef ribs or even steak. This carnivore sandwich is a great way to break up your regular meals and add variety.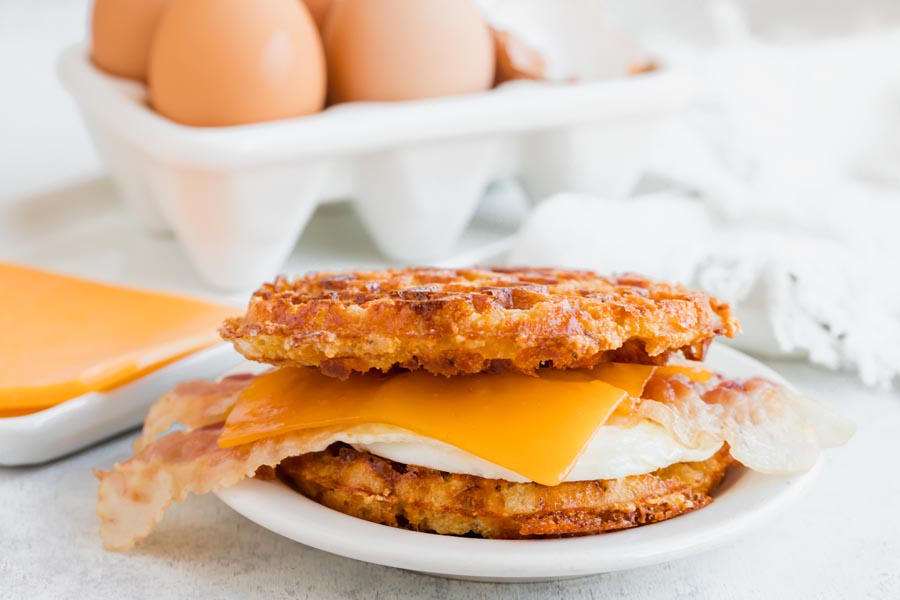 This sandwich is made from ingredients from animals. From the eggs, cheese and bacon – these are all ingredient you probably already eat on a carnivore diet and have in your refrigerator. To make the sandwich "bread", we make a waffle made out of egg, ground pork rinds and shredded mozzarella cheese. The result is a crispy waffle that will easily hold your favorite sandwich fixings.
This sandwich is almost ZERO CARBS with 1.3 g carbohydrates. The carbs are coming from the shredded mozzarella cheese. You may be able to decrease that if you used shredded cheddar cheese.
Subscribe to the KetoFocus YouTube Channel
With 100s of videos and millions of views, Ketofocus is one of the most popular Keto channels on YouTube.
Carnivore "Bread" Ingredients
Carnivore Sandwich Ingredients
2 slices bacon, cooked
1 fried egg
1 slice cheddar cheese
Carnivore Sandwich Directions
In a small bowl, add egg, pork panko, mozzarella cheese and salt. Mix to combine.

Ingredients

1 egg
1/2 cup pork panko
1/3 cup shredded mozzarella cheese
pinch of salt

Quick Tip
Batter will be very thick.

Preheat waffle maker. Add half the batter to the waffle plate and close. Let cook for 2-3 minutes or until you can open the waffle maker without the cheese sticking to the plates. Remove once crispy and repeat with remaining batter.

Quick Tip
Greasing the waffle maker is not necessary. If you open the waffle maker and the cheese is sticking to the plates, close it and let the waffle cook longer until it can easily release from the waffle plates.

Assemble the carnivore sandwich by placing the fried egg, bacon and cheese in between the two slices of waffles.