Bomb Pops
by KetoFocus.com
Easy homemade version of America's favorite popsicle
Stay away from the sugar and high fructose corn syrup this Summer and instead make your own bomb pops with cherry, lime and blue raspberry layers.
My favorite summer-time popsicle is the Bomb Pop or as some call it the Rocket Pop. Along with the fudgesicle, it is a tasty treat to keep you cool when the sun is blazing outside.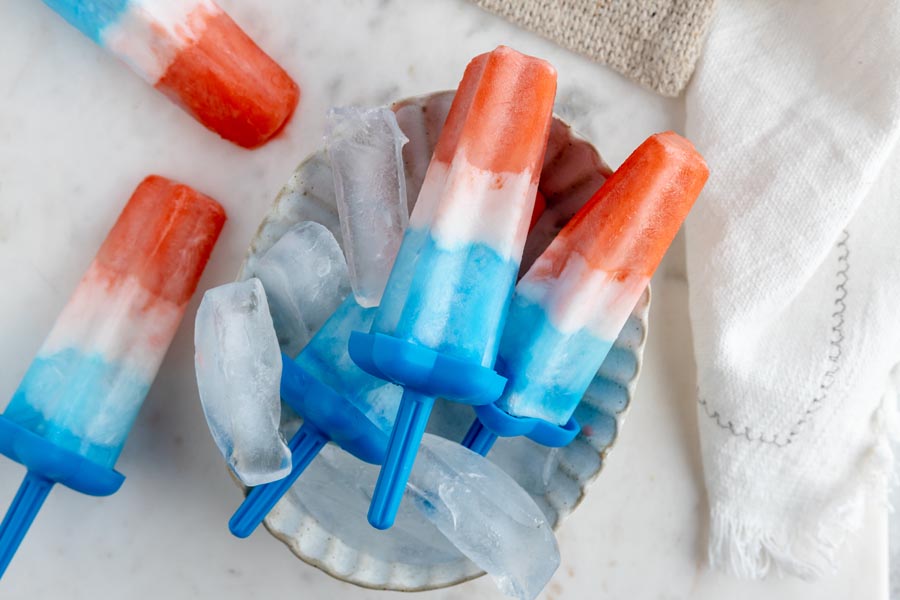 This classic patriotic popsicle is an American icon. Three flavors layered in a red, white and blue colors and shaped like a rocket or a bomb. It has been a favorite frozen treat for kids since the 1950s.
Whether you buy your bomb pops from the grocery store or the ice cream truck, all of them are loaded with sugar and high fructose corn syrup. This homemade bomb pop recipe is sugar-free but still is deliciously sweet and flavored with the true flavors – cherry, lime and blue raspberry.
Make a "sugar" water base of the ice pops by combining a powder sweetener into water.
Red layer: Combine 1 1/4 cups of the sweetened water with cherry flavor extract and red food coloring. Pour into a rocket popsicle mold and freeze for 2 hours.
White layer: Combine 3/4 cups of "sugar" water with 1/4 cup heavy cream or coconut milk and lime flavoring. Pour on top of frozen red layer and freeze for 2 hours.
Blue layer: Combine 1 1/4 cups of the simple syrup base with blue raspberry extract and blue food coloring. Pour on top of frozen white layer. Freeze at least 4 hours or overnight.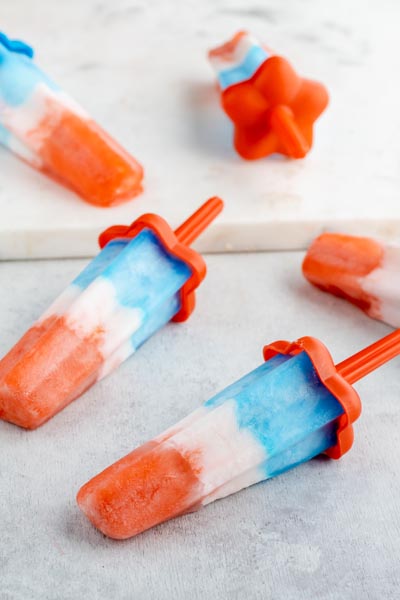 Key ingredients
Water – Since we are making popsicles, we use water as our base liquid vessel.
Sweetener – I like to make sugar-free bomb pops, so I use a sugar-free sweetener. Make sure you use powdered or confectioner's sweetener as it dissolved more readily in the water. If you choose to use granulated sugar free sweetener, you will have to heat the simple syrup over medium heat until the sugar dissolves.
Flavor extracts – For the cherry flavor layer, we use cherry extract. Lime layer, we use lime flavoring. And blue layer, we use blue raspberry extract.
Cream – To achieve a creamy white layer to the rocket pops, we use heavy cream. Coconut cream or milk can also be used if you are vegan or dairy free.
Food coloring – Red and blue food dyes are added to color the layers.
Bomb Popsicles Recipe Video
Subscribe to the KetoFocus YouTube Channel
With 100s of videos and millions of views, Ketofocus is one of the most popular Keto channels on YouTube.
Bomb Popsicles Ingredients
Bomb Pops Directions
Add 3 1/4 cups water to a large measuring cup. Pour in powdered sugar free sweetener and mix until dissolved.

Ingredients

Water
Powdered sugar free sweetener

Quick Tip
If using granulated sweetener, you must heat the mixture over medium heat until sweetener is dissolved.

Pour 1 1/4 cups of 'sugar' water into a smaller measuring cup. Add cherry flavor extract and red food coloring. Mix until combined. Pour into popsicle molds filling 1/3 of the way full. Freeze for 2 hours or until hardened.

Ingredients

Cherry flavoring
Red food coloring

Quick Tip
If not using concentrate flavoring drops, use 1/2 teaspoon flavoring. Use measuring cups as it's easier to pour into the molds.

Pour 3/4 cups of the sweetened water to a measuring cup. Add heavy cream or coconut milk and lime flavoring. Stir until combined. Pour into the popsicles molds over the frozen red layer. Fill until 2/3 from the top. Freeze for 2 hours or until hardened.

Ingredients

Heavy cream
Lime flavoring

Pour 1 1/4 cups of 'sugar' water into a smaller measuring cup. Add blue raspberry flavoring and blue food coloring. Mix until combined. Pour into popsicle molds on top of the white layer, filling to the top. Insert popsicle sticks. Freeze for 4 hours or until hardened.

Ingredients

Blue raspberry flavoring
Blue food coloring