Keto Strawberry Cake
by KetoFocus.com
A spongy, tender keto strawberry cake made from FRESH strawberries and topped with a creamy strawberry frosting.
Pretty in pink, this keto cake is bursting with strawberry flavor. That's because it uses fresh strawberries in both the cake and the cream cheese frosting.
Homemade cakes from scratch (my like the favorited carrot cake or keto strawberry shortcake) doesn't take a ton of effort like you might think. You basically dump in the gluten free flours, sugar free sweeteners, strawberry puree and a few other ingredients. Mix and bake!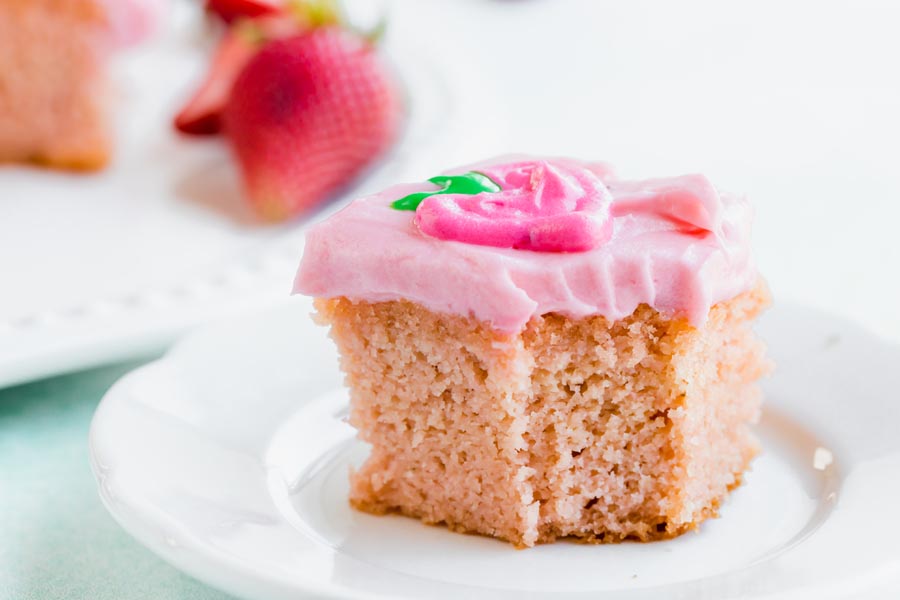 Serve your keto strawberry cake with a scoop of homemade ice cream or more strawberries (even better if they are in season). This fresh, moist cake makes for a delightful summertime treat but you can enjoy it anytime of year, especially if strawberry flavor is your favorite dessert!
How to make keto strawberry cake
Roast fresh strawberries in the oven with sugar free sweetener and a pinch of salt.
Puree roasted strawberries in a food processer.
Whisk together dry ingredients –

almond flour, coconut flour, baking powder, salt.

Cream together wet ingredients – whip the butter until fluffy, Add in sweetener, eggs, ¼ cup reserved strawberry puree and vanilla.
Complete the cake batter by combining dry ingredients into the wet ingredients.
Bake the cake.
Make a creamy strawberry cream cheese frosting to adorn the finished low carb cake!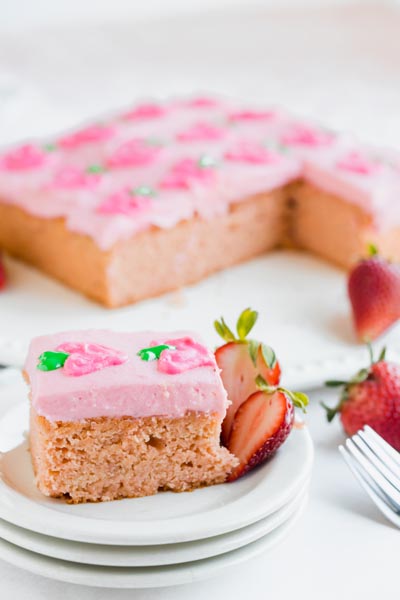 Key ingredients
Fresh strawberries – Ideally fresh is better since it has the most flavor (especially when strawberries are in season). Frozen strawberries could be used as long as you thaw them first.
Keto flours – Almond flour and coconut flour are two of my favorite keto flours to use for baking. The combination of the two gives a texture and flavor similar to all-purpose flour.
Sugar free sweetener – Use your favorite sugar free sweetener as long as it measures cup for cup with real sugar. Erythritol and monk fruit blended sweeteners like Lakanto work well. Truvia Sweet Complete is another favorite – it uses erythritol, chicory root fiber and stevia. Alluose sweetener can be used; however, it's not as sweet as some of the other sugar free sweeteners, so you may need to add more.
Subscribe to the KetoFocus YouTube Channel
With 100s of videos and millions of views, Ketofocus is one of the most popular Keto channels on YouTube.
Roasted Strawberries Ingredients
5 large strawberries, sliced
2 teaspoons sugar free sweetener
Pinch salt
red food coloring, optional
Keto Strawberry Cake Ingredients
1 ¾ cup almond flour
⅓ cup coconut flour
2 teaspoon baking powder
½ teaspoon salt
¾ cup unsalted butter, softened
¼ cup sugar free sweetener
4 eggs
¼ cup sour cream
1 teaspoon vanilla extract
Cream Cheese Strawberry Frosting Ingredients
Keto Strawberry Cake Directions
Toss together slice strawberries, sugar free sweetener and salt. Spread out on a parchment lined tray and bake at 350 degrees for 10 minutes.

Ingredients

Strawberries (sliced)
Sugar free sweetener
Salt

Puree roasted strawberries in a food processor or blender until smooth. Set aside. Grease a square baking dish (8 x 8) with cooking spray, line with parchment paper and turn down oven to 325 degrees.

Ingredients

Red food coloring (optional)

Quick Tip
Add a few drops of red food coloring to deepen the red color if desired.

Whisk together almond flour, coconut flour, baking powder and salt in a small bowl. Set aside.

Ingredients

Almond flour
Coconut flour
Baking powder
Salt

In a large bowl, cream together butter and sugar free sweetener using an electric mixer until fluffy (about 3-5 minutes). Add eggs, sour cream, ¼ cup reserved strawberry puree and vanilla. Mix until combined.

Ingredients

Unsalted butter (softened)
Sugar free sweetener
Eggs
sour cream
Strawberry puree (1/4 cup)
Vanilla extract

Finish strawberry cake batter

Slowly mix in dry ingredients. Continue to mix until combined.

Quick Tip
For a brighter shade of pink, add more food coloring if desired.

Pour cake batter into the prepared baking dish and bake in the oven at 325 degrees for 33-35 minutes or until cake is set in the middle. Remove from oven and let cool completely before frosting.

Make cream cheese strawberry frosting

Combine softened cream cheese and softened butter to a medium bowl. Beat until fluffy (2-3 minutes) then slowly mix in powdered sweetener and remaining strawberry puree. Mix until smooth. Spread on top the cake once the cake is cooled.

Ingredients

Cream cheese (softened)
Butter (softened)
Powdered sugar free sweetener
Strawberry puree (remaining)