Keto Ice Cream Cake
by KetoFocus.com
This homemade keto ice cream cake has layers of fluffy low carb cake, sugar free ice cream and creamy whipped topping. It's the ultimate celebration cake!
This keto cake is the best way to celebrate any special occasion. Instead of looking for a sugar free birthday cake or ice cream, why not combine the two and make a decadent ice cream cake!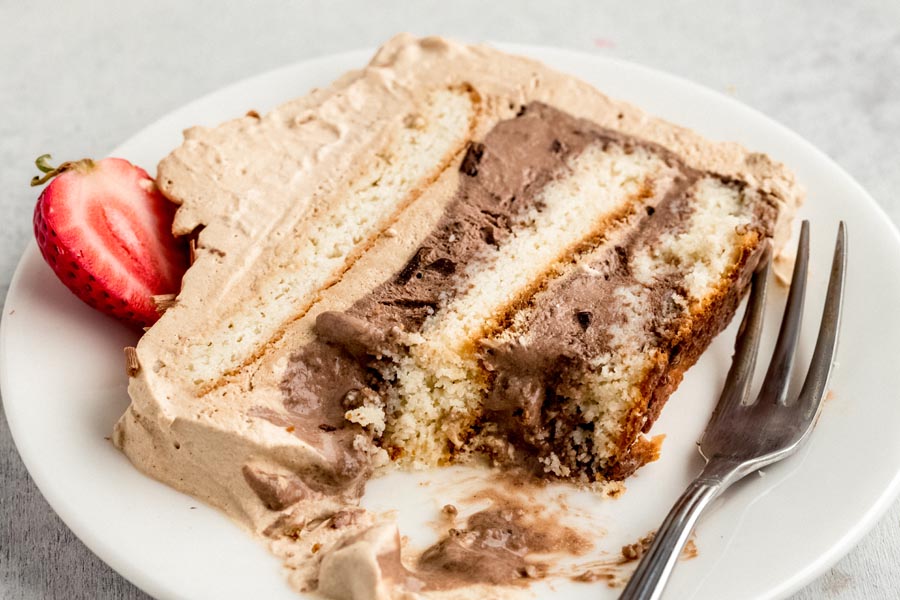 With both homemade layers and store-bought layers, this cake is simple but still impressive.  The keto cake and ice cream are store-bought while the mocha whipped topping is made fresh. Although you could make your own keto chocolate ice cream if you really want to go all out!
This keto ice cream cake has layers of fluffy sugar free cake, keto chocolate ice cream and a creamy whipped topping with a special raw cacao powder twist that gives incredible flavor.
Instead of ordinary cocoa powder, I partnered with Earth Echo and used two scoops of Cacao Bliss for this recipe.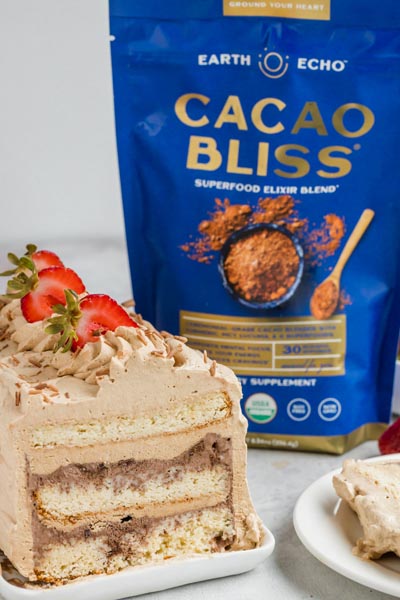 Cacao Bliss is a raw cacao powder blended with superfoods. It contains cinnamon (to help regulate sugars and for gut support), turmeric (for inflammation), black pepper (to increase the bioavailability of the turmeric), himalayan salt (for balancing pH levels), lucuma (to help with the body's repair mechanisms), coconut nectar (a prebiotic for gut health).
It gives a unique flavor to the chocolate whipped topping that tastes better than regular cocoa powder. If you want to try Cacao Bliss, use my code KETOFOCUS to save 15% off your order.
How to make keto ice cream cake
Make your favorite low carb cake. I prefer to use boxed keto cake mix to prepare the cake. This is a quick, easy way to get a delicious cake with minimal effort.
Make a chocolate whipped cream.
Layer your cake with slices of keto cake, ice cream and whipped topping. Repeat the layers until the cake is used up.
Freeze overnight.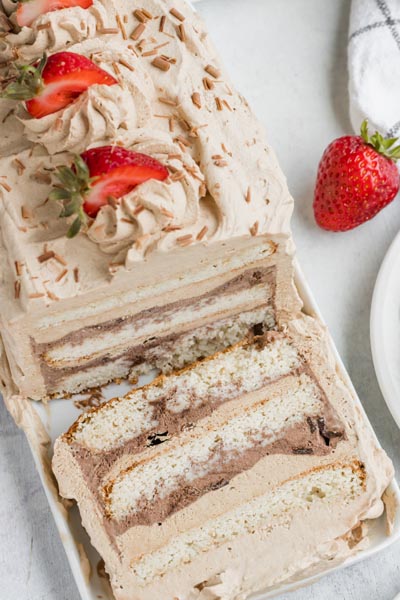 Keto Ice Cream Cake Recipe Video
Subscribe to the KetoFocus YouTube Channel
With 100s of videos and millions of views, Ketofocus is one of the most popular Keto channels on YouTube.
Keto Ice Cream Cake Ingredients
Keto Ice Cream Cake Directions
Put ice cream in the refrigerator 2-3 hours prior to assembling the ice cream cake. This will make the ice cream easier to spread. Mix and bake cake in a square baking dish according to package directions. Let cool on a wire rack before slicing.

Quick Tip
If you forget to do this step or don't have time, you can carefully defrost the ice cream in your microwave until it's a spreadable consistency, but not liquidy.

In a large bowl, add whipping cream, powdered sugar free sweetener and unsweetened cocoa powder or Cacao Bliss. Beat on medium speed until frothy. Then increase speed to high and continue beating until stiff peaks form.

Cut cake in half like slicing through a hamburger bun.

Quick Tip
Make sure cake is cool in the center before assembling.

Line a loaf pan with parchment paper or plastic wrap. Cut cake into pieces to form a single layer in the loaf pan.

Spread a thick layer of ice cream on top the cake.

Spread a thick layer of whipped cream on top the ice cream. Repeat the layers one more time finishing with cake and a thin layer of whipped cream.

Freeze the cake in the freezer for at least 6-8 hours or overnight.

Add a final layer of whipped topping to the top and around the sides of the cake. Freeze for 10-20 more minutes to set the cake before slicing and serving.