Keto Chocolate Chip Waffles
by KetoFocus.com
A chocolate chip waffle that is a low carb version of a childhood favorite breakfast food. This chocolate chip chaffle is like having dessert for breakfast, but without the sugar!
My kids LOVE chocolate chip waffles. I think it's their way of eating dessert for breakfast. Now that I've come up with a recipe for keto chocolate chip waffles, I don't have to worry that they are loading up on sugar first thing in the morning. These low carb waffles are actually chocolate chip chaffles – which are cheese and egg waffles.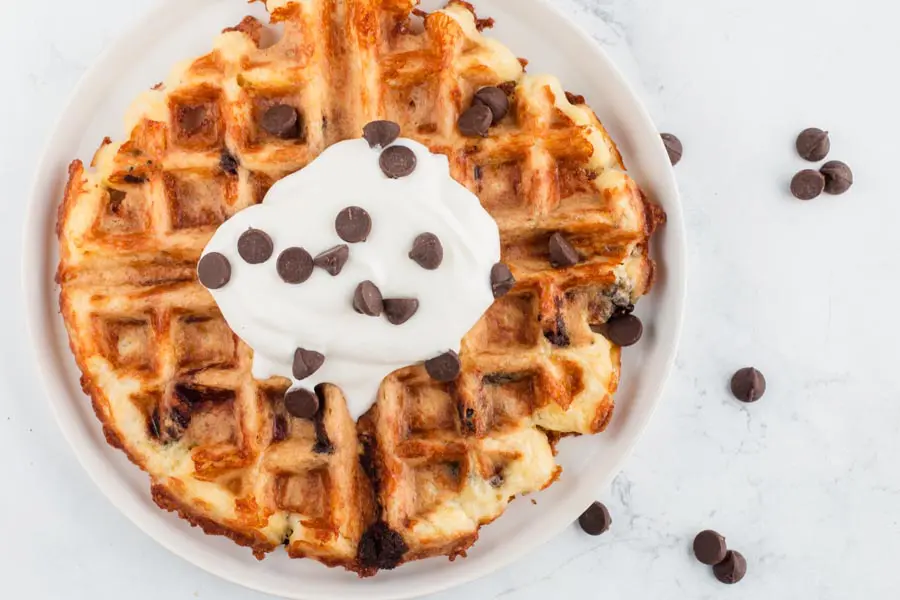 Chaffles are very popular on the keto diet since it's a easy way to make a crispy waffle with just a few ingredients that are found in most kitchens. There are many different variations to this breakfast food that you can make like a peanut butter chaffle or a chocolate chaffle.
Top with homemade whipped cream, more chocolate chips and some sugar-free chocolate syrup for the ultimate no-sugar, keto breakfast dessert!
How to make chocolate chip chaffles
Mix the keto chaffle ingredients – egg, shredded mozzarella cheese, almond flour or coconut flour, sugar free sweetener, keto chocolate chips, baking powder, vanilla extract and salt.
Pour into the waffle maker (either a mini dash waffle maker or larger Belgian waffle iron).
Cook until golden brown and cripsy.
Top with fresh whipped cream.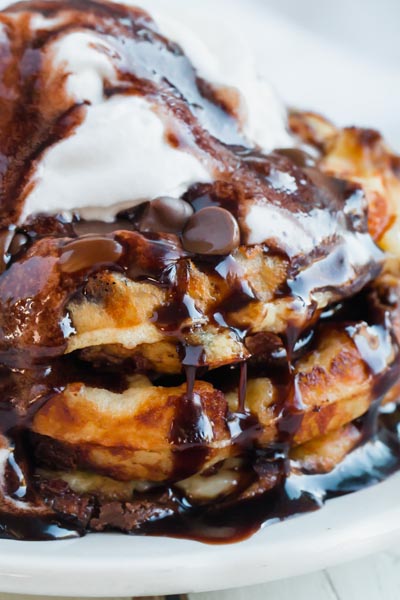 Subscribe to the KetoFocus YouTube Channel
With 100s of videos and millions of views, Ketofocus is one of the most popular Keto channels on YouTube.
Chocolate Chip Chaffles Ingredients
1 egg
1/2 cup shredded mozzarella cheese
2 tablespoons almond flour or 2 teaspoons coconut flour
1 tablespoon sugar free sweetener
1 tablespoon sugar free chocolate chips
1/4 teaspoon baking powder
1/4 teaspoon vanilla
pinch of salt
Keto Chocolate Chip Waffles Directions
Preheat waffle maker to medium high heat. Mix all ingredients in a small bowl.

Pour the waffle batter into the center of the waffle iron. Close the waffle maker and let cook for 3-5 minutes or until waffle is golden brown and set. Only pour about 1/3 of the batter if using a mini waffle maker.

Remove waffle once finished cooking. Repeat with remaining batter if necessary.