Vegan Keto Chaffle Waffle Recipe
by KetoFocus.com
A deliciously thick and crispy vegan keto waffle that can be made with just 4 simple ingredients and under 5 minutes!
Scattered over the internet are tons of chaffle recipes with flavors like peanut butter, pizza and there's even a chocolate chaffle. Chaffles are a popular keto waffle recipe made with egg and mozzarella cheese, but they aren't for everyone, especially if you have a sensitive to dairy, eggs or are a keto vegan.  This dairy free keto waffle is a chaffle made without egg or cheese. That means it's a vegan keto breakfast idea.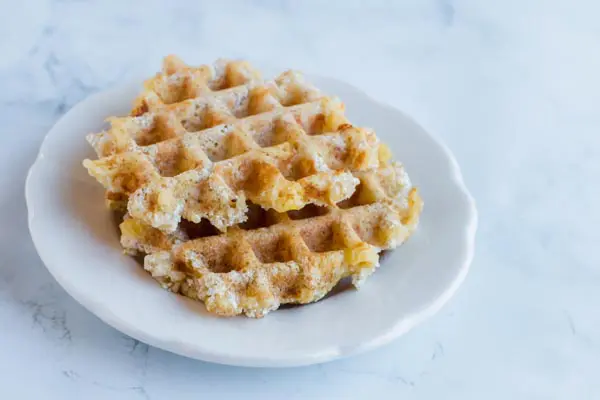 The main ingredients in these vegan keto waffles are dairy free cream cheese and vegan cheese so this waffle is still considered a chaffle! And it is still thick and crispy on the outside and chewy on the inside just like the original cheese chaffle recipe.
The non-dairy vegan approved cheese and cream cheese, I used in this recipe is by the Daiya brand. They contain no animal, soy, gluten or nuts. It also melts when heated.
Besides the dairy free cheese,  I use a flax egg in place of a regular egg. A flax egg is a vegan version of an egg. When flax meal and water are combined let sit for several minutes, the mixture thickens and forms a gel like substance with similar consistency as an egg. The flax eggs provides the same role as a regular egg. It helps give structure to the waffle and holds everything together.
This recipe makes two servings because each waffle is so thick and filling. Top with your favorite sugar free syrup like keto strawberry sauce or even a dollop of whipped coconut cream.
How to make vegan chaffles
Combine ingredients – flaxseed meal, water, dairy free mozzarella cheese, coconut flour, dairy free cream cheese, salt – for this dairy free chaffle in a small bowl.
Stir with a fork until combined.
Using a dash mini waffle maker, add half the dough into the waffle maker and close.
Let cook for several minutes until golden brown.
Repeat with remaining waffle batter.
Vegan Chaffles Recipe Video
Subscribe to the KetoFocus YouTube Channel
With 100s of videos and millions of views, Ketofocus is one of the most popular Keto channels on YouTube.
Vegan Keto Chaffle Waffle Recipe Ingredients
1 tablespoon flaxseed meal
2 ½ tablespoons water
¼ cup low carb vegan cheese
2 tablespoons coconut flour
1 tablespoon low carb vegan cream cheese, softened
pinch of salt
Vegan Keto Chaffle Waffle Recipe Directions
Preheat waffle maker to medium high heat.

In a small bowl, mix together flaxseed meal and water. Let stand for 5 minutes until thickened and gooey.

Whisk together all of the ingredients for the vegan chaffle.

Pour vegan waffle batter into the center of the waffle iron. Close the waffle maker and let cook for 3-5 minutes or until waffle is golden brown and set. If using a mini waffle maker, only pour in half the batter.

Remove the vegan chaffle from the waffle maker and serve.