Keto Butter Board
by KetoFocus.com
A new take on bread and butter
Make your next party special with a Keto Butter Board. This trendy new appetizer is made with high-quality butter, seasonings, fresh herbs, oils, and jams. Pair it with crackers, bread, and crunchy vegetables. It's the perfect option for a keto diet and can be served at family gatherings or for your next book club.
Nutrition Facts
Serving Size:
2 tablespoons
The butter board has taken social media by storm. It's basically compound butter beautifully spread on a charcuterie board and served with various foods to scoop up the creamy, salty goodness. And most people think that it's delicious or gross. It's completely divided the country and my YouTube channel.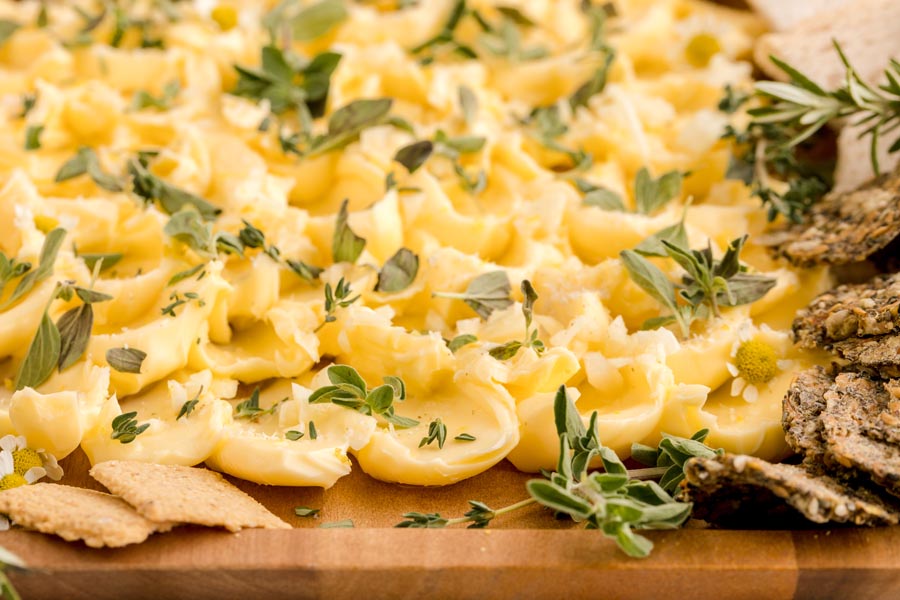 Serve this delicious snack with keto rolls, crackers, or veggies like radish, cucumber, and celery, and even grilled meats like slices of steak or chicken for a keto-friendly meal.
Using a butter knife or cake spatula to spread different kinds of butter on a board or plate. Sprinkle the butter with the other ingredients, seasonings, salts, and herbs for added flavor. This is definitely an appetizer you don't want to miss!
How to make a butter board
A butter board is like a charcuterie board, but instead of being filled with meats and cheeses, it's prepared with soft butter.
Lay out your favorite brands of butter or new kinds you'd like to try.
Sprinkle seasonings, herbs, or oils. You can also make butter compounds with these ingredients mixed into the butter. Have fun and try other ingredients like lemon zest, parmesan cheese or even champagne.
Surround the butter with keto-friendly bread, crackers, or vegetables, and make it pretty with edible flowers!
You can pair your butter board with meat and cheese boards containing hard and soft cheese, sliced meats, bread, crackers, condiments, and vegetables.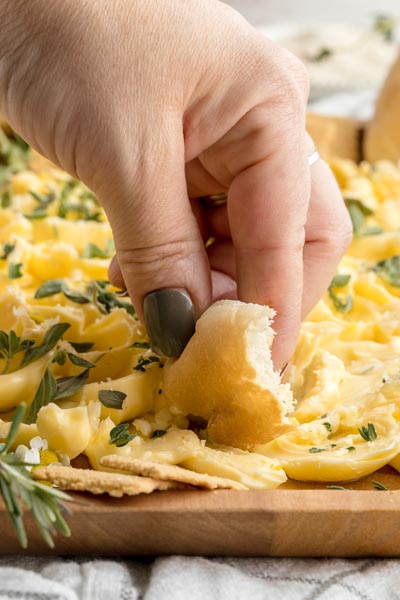 Key ingredients
Here are the ingredients you'll need to make your own butter board:
Unsalted butter: Butter is the main ingredient, so make sure it's high-quality. Unsalted is best as it allows you to add you own salts to the compound butter, like rosemary salt or black salt.
Garlic: Minced garlic adds flavor.
Fresh herbs: Thyme, oregano, rosemary, or sage are great options.
Lemon zest: Citrus, like lemon or lime zest, is a tangy balance to the richness of the other ingredients.
Sea salt: flaky salt or salt with different flavors like rosemary, smoky salt, or pink salt.
Splash of prosecco or champagne: This makes the butter fancy and delicious.
Additions: Try adding chili flakes, chili oil, dried onion flakes, dried garlic flakes, honey, pumpkin spice, carb free jams, peanut butter, or olive oil.
Keto Butter Board Recipe Video
Subscribe to the KetoFocus YouTube Channel
With 100s of videos and millions of views, Ketofocus is one of the most popular Keto channels on YouTube.
Keto Butter Board Ingredients
1 cup unsalted high quality butter, softened
3 cloves garlic, minced
1 teaspoon fresh thyme
1 teaspoon fresh oregano
1 teaspoon lemon zest
½ teaspoon rosemary sea salt
Splash prosecco or champagne
Keto Butter Board Directions
Using a butter knife or cake spatula, spread butter on a charcuterie board or plate.

Sprinkle with remaining ingredients - minced garlic, thyme, oregano, lemon zest, rosemary salt and champagne.

Serve with low carb bread and crackers or veggies.