Keto Chocolate Zucchini Muffins
by KetoFocus.com
Low carb chocolate zucchini muffins are made with select special ingredients to give that insanely delicious bakery style muffin that is perfectly moist.
Got lots of zucchini?! Make keto zucchini muffins. Using my favor secret ingredients to make fluffy muffin tops you can easily enjoy a double chocolate keto muffin and stick to your goals. Similar to my keto pumpkin muffins and lemon blueberry muffins, these zucchini muffins will be a hit with the whole family.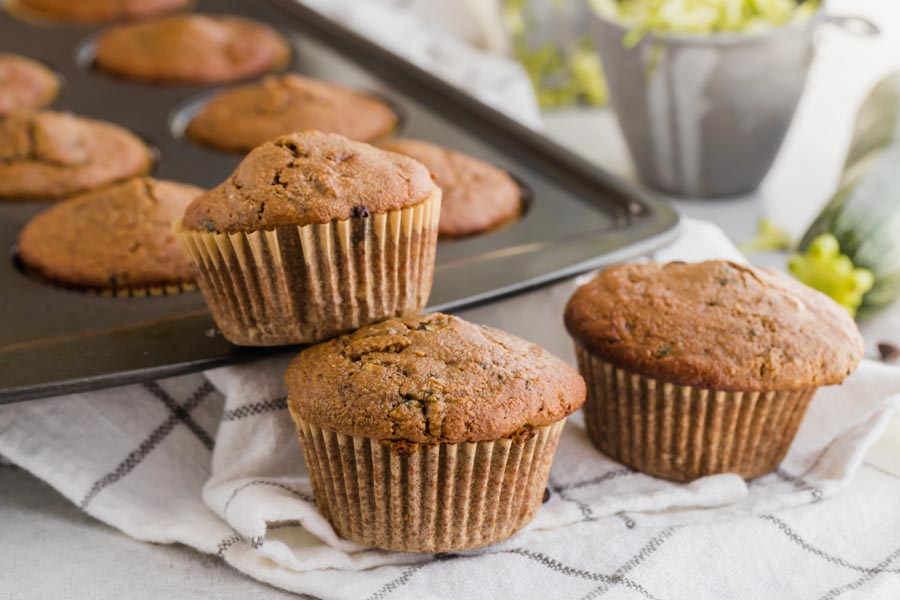 It's easier than you think to get fluffy, bakery style muffins without using any all-purpose flour, or sugar. With just a few special ingredients, we can get the perfect muffin texture with a unique chocolatey flavor.  
Since we aren't using flour, we have to keep our muffins from falling flat. To achieve that muffin top, we use a combination of eggs, protein powder and baking powder to help these keto muffins rise. 
To get that unique chocolate flavor, I partnered with Earth Echo for this recipe. Using their Cacao Bliss in this keto muffin recipe gives them an amplified chocolate flavor with a hint of cinnamon. Cacao Bliss is a raw cacao powder blend that contains superfoods like turmeric, black pepper, cinnamon, lucuma and Himalayan salt. I like to use Cacao Bliss in my recipes as a substitute or in addition to cocoa powder. It adds a special flavor to my chocolate baked goods and I get the healthy benefits from the superfoods. 
Get 15% off your order of Cacao Bliss when you use my code KETOFOCUS.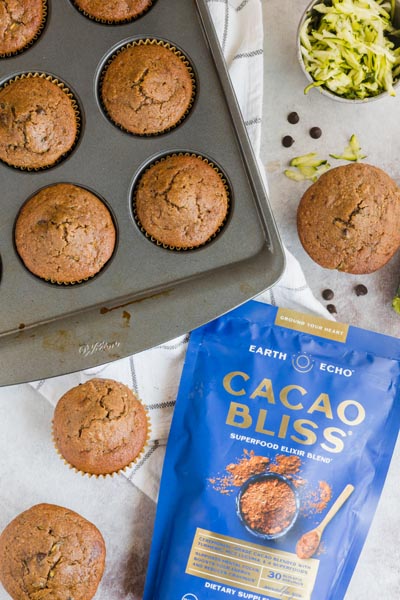 How to make keto chocolate zucchini muffins
Grate zucchini and set aside.
Combine dry ingredients. Almond flour, protein powder, cocoa powder, sugar free sweetener, baking powder and salt.
Add wet ingredients. Eggs, melted butter, sour cream.
Stir in chocolate chips.
Scoop into a muffin tin lined with muffin liners.
Bake for 15-18 minutes.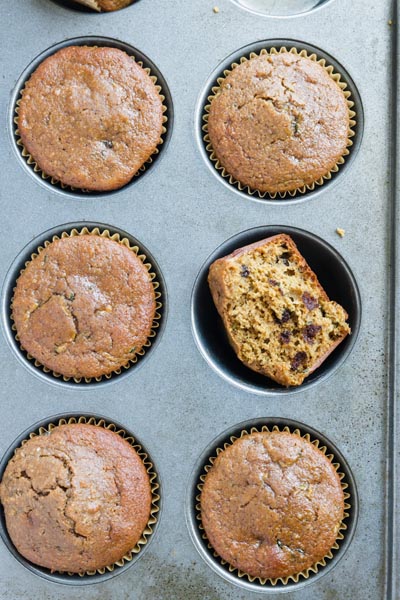 Key ingredients & substitutions
Zucchini – Helps to add moisture to our keto muffins. Low carb breads and baked goods tend to get dry easily as they don't contain sugar with normally would help to absorb moisture. Zucchini is hydrating and will provide plenty of moisture to keep these muffins spongy and moist.
Almond flour – The low carb flour used in this recipe for keto chocolate muffins, almond flour is light and airy and will help to keep these texture of our muffin cake airy. For nut allergies, use sunflower seed flour which measures cup for cup with almond flour. Coconut flour can probably be used; however, I haven't tested this yet. If I were to try, I would use 3/4 cup coconut flour.
Sugar free sweetener – Use your favorite, as long as it measures cup for cup with sugar. Erythritol and monkfruit blends are my favorite.
Protein powder – Forms a protein matrix to help retain air bubbles from the leavening agent (baking powder). In other words, it helps to get our muffins fluffy and form that iconic muffin top. If you don't have protein powder or refuse to buy it, substitute with egg white powder or coconut flour..
Cocoa powder – Can either use unsweetened cocoa powder or Cacao Bliss.
Baking powder – The leavening agent
Salt – To enhance the sweetness and balance the recipe.
Eggs – For structure and support.
Sour cream – Works as an acid to active the leavening agent (baking powder) and helps to neutralize the egg flavor from the eggs.
Melted butter – Fat for moisture.
Chocolate chips – Look for sugar free.  ChocZero is my favorite brand of chocolate chip. Save 10% off your order with my affiliate code KETOFOCUS.
Keto Chocolate Zucchini Muffins Recipe Video
Subscribe to the KetoFocus YouTube Channel
With 100s of videos and millions of views, Ketofocus is one of the most popular Keto channels on YouTube.
Keto Chocolate Zucchini Muffins Ingredients
Keto Chocolate Zucchini Muffins Directions
Preheat oven to 350 degrees. Using a cheese grater, shred the zucchini. You will need about 1 1/2 cups shredded zucchini for this recipe.

To a large bowl, add almond flour, sugar free sweetener, protein powder, cocoa powder, baking powder and salt. Stir to combine.

Ingredients

Almond flour
Sugar free sweetener
Protein powder
Cocoa powder
Baking powder
Salt

To the dry ingredients, add eggs, sour cream, melted butter and grated zucchini. Stir with an electric mixer to combine.

Ingredients

Eggs
Sour cream
Butter (melted)
Zucchini (grated)

Stir in sugar free chocolate chips.

Add muffin liners to a muffin tin. Pour in batter to fill to 3/4 of the way to the top. Bake at 350 degrees for 16-18 minutes or until muffins are set on the top to the touch.

Quick Tip
To get puffier muffin tops, fill batter to the top.